GERALD HAUSMAN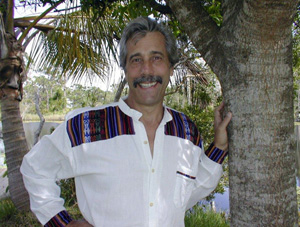 Gerald Hausman
---
Gerald Hausman, author of over 90 books, has traveled widely in America as a professional storyteller and public speaker. His work in Native American studies has been aired on radio coast-to-coast and cited in The New York Times and many other national and international publications. Mr. Hausman has received 35 awards and honors from the American Folklore Society; Bank Street College; New York Public Library; National Council of Social Studies; Parents Choice; Children's Book Council; Society for the Prevention of Cruelty to Children for his books, some of which have been adapted for film, many of which have been used in classrooms around the world. His collection of Native American origin stories, How Chipmunk Got Tiny Feet has reached over one million readers and his numerous books about Bob Marley, co-authored by Cedella Marley, have been reprinted each year since the 1990s. Mr. Hausman has been called "a native of the world" by teachers and educators in all walks of life.
The stories in The American Storybag are a fleeting yet incisive look at American life, primarily on the road, but sometimes on or in the water, and have been collected by Gerald Hausman since 1965. Some of the tales are very brief and may be called "sudden stories". Many of them deal with human survival - an autistic boy lost in a trackless swamp; a young woman who falls in love with a supernatural creature; a young man who finds himself by finding his horse. Some of the tales are mere messages left on a cell phone. Others, like the story Bimini Blue tell about a Navajo healing ceremony given to a famous author who committed suicide. There are stories of ghosts, demons, fearsome predators, and wise old men who take the innocent in hand and lead them on the road to wisdom. These are tales of innocence and anguish, fantasy and fable, humor and heart. In them we hear the voices of a lost America - an America of folk heroes fading fast from view and crying out to be heard.
"Not since Mark Twain has a writer presented classic American storytelling so honestly. Hausman is at his best with this collection, truly entertaining."
          - Hilary Hemingway, author of Hemingway in Cuba, on The American Storybag
In 2017, The American Storybag was revised and re-released as Not Since Mark Twain (stories) in both digital and paperback formats.
In the summer of 2019, Little Miracles - A Memoir, was released by Stay Thirsty Press that brings the reader gently, lovingly along on Hausman's journey through life.
In the fall of 2020, Mystical Times at Noel Coward's - Nights and Days in Jamaica was released by Stay Thirsty Press.
Gerald Hausman lives in Santa Fe, New Mexico, with his wife Lorry.
Links:
Thirsty : Vol. 112: Tunkashila: A Mythological Saga of Native America
Thirsty : Vol. 111: A Journey into the Country of The Kebra Nagast
Thirsty : Vol. 110: One Hundred Words Project: Gerald Hausman on Mystical Times at Noel Coward's
Thirsty : Vol. 109: Radiant Angels by Gerald Hausman
Thirsty : Vol. 109: Gerald Hausman On: James B. Zimmerman's Growing Up Meathead
Thirsty : Vol. 108: The Medicine Man's Son by Gerald Hausman
Thirsty : Vol. 108: Gerald Hausman On: The Mythology of Horses
Thirsty : Vol. 107: Fred Rogers & Other Unforgettable People by Gerald Hausman
Thirsty : Vol. 107: Gerald Hausman Reads From: Little Miracles
Thirsty : Vol. 107: Gerald Hausman On: Alexander Blackburn's The Fire Within
Thirsty : Vol. 106: In Search of Remembrance by Gerald Hausman
Thirsty : Vol. 106: Gerald Hausman On: Ways of Seeing by John Berger
Thirsty : Vol. 105: One Hundred Words From Storyteller Gerald Hausman
Thirsty : Vol. 105: Gerald Hausman On: David Brooks' The Road to Character
Thirsty : Vol. 104: Las Dispensas: The Forgotten, The Forgiven and The Free by Gerald Hausman
Thirsty : Vol. 104: Gerald Hausman on Helene Hanff's 84, Charing Cross Road
Thirsty : Vol. 103: The Craft of Writing & The Art of Waiting by Gerald Hausman
Thirsty : Vol. 103: Gerald Hausman on Orlando Patterson's The Children of Sisyphus
Thirsty : 2018 Fall: Research into Lost Time in New Mexico by Gerald Hausman
Thirsty : 2018 Fall: Gerald Hausman on Darden Smith's The Habit of Noticing
Thirsty : 2018 Summer: The Fred Rogers I Knew by Gerald Hausman
Thirsty : 2018 Summer: David Kherdian's Starting from San Francisco: A Life in Writing by Gerald Hausman
Thirsty : 2018 Spring : A Conversation with Novelist Anne Hillerman
Thirsty : 2018 Spring : Anne Hillerman's Cave of Bones
Thirsty : 2018 Winter : Today's Mark Twain
Thirsty : 2018 Winter : The Truck That Survived
Thirsty : 2017 Fall : To Be Or Not To Be a Jew
Thirsty : 2017 Summer : Measure of Importance
Thirsty : 2017 Summer : David Meltzer's The San Francisco Poets
Thirsty : 2017 Spring : The Story of Two Guns White Calf
Thirsty : 2017 Spring : Chopper Blues and Borderland
Thirsty : 2017 Winter : A Conversation with Gerald Hausman about GUNS
Thirsty : 2017 Winter : The Hatred of Poetry and East of Kayenta
Thirsty : 2016 Fall : The Baits Motel
Thirsty : 2016 Fall : Gerald Hausman on Crowded By Beauty: The Life and Zen of Poet Philip Whalen by David Schneider
Thirsty : 2016 Summer : Gerald Hausman on American Tumbleweeds by Marta Elva
Thirsty : 2016 Summer : Travels with George in Search of Lost America
Thirsty : 2016 Spring : Gerald Hausmand On Uncommonly Beautiful Books Read In A Single Year
Thirsty : 2016 Spring : Talk Tall and Walk into Passion
Thirsty : 2016 Winter : Gerald Hausman on Bob Arnold's Stone Hut
Thirsty : 2016 Winter : Symptom and Sign - A Telling of Blessings
Thirsty : 2015 Fall : At The Gaslight Cafe with Bob Dylan and Ramblin' Jack Elliott
Thirsty : 2015 Fall : Gerald Hausman on Raymond Chandler – Master of Mystery
Thirsty : 2015 Summer : A Conversation with Poet Gerald Hausman
Thirsty : 2015 Summer : Gerald Hausman on A Brief History of Seven Killings by Marlon James
Thirsty : 2015 Spring : Gerald Hausman on Nathanael West
Thirsty : 2015 Spring : Famous Unknown Poets
Thirsty : 2015 Winter : Gerald Hausman on Do Androids Dream of Electric Sheep? by Philip K. Dick
Thirsty : 2015 Winter : The Incomparable Cat: A Mythical History
Thirsty : 2014 Fall : A Conversation with Poet and Novelist Aram Saroyan
Thirsty : 2014 Fall : Gerald Hausman on The Street by Aram Saroyan
Thirsty : 2014 Summer : A Conversation With Sci-Fi's Warren Lapine
Thirsty : 2014 Summer : Deer Dancer
Thirsty : 2014 Spring : A Conversation with Authors Gerald & Loretta Hausman
Thirsty : 2014 Spring : Gerald Hausman on Jack London: An American Life by Earle Labor
Thirsty : 2014 Spring : Morris Oliphant: Natural Mystic on the Island of Heaven
Thirsty : 2014 Winter : Lucky Strike
Thirsty : 2014 Winter : The Lonely Silver Rain by John D. MacDonald
Thirsty : 2013 Fall : An Author's Saga
Thirsty : 2013 Fall : "Life, who needs it?"
Thirsty : 2013 Summer : Gerald Hausman on The Story of the Gypsies by Konrad Bercovici (1928)
Thirsty : 2013 Summer : Love Letters in the Sand
Thirsty : 2013 Spring : Gerald Hausman on Two Lives: Gertrude and Alice
Thirsty : 2013 March : The Tale of the Big Lizard - As Told by Gerald Hausman
Thirsty : 2013 March : From Suetonius to Bolaño – What Our Authors Are Reading - March 2013
Thirsty : 2013 March : Hugging In America: A Storyteller's Tale
Thirsty : 2013 February : The World's Greatest Pizza Novelist
Thirsty : 2013 January : Hungry For Love
Thirsty : 2012 December : Koyaanisqatsi - Life in Turmoil
Thirsty : 2012 November : A Conversation About Bob Marley
Thirsty : 2012 October : Dangerous Men
Thirsty : 2012 September : You Only Live Twice
Thirsty : 2012 August : The Parrot That Hated Everyone…Almost
Thirsty : 2012 July : 2012 #1 Best Sellers for Summer
Thirsty : 2012 July : Cloud Runner
Thirsty : 2012 June : Saving Bees
Thirsty : 2012 May : Gerald Hausman Tells the Story of Railroad Bill
Thirsty : 2012 April : Thomas Edison and the Beatles
Thirsty : 2012 March : Maurice Sendak's Apple
Thirsty : 2012 February : Would Hemingway Tweet?
Thirsty : 2012 January : An Interview with Noted Author Gerald Hausman about the Wolf
Thirsty : 2011 December : Rebellion in America - An Old Story
Thirsty : 2011 November : 1929
Thirsty : 2011 October : From Typewriters to eBooks
Thirsty : 2011 September : Literary Gold
Thirsty : 2011 August : Being Mr. Rogers
Thirsty : 2011 July : The Weight of Water
Thirsty : 2011 June : A Gun in the Hand
Thirsty : 2011 May : The Martians Are Coming!
Thirsty : 2011 April : A Word of Rastafari...Love of Bee
Thirsty : 2011 March : The Wolf Within
Thirsty : 2011 February : Split in Twain - The "N" Word Dissected
Thirsty : 2011 January : Reflections On The Life of Jan Wiener
Thirsty : 2010 December : Muzzled in America
Thirsty : 2010 November : 40 Years of Listening - A Story-Gatherer's Life
Thirsty : 2010 October : THE AMERICAN STORYBAG - A Collection of Tales
Thirsty : 2010 October : A Conversation with Geronimo
Thirsty : 2010 September : From Pony Express to Telepathy - Be-mail: the E-mail of Tomorrow
Thirsty : 2010 August : Folklore and Fakelore, UFOs and USOs?
Thirsty : 2010 January : Interview with Gerald Hausman – Folklorist and Listener
Gerald Hausman - Author & Storyteller
Gerald Hausman's Profile on Wikipedia