By Gerald Hausman
Bokeelia, FL, USA
---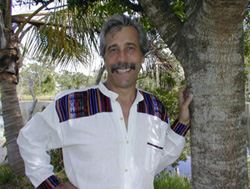 Gerald Hausman
---
"We humans fear the beast within the wolf because we do not understand the beast within ourselves" - from Turtle Island Alphabet by Gerald Hausman
I know something about wolves. I used to go running in the wilderness with a wolf named Shadow. We were more than friends. We were related, as all things great and small are related to one another.
When I think back, not to wolf running, but earlier, much earlier in our family's history, there was a hunter of wolves, a man, three greats-removed from myself. This venerated hunter liked to kill wolves. One winter, the man was killed - by wolves, the story goes. The hunter who is hunted by his quarry is an old paradigm. Around the storytelling fire, one of them becomes the enemy, the other the victim, but these roles often switch back and forth.
In this case, who knows, maybe the wolf hunter died of a heart attack. Townsmen found his bones, gnawed and splintered, in the spring. And because they liked the man, they said he was outnumbered and killed by something that didn't like him; something that wanted him dead. The myth of the vengeful wolf.
A good friend of mine recently posted a message on Facebook about legislation that once again opens the door "to widespread trapping, poisoning and sport hunting of wolves", our most convenient enemy, our least likely friend.
A Navajo medicine man in Shiprock, New Mexico said that as the old ways were almost gone, the natural balance between man and animal, was going with them. He also said, "For the white man, it is necessary to have a logical explanation for everything."
The Navajos have always called wolf "Big Wanderer." And because our lands are so important to us, wolves, in general, have become unnatural interlopers to ranchers with a fixed abode. The wolf's broad range of territory is the reason they've been old enemies of ranchers for such a long time. This goes back as far you might want to go - Little Red Riding Hood, The Boy Who Cried Wolf or today's popular Twilight which has a clan of giant shape-shifting wolves. Such creatures don't exist. But myths, in any culture, outlast historical events. Poisoned wolves die slow. But not the myth of the wolf as predator. That lives on as do the people who believe that hunting wolves has nothing to do with the wolf within the man.
Links:
Gerald Hausman - Author & Storyteller
Gerald Hausman's profile at Stay Thirsty Publishing
---
Gerald Hausman, author and storyteller, calls himself a native of the world. He is the author of 70 books, some of which have been made into films, many of which have been translated into foreign languages. His latest book, The American Storybag, was released by Stay Thirsty Press in October, 2010.