By Gerald Hausman
Bokeelia, FL, USA
---
I first met Aram Saroyan the author of an ingenious short novel, The Street, in 1972. We were both Poets in the Schools, thanks to a generous grant from the Massachusetts Council on the Arts and Humanities and the National Endowment. I liked Aram. He was the energetic, radiant, celebrated, one-word concrete poet of the Sixties. He was the only poet I knew whose entire book of poems was read aloud on the Six O'clock News. He was also the only poet I knew of who had written a really evocative novel about a young writer who is offered the lead in a major motion picture, The Graduate, and who then turns it down. The Street catches the essence of being young, being in love, being totally up-front, and sometimes, as we used to say, totally out of it. The Street is a confessional novel about bravery, lunacy, intimacy, drugs, decadence and deliverance. I caught up with Aram recently and asked him what it was like to write an explosive novel during the last great rebellion in America.
GERALD HAUSMAN: Aram, what are the most significant changes you have experienced as a writer since you wrote The Street? At that time you considered yourself to be a poet and that was how you made your living. Now you have worked prolifically as an essayist, but you have also written plays, novels, nonfiction memoirs, and of course poetry. As a writer for all seasons and perhaps for all reasons, do you have any preference, or perhaps personal love, for any specific medium?
ARAM SAROYAN: I seem to go through different phases in which one form or another will predominate, essays during these last years as you say. In 1973, having moved to Bolinas in Northern California with my wife Gailyn and our one-and-a-half-year-old daughter, Strawberry, I began to write again after a five year hiatus during which the minimal poems were published and I became known for that. But I'd been interested in prose while I was doing poetry, and not living in a city for the first time I got into longer forms, first in poetry, in the poems collected in Day and Night: Bolinas Poems, and then in prose with The Street. I was aware that the sixties had mostly been chronicled by writers who were older than those of us who actually came of age then – I'm thinking especially of Joan Didion and Tom Wolfe, who wrote the most popular books on the period – and in fact the only book I knew when I wrote The Street that captured the time as I'd known it was William Burroughs, Jr.'s book Speed, which came out in 1970 with Olympia Press. That book was a revelation. I really loved it. It's beautifully written, and it captures the topsy-turvy craziness of the time – with alas heavy duty drug-addiction into the bargain. Still, it was exhilarating because I thought here's someone who was really there. The only reservation I had about it was that it lacked dialogue, people actually talking with each other, and I thought I would try to do something like Speed with dialogue. And I remember when I wrote that first chapter, I made a conscious jump to do that, to get that dialogue with Phil Colbert on the phone. And from there I had a sense of the mix, you might say.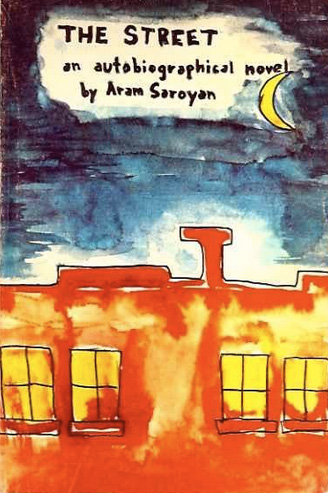 GERALD HAUSMAN: One of your honors is that filmmaker. Noam J. Christopher did a fine indie adaptation of The Street. It's a very good interior look at the creative process of a writer – is that how you see it? Do you feel the film captures the essence of the novel or do you think the novel, in some ways, escapes adaptation?
ARAM SAROYAN: I like The Street as a film a lot. It's beautifully filmed and acted and the overall trajectory of the book seems to be intact in the film. But it's really a work by Noam Christopher, taking off on the novel, and it strikes me as quite different in feeling overall. He's very gifted, I think, and I was lucky that he liked the book enough to use it as the basis for his film.
GERALD HAUSMAN: The novel and the film both deal with your apprenticeship as a writer of a controversial medium, concrete poetry. What is it, beyond the brevity, that makes concrete poetry – even today – revolutionary?
ARAM SAROYAN: I think maybe concrete poetry is a facet of a larger movement, perhaps minimalism, and I don't know it as well as the work of just a few of its practitioners. I particularly admire Ian Hamilton Finlay's concrete poems, and his sixties magazine – printed like a newsletter – Poor. Old. Tired. Horse. That magazine was what got me interested in that kind of poetry.
GERALD HAUSMAN: Reviewers of The Street commented when it first came out in 1974 that it was fresh, innocent, and beautifully written. It was also said that you captured the Sixties and Seventies. In what ways do you think you caught those contradictory and illusory moments in time?
ARAM SAROYAN: That's probably for somebody else to say. Reading the proofs of the new edition I can see the protagonist almost as this stranger, myself in my early twenties. I'd learned about candor from reading Ginsberg and Kerouac and I see their influence in the book. I hadn't read The Basketball Diaries when I wrote The Street but it's another book that like Speed captures the period beautifully, and then too Jim Carroll was a superb comic stylist. When Jim read The Street when it came out he told me he liked it. "It's you," he said, which reading it now strikes me as a fair way to look at it. It's one of us sixties kids, you might say, going through that time.
GERALD HAUSMAN: Did your work as a concrete poet lead to your ability to write in a clear, rhythmic, quick tempo style that immediately engages the reader? Your prose style is accessible, yet it's always thoughtful and penetrating. Did this come naturally from your exploration of one-word poems?
ARAM SAROYAN: Writing prose was a different drill for me – all about pacing over the long haul – and I needed to trust my own responses moment to moment in writing, whether depicting a scene or reflecting on it. I couldn't be spaced out so marijuana was out of the question. While during the sixties the idea was to make a work that would have a life of its own, not be a description but an event in its own terms, it struck me that a way to do that in narrative was to have a "voice." I should also add that what Salinger had done in The Catcher in the Rye was a kind of model for that. That was the first book that just knocked me out, as Holden Caulfield might say.
GERALD HAUSMAN: You subtitled The Street, "an autobiographical novel". Does that term work as well today for you as it did then? In that sense is it a confessional novel as well?
ARAM SAROYAN: It is confessional. Whereas in Salinger it's very much an artist at work, in The Street the personal reality of the writer, name and date and relatives and friends, are all as true as I could register, and so here the model shifts from Salinger back over to Kerouac and Ginsberg.
GERALD HAUSMAN: I recall that your father praised The Street. Do you recall what elements appealed to him? Was it the unabashed honesty of the storytelling? The style?
ARAM SAROYAN: I always loved what he said about it: "It comes close to being great." I was 29 when I wrote it and the comment, while being a wonderful compliment, leaves plenty of room for future aspiration. He was the one who taught the real nuts-and-bolts of pacing myself in a longer work. He said give yourself a daily, easily achievable goal – one page or two pages a day, say – and try to write around the same time each day. And that's exactly how The Street was written, in hand, one two-page chapter a day for sixty consecutive days. What astonishes me today is that it's a first draft. Nowadays if I write a five page essay I revise it dozens of times.
GERALD HAUSMAN: Coming from a legendary family – your father being a famous writer, your stepfather being a household name in films, your mom a successful actress – was this an advantage to you as an artist starting out? (The fight with Walter Matthau in The Street and on the street, in reality, comes to mind as well.) 
ARAM SAROYAN: Well, I'm seventy now and the downside tends to get forgotten with the years. What stays with you is that these people were quite amazing, each in their own way, and I was lucky to know them and learn from them. The fact that they could also be small-minded, mean-spirited little shits – well, we can all do that part, you know.
GERALD HAUSMAN: After 40 years The Street may very well be "a classic". Do you think younger readers today will relate to this new edition as well as the 70s readers that called it a "a novel of our era"? How do you think the baby boomers will take to it after this much time?
ARAM SAROYAN: I can only go by my own reading of it, which I'm doing now going over the proofs. I'm enjoying it. The protagonist seems to be in there trying.
GERALD HAUSMAN: We've noticed that most of your books are available as ebooks. How is the Digital Age treating you as a writer? Does it remind you at all of your early days as a poet?
ARAM SAROYAN: It's nice to be able to keep a backlist alive via kindle and nook, a boon to writers like us who have titles that might otherwise be for sale only through used booksellers, for which we don't earn a penny. And yes, it does echo those early days when we "seized the means of production" and published ourselves. And this gives me the opportunity to thank you, Gerry, for doing just that with The Street forty years ago, and again today.
Links:
Gerald Hausman's Profile on Stay Thirsty Publishing
Gerald Hausman - Author & Storyteller
All opinions expressed by Gerald Hausman are solely his own and do not reflect the opinions of Stay Thirsty Media, Inc.