By Gerald Hausman
Bokeelia, FL, USA
---

Gerald Hausman
---
What does 1929 mean to you? I have a T-shirt from Cedella Marley's Catch-A-Fire Clothing company. I think it was designed by Rohan Marley. Anyway, it has the 1929 date on it, front and center, stark white letters on black cotton. People stop me and ask why I am wearing it. A few scowl. Some give me thumbs up. But no one misses it.
My dad's recollection of 1929 included his recipe for ketchup soup. You could order tea in a restaurant and with a ketchup bottle and tea water, you could make hot tomato soup. The tea bag you pocketed. A meal for ten cents. My dad ironed his clothes by sleeping on them, "But you had to get them really flat, otherwise…"
My wife's grandmother got a job at logging camp as the camp cook. Her six children, including my wife's mother, were sent to live with relatives. I've collected hundreds of stories like this. Maybe that's why the time we're living in doesn't seem so strange to me. I mean, there are those - maybe not that many - who remember the real thing.
A 95-year-old man I took a walk with the other day said, "You want to know what the Great Depression was like? Look around. Smell the coffee, if you got any."
The stories I've gathered range from tragic to tragicomic. One sticks out in my memory because it has elements of both. The story came from the great children's book author and inventor, Dorothy Kunhardt. We were at the Russian Tea Room in Manhattan in 1974 when I asked her how she got into children's writing.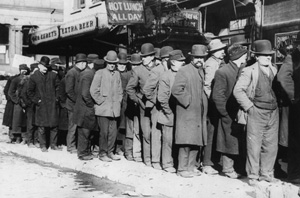 Bread Line
(credit: George Grantham Bain Collection,
Library of Congress)
---
She said, "Well, my husband was a stockbroker and he lost everything in 1929. That same day I asked myself what I could do to make a living and keep our family together. I wrote and illustrated a children's book the day after, and that same day I walked over to Mr. Harcourt's office and asked if he would publish it.
"He said he'd like to, but the illustrations were a bit crude. He put it just that way. 'Maybe if you did something different with them.' So I went home and decided to take a nice hot bath, but I never got around to it. Later, when I saw the bathwater, I thought, Oh, perfect! And then I went and got my poor illustrations and threw them in the cold bathwater, and forgot all about it. Next morning my husband saw them and said they didn't look bad, so I fetched them out and ironed them flat and took them down to Mr. Harcourt and he accepted them and published my first book!"
1929…finished off some people and started off others. Dorothy went on to create the world's first touch-and-feel children's book, Pat the Bunny.
But meanwhile, 1929…
The year Martin Luther King, Jr. was born. And the T-shirt says that, but you have to look well below the big numerals and find the smaller print.
And that's what all of us should be doing.
Links:
Gerald Hausman - Author & Storyteller
Gerald Hausman's profile at Stay Thirsty Publishing
---
Gerald Hausman, author and storyteller, calls himself a native of the world. He is the author of 70 books, some of which have been made into films, many of which have been translated into foreign languages. His latest book, The American Storybag, was released by Stay Thirsty Press in October, 2010.