By Gerald Hausman
Bokeelia, FL, USA
---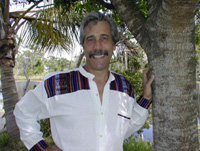 Gerald Hausman
---
I was asked yesterday about my forthcoming book, The American Storybag.
"What's it about?" a friend asked.
"Well," I explained, "Studs Terkel gathered stories. So did Carl Sandburg, Edward S. Curtis and Joe Gould. I have followed in their footsteps, picking up stories all over America."
"How?" my friend asked.
"One at a time," I replied.
It may seem strange and a little outdated to seek storytellers who are not professional, who are just "plain people" and who, somehow, through some alchemy of spiritual camaraderie, tell you something they've never said before. Art Linkletter did this on TV with kids and Allen Funt did it too on his television show called Candid Camera.
And I have been doing it in my own pedestrian way, off camera, up-close-and-personal for as long as I can remember. Here's a sample from The American Storybag, a conversation with a man at Dunkin' Donuts in Santa Fe, New Mexico. I was, at first, taken by his resemblance to Geronimo -- he looked just like him or the pictures of him anyway. I sat down at the counter and, believe it or not, at four in the afternoon we were the only people there. He glances at me.

Photo of Geronimo
(credit: Frank A. Rinehart, 1898)
---
"Who's your favorite conductor?" he asks.
"Railroad?"
"Symphony, man."
"I don't know."
He says, "For me, Ormandy, Fiedler, Leinsdorf, Ozawa."
I tell him, "I stood next to Seiji Ozawa once."
"Yeah? What'd he look like?"
"Small, intense, nice hair."
"You ever see Ormandy?"
"Funny you should ask. I lived down the street from him."
"Yeah? What'd he look like?"
"Old man in a heavy overcoat."
We sip our coffee in silence. Then, he looks over at me, says -- "You see Ormandy, tell him I said hello."
"Ormandy's dead."
"No way. He's still trodding the earth just like Geronimo."
It's funny how these moments happen. If I said they were meant to be, I'd just be dodging the issue. But how they happen isn't even a question to me any more. They come. People are talking. Pass it on. You might learn something you didn't know.
Link:
Gerald Hausman - Author & Storyteller
Gerald Hausman's profile at Stay Thirsty Publishing
---
Gerald Hausman, author and storyteller, calls himself a native of the world. He is the author of 70 books, some of which have been made into films, many of which have been translated into foreign languages. His latest book, The American Storybag, was released by Stay Thirsty Press in October, 2010.