By Gerald Hausman
Bokeelia, FL, USA
---
Koyaanisqatsi - A Hopi word meaning life in turmoil, life out of balance.
I was in Washington, D.C. recently and I told some students that the "old ways" as practiced by the American Indians were good ways, and worth looking into. One of the 6th grade students asked, "Better than our ways?"
George and Gerald Hausman
I opened my notebook and read a few newspaper headlines:

Woman Steals Baby

Man Bites Panda

Cat Kills Dog

Man Kills Cat

Voters Trick Runoff

Maintenance Man Wins $163 Million

Space Station Gets Toxin Scare
"Do you understand now?" I asked.
He said, "Things are pretty messed up."
"We put an end to the circular way of life by deciding that it would be better if it were progressive - as in a straight line that goes from start to finish. In the progressional graph things must get better and better. We have a mandate for progress, not regress. We must move on and achieve greater things. We must aim for richer, smarter, handsomer and healthier. This was the theme of the Gilded Age which Mark Twain cut his humorous hay in. Everywhere he cast his eye the human race was playing polititricks. It was taking from one and giving to another. Worse - it was taking from all and giving to oneself. This is the opposite of tribal sharing. The opposite of the circle. This is the straight line to selfishness."
I showed everyone in the room the simple circle drawn by Anasazi elders in the rock caves of Southeastern Utah. The swirling vortex of time. Eternity. The circle that is like a serpent swallowing itself.
"The Anasazi had run out of water during the worst drought they had ever known, but still they had confidence in the roundness of all things. The bracelet that was round and did not break. The bowl or basket that was shaped like the sun, the moon, the earth. The goodness of roundness. The circle, harmonious. No past, no present, no future. Just the circle of continual. The turning, turning, never-ending."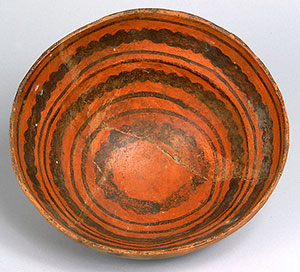 Chaco Anasazi Bowl (circa 900-1100 AD)
"So how do we get back to that circle?" the student asked.
"Well, you might start with this," I said, and I reached out and made my arms round and curved my hands into a circle.
"That's just hugging the air," he said.
"Try that," I told him. "But don't forget to hug people too. And dogs, and clouds, and all things you are grateful for."
"Hug everything?"
"In your mind, hug the whole world."
He smiled. "I can do that."

Links:
Gerald Hausman's Profile on Stay Thirsty Publishing
Gerald Hausman - Author & Storyteller
All opinions expressed by Gerald Hausman are solely his own and do not reflect the opinions of Stay Thirsty Media, Inc.