Gerald Hausman on Nathanael West
By Gerald Hausman
Bokeelia, FL, USA
---
What kind of man was he? He seemed untouchable, unreachable, unteachable. He seemed a wraith, a ghost hovering over Hollywood. He seemed not my kind of writer and I knew very few readers who had read him. But, for some reason, he always fascinated me. I read around in his books – to read around means just that. You don't read all the way through, you just go in an out of the writing.
I read enough of Nathanael West to get the idea that he was an extremely idiosyncratic writer who followed his own path to such an extent that, well, I found out I wasn't alone. Lots of people read around in his books. Few read them deeply.
What was there about West that was so off-putting?
If you read Marion Meade's terrific biography of Nathanael West and Eileen McKenney and their topsy-turvy world of fame, fortune and 1930s Great Depression, you will understand, as I have, what made West tick and what made the time of his life so bizarre.
This biography is called Lonelyhearts: The Screwball World of Nathanael West and Eileen McKenney.
Nothing could be more upsy-daisy than West's love affair with writing. It was love and hate at first sight. As was almost everything he touched. He disliked school, he faked (with his parents' help) his academic career. He didn't like the prejudice he felt in being a Jew, so he faked his name. He faked just about everything except his talent and acceptance of hotel management. Sound odd enough for you?
Interestingly, West was a great hotelier. He turned his hotels into literary salons. They made money, and he was very successful at luring such writers as Dashiell Hammett and Lillian Hellman. West, in his Brooks Brothers suit, was ever the gentleman catering to some of the greatest writers of his, and their, time. Meanwhile, whenever he could catch a free moment he clattered away on his own typewriter.
The Sutton Club Hotel, which opened in 1930, was West's grandest achievement in some respects. He managed to get Hammett free residency while he wrote The Thin Man. At the same time, West liked to casually vilify the hotel that was making him credible. He was always a quixotic and contradictory character, often acting against his own best interests. But this was perhaps what people liked about him.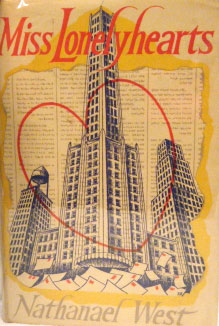 His other notable career came a bit later: the writing of screenplays. Again, he was successful in terms of pay-scale but most of his screenplays are still unproduced. Unknown perhaps but well paid, West went on writing and in the course of his life wrote Miss Lonelyhearts and The Day of the Locust. The latter is considered the best book ever written about Hollywood in the 1930s. The story of West's wife is a whole other story. Eileen McKenney was the real woman behind the smash hit novel, play and TV series, My Sister Eileen. Eileen didn't write it, though, neither did Nathanael West. It was the brainchild of Eileen's sister, Ruth. What a tangled web these geniuses wove.
For me, West is just as unimaginable as ever. But Marion Meade's biography is art and it inspired me to re-read Nathanael West and try to understand what made him so intriguing. Sometimes it seems his life was his only real work, and he knew it. Dorothy Parker once said, "Wildly funny, desperately sad, brutal and kind, furious and patient, there was no other like Nathanael West."
Links:
Gerald Hausman at Stay Thirsty Publishing
Gerald Hausman - Author & Storyteller
All opinions expressed by Gerald Hausman are solely his own and do not reflect the opinions of Stay Thirsty Media, Inc.