By Gerald Hausman
Bokeelia, FL, USA
---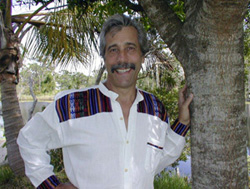 Gerald Hausman
---
Michael S. Hart, credited with creating the first electronic book in 1971, died. This was the man, visionary really, who typed The Declaration of Independence as the very first eBook. He went on to type out three hundred more, including the works of Homer, Shakespeare and Mark Twain. The books were free. And it seems more than a little strange that these works were done in 1971. Many of us think the eBook came out yesterday.
I am thinking back to what I was doing in '71. Typing poems on a giant Adler office typewriter. I was in love with the thunder of the keys. It was a disturbing noise that said I was doing something, well, as I thought of it, important.
I also owned a Hermes portable. That efficient little machine, in 1958, was called by its maker, "The most sophisticated manual portable ever made." My aunt had a 1935 Royal portable at her lake house and she'd put a green ribbon in it, which matched the pine needles I saw out the window when I typed. The Royal advertisement read: "A typer you can use to set down your classic American adventure just like Hemingway."
And speaking of EH, he typed four or more books on this same small machine. I imagine him on Whitehead Street, Key West, bare feet on sisal rug, hammering his Royal in the tropic heat, writing stories like The Snows of Kilimanjaro.
Typer fetishists know that sci-fi master Harlan Ellison's Remington Portable went up for sale for 40 grand. This was the machine he used to two-finger type his early stories. In the early fifties, he switched over to Olympia typewriters and when Robin Williams saw his huge closet full of them, he quipped, "This is like an ammunition dump."
I'd give anything to go back to those days of carefree typing on my various manual machines, but, for me, those days are gone. Someone once clocked me at 100 wpm on my Dell PC and since that time, I've not gone back to hammer-keys except as art. I have a typewriter in my house that I consider mid-century, historical sculpture. Friends have suggested it's a boat anchor.
So, from here to there - books calligraphied by a monk, books letterpress printed on a Heidelberg hand press, books mimeographed on colored paper, xeroxed books, digital books. And to anyone who can't see this progression as something miraculous, just stick around, it's going to get even better. Not to worry, it's only words and all these clumsy, cranky, featherweight devices are merely tools for happy typers.
Links:
Gerald Hausman - Author & Storyteller
Gerald Hausman's profile at Stay Thirsty Publishing
---
Gerald Hausman, author and storyteller, calls himself a native of the world. He is the author of 70 books, some of which have been made into films, many of which have been translated into foreign languages. His latest book, The American Storybag, was released by Stay Thirsty Press in October, 2010.