By THIRSTY
---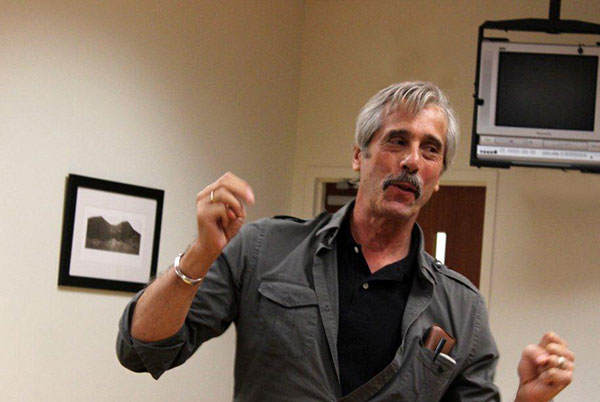 Gerald Hausman is an award-winning writer, a storyteller, a listener, a messenger to Native American fables, a teacher and a man once struck by lightning who can bring the written and spoken word to life in the tradition of Mark Twain. He has authored 45 books, co-authored 26 others, given voice to 12 audio books and served as publisher for 35 more. He has appeared on NPR, The History Channel, CSpan, Pacifica Broadcasting and Christian Science Monitor Radio, to name only a few. His books have been published by dozens of publishers, including St. Martin's Press, Simon & Schuster, Penguin Random House and Dutton, and his personal appearances at schools across the country have introduced young minds to the great Navajo legends.
Island Dreams is a lifelong collection of poems by this extraordinary writer and Stay Thirsty Magazine was fortunate to visit with him at his island home off the west coast of Florida in a place called Bokeelia for this Conversation.
STAY THIRSTY: Your new book, Island Dreams, is a collection of poems that you wrote over six decades but dated for publication from 1968-2015. Why did you decide to have publisher Bob Arnold choose and edit your body of poetry instead of doing it yourself?
GERALD HAUSMAN: The books I've done with my own imprint have generally been books published by large publishers that have, in time, gone out of print. When Bob Arnold asked to do a "Selected Poems" for the first time, I jumped at the chance. He is a terrific editor (I have known Bob and Susan since the early 70s) and the finished book reflects their unique combined skill at poem arrangement and book design. 
STAY THIRSTY: Why did you title this collection Island Dreams when your poems deal with many locations from Florida to Jamaica to New Mexico to California and Colorado, just to name a few? Did living on a small island off the west coast of Florida influence your decision?
GERALD HAUSMAN: The islandness comes from some of the isolated places where we have lived since we were first married in 1968. This is a Florida barrier island where we are now, but no less an island is Tesuque, New Mexico where we lived for 17 years. I wrote some of the poems in Victoria on Vancouver Island, but that dream vision of a place is no less an island than Quebec City where I wrote the oldest poem in the book back in 1963. Some of the other poems were written when we lived in Jamaica and still others came from time spent in the Baja.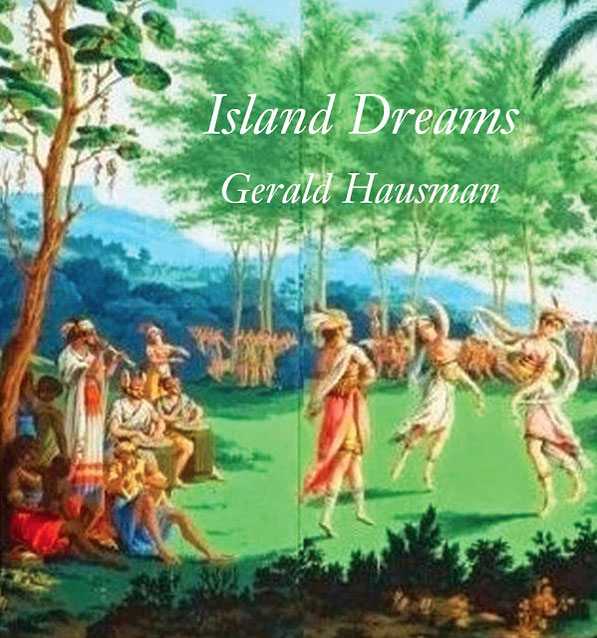 STAY THIRSTY: The cover of your poetry collection is based upon panels of scenic wallpaper entitled "Sauvages de la Mer Pacifique; Inhabitants of Tahiti" by Jean-Gabriel Charvet created in 1806. Why was that image chosen for your book cover?
GERALD HAUSMAN: Bob Arnold found that unusual cover image and I think he wanted something pictorial that suggested the mistiness that comes from dreaming in landscapes of lost time as well as recovered or real time. The cover conveys, for me, the nature of dreams: you can't quite see, or place, all of it, and it slips out of reach into the water slide of poetic vision.
STAY THIRSTY: You dedicated this book to your wife, Lorry, and incorporated an illustration by Sid Hausman. Has your wife played an important role in your poetry? Who was Sid Hausman and what is the meaning of his illustration on the dedication page?
GERALD HAUSMAN: Lorry is the source of more than I can put into words, which is why I have tried to put it into words. We have been together as best friends, husband and wife, since 1966. Many of the poems are about her. She's still an elfin, fey, rock-salt bit of Ireland to me.
Who is Sid Hausman? My brother. He is a cowboy poet, an illustrator who did the illustrations for a number of my books about the Southwest. His owl drawing appears on a broadside poem of mine that was letterpress printed by legendary printer, Clifford Burke, in San Francisco in 1969. I think Bob saw the flying owl Sid drew, liked it, and gave him a nod. It's fitting that in my earliest memory of my brother he is drawing something.
STAY THIRSTY: Island Dreams includes 147 poems. How many poems in total did your editor have to choose from? Did you agree with his selections or were there others that you felt important to include?
GERALD HAUSMAN: Lorry and I typed 262 poems and sent them to Bob. He read through them, he said, five times through the course of a couple nights and then made his selections. He is a very intuitive editor, a man who knows me in some ways better than I know myself, and I never question his right to choose. I knew he's picked the right ones — a mix, I imagined, of conversational and mystical. I don't think there are any in the 262 that are better than the ones in Island Dreams.
STAY THIRSTY: Which of the poems in this collection are the most special to you? Which ones do you think represent your best work as a poet? If you could only pick one poem to be remembered by, which one would it be?
GERALD HAUSMAN: Some of the poems in this long range collection have appeared more than once — some many times — in other publications, mostly anthologies. Some of the poems appear in Island Dreams for the first time. I like both the old and the new, the published and the not-seen in print. The short lyrics in the section called "New Marlboro Stage" have a special resonance to me because they were written in the 1960s and it was all new territory for me, both the landscapes of New Mexico, the Berkshires and the Caribbean. I especially like the Lorry poems in there. Other favorites are the poems about my father and mother and my daughters. My all-time favorite now is the poem about being struck by lightning. It happened. The poem says it all. Struck to the heart of it all by it all. The very definition of what poetry is. It is also a story poem. I would like to be remembered for telling stories.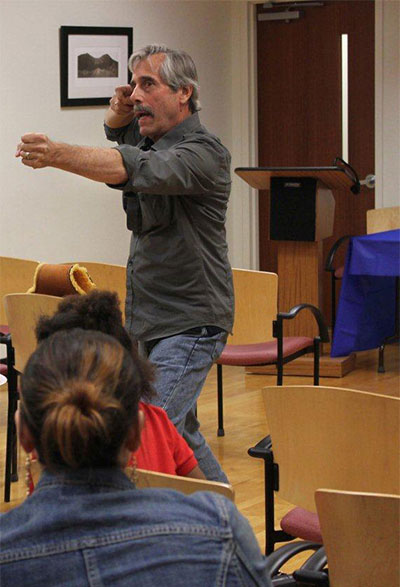 STAY THIRSTY: You have a distinguished career as an author, an educator, a publisher and a storyteller. You have won awards from the New York Public Library, the Massachusetts Council on the Humanities, the National Social Studies Council, the Midwest Book Awards, Parents Choice and many, many more. You were also the Poet-in-Residence for the City of Pittsfield, Massachusetts. Of all the forms of expression that you have worked with during your career, which one most reflects your inner self?
GERALD HAUSMAN: Everything that I do and everything that I am seems to revolve around storytelling. If a poem is any good, in my view, it has to present an angle of vision that, at the same time, tells a story. Like Frost's "Mending Wall" for example. Or Ferlinghetti's "Dog." In the latter, we read the poem and become the dog ... by the way, I met that dog of Ferlinghetti's at City Lights in San Francisco, and his name was Homer. He was an ideal mixed-mutt metaphor of doggy reality. Frost's "Mending Wall" ... who hasn't wondered why we, as humans, set up all kinds of fences that hold things in and keep things out? Both of these poems say that life doesn't have to be that way. When I was a Poet-in-Residence in Pittsfield, Massachusetts, visiting elementary students at lower income schools, I treasured the words these young poets wrote. The fences went down fast, and stayed down.
STAY THIRSTY: The work of Bob Marley and your close relationship to his family have yielded many books authored by you. How did the legacy of Bob Marley impact your philosophy of life and the themes in your writing? How important were the thirteen years that you ran a summer school program in Port Maria, Jamaica, on your thinking as a poet?
GERALD HAUSMAN: Those years in Jamaica were the most important times of my adult life. It can be expressed in Bob Marley's anthem, "One Love." If you look within you can find the love and then you can spread it around. No one did that better in verse than Bob Marley. But everyone in the West Indies is a storyteller. In Jamaica "the word is The Word." And in that basic and holy sense, I found myself immersed in the common, down-to-earth poetry of the street.
STAY THIRSTY: In Island Dreams you also include poems that speak to Native American peoples and themes. What is it about Native American life, history and stories that attracted you? Were you looking for metaphors that could resonate in modern-day life?
GERALD HAUSMAN: As a child and later as a youth and later still as an adult I attended powwows and storytellings and found myself living closely with American Indians, particularly Navajos with whom I went to college in New Mexico. I wasn't really looking for anything or being attracted to anything as much as I was there at the right time, listening to friends tell stories about things that were sacred, as well as humorous and familial. As in Jamaica there was a profound reverence for the spoken word which contained the past, the present and the daily life of an ancient people. As N. Scott Momaday once said of the spoken word: "... it lay on the plane of the human voice ... it was always but one generation away from extinction." I was very fortunate to hear ceremonial stories from the sons of medicine men who had known warriors like Geronimo.
STAY THIRSTY: Will there be an Island Dreams – Vol. II?
GERALD HAUSMAN: If the good Lord's willing and the creek don't rise.
Link: