By Gerald Hausman
Bokeelia, FL, USA
---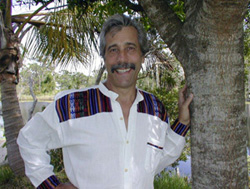 Gerald Hausman
---
My grandfather was a poet and a finder of things his whole life. He dug into a relative's attic once and came up with two Civil War dress swords, a pair of unmatched beaded moccasins, and a two-sided letter signed by George Washington. In his lifetime, which was long, he found many other interesting items, mostly books and documents that he sold off during his retirement years. I discovered one of his "list of items," as he put it, the other day and it looked like this:
1. Lincoln. Typical letter with endorsement
2. Smith, S.F. Manuscript of America (My Country, 'Tis of Thee)
3. Duke of Wellington. Letter
4. George Washington. Signed document 1783
5. Ulysses S. Grant. Signature
6. Calvin Coolidge. Messages, signed
$ 50.00
$ 20.00
$ 10.00
$ 125.00
$ 15.00
$ 275.00
The list was made sometime in the mid-fifties, and though there were over 50 items for sale, none was valued at more than the Coolidge "Messages." I've always wondered what they were, what they might've revealed, if anything. But any time I want to wonder,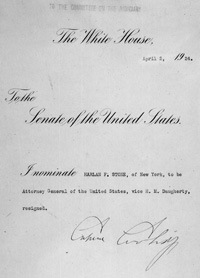 Message of Calvin Coolidge, 1924
---
I have only to look into Granddad's "list of items." The other day I showed the complete list to a rare book and manuscript dealer and he spent a long time looking it over.
"What's that stuff worth?" I asked.
He shrugged, smiled. "By today's standards, priceless."
Literary treasures don't always do the trick when you most need to sell them in order to hold on to the farm or to keep your nose above water.
My inheritance from Granddad was that he showed me how hold a pencil and write a line of verse. He passed on this divine, or insane, obsession called writing. Well, for better or worse, it's why I get up in the morning - and thanks to granddad, I do.
Links:
Gerald Hausman - Author & Storyteller
Gerald Hausman's profile at Stay Thirsty Publishing
---
Gerald Hausman, author and storyteller, calls himself a native of the world. He is the author of 70 books, some of which have been made into films, many of which have been translated into foreign languages. His latest book, The American Storybag, was released by Stay Thirsty Press in October, 2010.