By THIRSTY
---
Rastaman Chant from
Drum Talk
Speaking Volumes, Santa Fe, NM
Bob Marley was the greatest reggae singer/songwriter of all time and he is often credited with spreading the Rastafari faith across the world. In a new book edited by award-winning author Gerald Hausman, Bob Marley's wisdom and spirituality are revealed in his own words. The Future Is The Beginning: The Words And Wisdom of Bob Marley, with an Introduction by Marley's Grammy-winning daughter Cedella Marley, sheds new light on the depth and insight of this iconic legend. THIRSTY was fortunate to catch up with author Gerald Hausman at his home on Florida's Pine Island to discuss this book and the impact that Bob Marley has had on the world.
STAY THIRSTY: This is your fifth book about Bob Marley. What makes this one different from the others?
GERALD HAUSMAN: The other books captured Bob's words from his songs and very brief statements he made. The Future Is The Beginning comes from full-length interviews he gave beginning in the 60s. These were not widely read or known, and appeared in regional Caribbean newspapers and short-lived magazines. There were of course some interviews that were mass market, so to say, as well. The entire collection comes from what we call "The Wall" - a couple of rooms at the Bob Marley Museum at 56 Hope Road in Kingston where artist and friend of Bob, Neville Garrick, did a kind of "news collage" applying the interviews to the walls of the room and sealing them with some kind of preservative. The effect is wallpaper, floor to ceiling, all Bob, all talking, all brilliantly alive. Why no one had ever thought of making a book out of this I don't know, but Cedella (Bob's eldest daughter and a writer in her own right) said, "Go ahead and try." We had to translate the interviews from Jamaican patois to more or less standard English. I did this on a hand-held tape recorder while our daughter Mariah photographed almost every inch of the two rooms while, incidentally, tours were coming and going. Sometimes lying flat on my stomach transcribing while tourists were stepping over, and around, my prone body. Kind of funny. But we got the job done. The stories Bob told, the fluency of his thinking is different in these interviews - sharper, clearer, funnier, and in some cases, more trenchant. (Well, he came uptown from Trench Town.)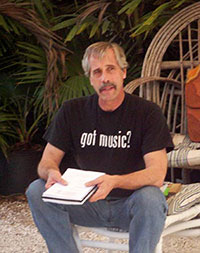 Gerald Hausman
STAY THIRSTY: Why did you decide to create this book?
GERALD HAUSMAN: There was a need in my mind to find "the Bob Marley" before he became the avatar of reggae and an almost household word. He was "Rasta from creation" as he put it, but there was a time when he wasn't so well known, nor beloved, and I wondered if we could find that Bob, in his own words, and bring him forward in a book where he was just talking. His talk is, in many ways, as beautiful as his songs. And he says of his songs in this book: "So you don't have no sweet way to sing it. You could almost talk it." He does in The Future Is The Beginning.

STAY THIRSTY: How did you meet the Marley family?
GERALD HAUSMAN: We had a summer school for creative writing on the North Coast of Jamaica and we had been there about a year when we decided to take our own tours down to Kingston to 56 Hope Road, the place where Bob lived and worked for many years and where he conducted interviews sometimes on the hood of his car. For us, this was 1986 and we chanced to meet Stephen Marley on our first visit, and then Cedella and Ziggy - all through the passion and personal commitment of our daughter, Mariah, who was so deeply into reggae that she would hang around the Bob Marley Museum until she met the entire family. We did too but it took a number of years to go from fan to friend and meet all the family members. Later on we became friends of Bob Marley's friends - people from the village of Nine Miles where Bob was born and others living in the Parish of St. Ann. Altogether we were in Jamaica running our summer school for 8 years. After that, we edited books with Cedella and wrote a few of our own about Jamaica.

STAY THIRSTY: Is Rastafarian faith, so important to Bob Marley, as popular today as it was in the 1970s?
GERALD HAUSMAN: More popular. In the 1970s it was still pretty much the same pan-African movement that had begun with Marcus Garvey in the 1920s, gotten some gravity in the 1930s, but there was still a lot of prejudice against it in Jamaica and elsewhere in the Caribbean where neo-colonialism still ruled. Rasta was too African, too Biblical, too rebellious, too serious, too erudite, too heartful, too everything. But when Bob Marley came on the scene, he made it possible for people to see it differently. He wrote lyrics of such profundity and such essentiality that the melody and the words hit almost at the same time. He said that you might like the sound first and then come to a realization later about the song's lyrics. He was of course right about that. So he carried Rasta a long way into the future: and so the future really is the beginning. There are now hundreds of thousands of Rastas (some say millions) in the present Rastafarian consciousness, whereas there were very few back in the early 1970s. The music had to take them there first. Now they can embrace Emperor Haile Selassie I, Lord of Lords, King of Kings, Conquering Lion of the Tribe of Judah, the concept of Jah, the power of the natural mystic and the music all at the same time. It is all one.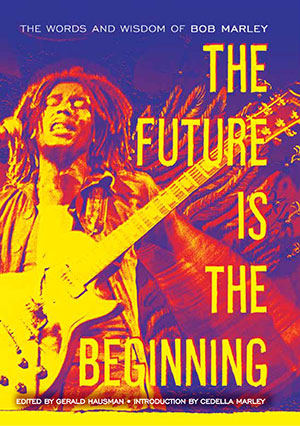 STAY THIRSTY: Is there evidence of Rasta in Bob Marley's lyrics?
GERALD HAUSMAN: There is truth, not evidence, in all that he did or said. Every movement of the man bespoke an earlier and more gracious time of dignity for Man and Woman and Child. He was an original. There is no other. If you are attuned to the heartfulness of Rasta, you feel it most strongly in Bob's words, deeds, lyrics, and even in the way he played football.

STAY THIRSTY: Is Bob Marley's music more pervasive today than when he was alive?
GERALD HAUSMAN: This almost goes without saying. In fact, it's hard to imagine a world without Bob's Marley's music. Recently I heard a film producer say, "There is not a spot on the globe where Bob Marley's music isn't being played this very minute." His status has gone beyond the iconic, beyond fame. He may be all things to all people, but more importantly, he is one thing to each individual person. And that thing, whatever it is, is life-changing, morale-boosting, loving, lasting and pure. It is becoming its own way of life for people.

STAY THIRSTY: Is Bob Marley considered today more of a poet or a prophet? Or both?
GERALD HAUSMAN: Because I love his poetry, I see him as one of the great folk poets of any century you might name. But I realize talking with many others that it isn't just the poetry for them. It's the man. And the wisdom, vision and common sense that appeal to everyone, young and old. I should add that his amazing and beautiful children, now grown into legends of their own, creators in their own spheres, stand for the Marley legacy. Bob denied he was anything. Didn't see himself as a musician, singer, famous person. Saw himself as a man, sometimes a farmer. But he said he would come again. He also said he didn't know his name.

Links:
Gerald Hausman's Profile on Stay Thirsty Publishing
Gerald Hausman - Author & Storyteller
Additional Credits:
Splash/Header Design: Mariah Fox
The Future Is The Beginning: Cover photograph - Dennis Morris; Mixed media cover adaptation - Mariah Fox
---
Books of related interest by Gerald Hausman:
The Kebra Nagast: The Lost Bible of Rastafarian Wisdom and Faith from Ethiopia and Jamaica
Rastafarian Children of Solomon: The Legacy of the Kebra Nagast and the Path to Peace and Understanding