By Anna Murphy
New York, NY, USA
---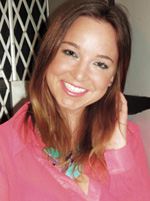 Anna Murphy
In NYC, there is always something going on - even on a random Tuesday when people are down for patio drinks or after-work happy hour. But what happens when the thermometer dips to 17 degrees and Down Puffer Coats do nothing to combat the frigid temps? Well, the obvious answer to most is to simply hibernate. But we don't because New York City's residents are not programmed to accept or enjoy inactivity. In fact, it's at these times, when the weather is bitter cold and there is a lack of holiday festivities that we band together and create the fun for ourselves.
My advice as a seasoned veteran (having survived three New York City winters) is as follows - feel free to take it or leave it:
1) Even if you don't particularly like football, try to like it. Sundays (and Mondays) are made more "fun" when you're sitting in a packed (and very warm bar) with like-minded 20-somethings. Granted most Manhattanites just adopt the Giants as "their team" for the month of January because it's convenient (and because they win). This age-old past time will make weekends all the more meaningful. And because pitchers of Natty will be flowing like water, you might not even need to don a winter coat on your walk home.
2) Join a semi-competitive co-ed sports team. I say semi-competitive because wanting to win is what will get you out of bed on a Saturday morning to play a rowdy game of Dodgeball. I say co-ed because, let's be honest, is the team going to be THAT competitive with only females? I know that collectively my girlfriends and I scored an all-time Zogsports record for most squeals in a match last winter. What about our guy friends who played soccer in college? They were out for blood. And regardless of the bruises from balls and the bashing we'd get from the boys (I believe I was told I was not allowed to throw the ball, ever, after a pop fly I sent soaring gleefully into an opponent's open arms), it's a decent workout and a reason to get out of the house (see also: apartment). And how else would we tour the public school gymnasiums across midtown west and the UES, as well as their proximate bars?
3) Create your own holidays. My best friends are coming in town President's Day weekend for an epic reunion/birthday celebration. I've been looking forward to it since the day after New Year's because it puts something fun on the calendar. That way my time is spent booking reservations for "All You Can Eat/Drink" Sushi & Saki, instead of moping around eating all I can eat sushi for one. A few years ago, my boyfriend and his college friends created St. Calzone's Day. Happening every March for five years running, it has grown to become a full-on weekend affair, complete with a jersey swap and sit down dinner. This will be my first Calzone's Day, and the countdown has already begun.
So I know it's only February, but I'm almost sad that winter is halfway done. It's kind of nice having the streets (albeit icy) free of tourists and shopping bags.
Anna Murphy enjoys long runs along the Hudson River, live music, vegan cookies and the Florida Gators.
All opinions expressed by Anna Murphy are solely her own and do not reflect the opinions of Stay Thirsty Media, Inc.