By Teresa Cavaliere
West Palm Beach, FL, USA
---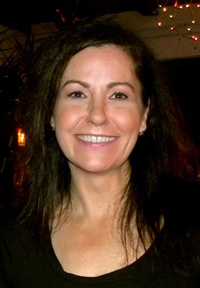 Teresa Cavaliere
(credit: Joseph J. Bucheck III)
2012 started with a bang, literally! I was driving the used car I had purchased two years ago with the last four thousand dollars I had to my name. It was during the housing collapse, I had no job and I needed to secure some means of transportation at the very least. With that said, I was driving to work and BANG! I blew something in the engine. I didn't suspect it was too important until the next morning when I turned the ignition on and all the bells and whistles went off. I still wasn't too alarmed because something always went off or on with that car, almost as if it had a mind of its own. I drove to my mechanic. As soon as he opened the hood, the sound of his "WOW!" was not what I needed to hear. I had blown a head gasket and the repair would cost two thousand dollars or more.
Cut your losses Teresa is what went through my mind. But, I had to drive that car until I could figure out how I was going to purchase another one with my credit upside down. As luck would have it, the previous week I had been searching the internet to see what was available for someone in my position; someone trying to restore their credit in this horrifying economy. That's when I came across Volvo's Fresh Start Program. I was so afraid of what the answer might be if I tried to qualify that I continued to drive my Volvo with the blown engine for several more weeks. It was astounding that this car was still turning on and getting me where I needed to go. I must try to get another Volvo, I thought!
On January sixth, the day of the Epiphany, I found the courage to stop at the local Volvo dealer on my way home from work. I had my daughter with me. We walked in like two meek little mice (because that's how you feel when you have no money and a piece of $#!& trade-in). One of the sales personnel waved at us with a smile and said, "Come in, I won't bite." I apologized for our meekness and began to explain my circumstance. We talked for a bit and then she brought her superior over, after briefly speaking to him in private.
I felt like I died and went to Heaven! These two warm and wonderful people guided me through the process of finding a car that I could afford. I had my limit on what I could spend and how much my monthly payments could be. However, you would have thought I was worth a million dollars the way my daughter and I were treated. It was unbelievable. They not only found a loan that I could afford, but also a car that was in the greatest condition I had seen in the last four years of my poverty-stricken life. No, it wasn't a Volvo, but it may as well have been a Rolls Royce. I got a Mazda 6 in mint condition, guaranteed by the dealership!
My daughter and I drove off that night standing a lot taller. People can help you if you are willing to compromise, and most of all, ask for their help. I look forward to the day that I can walk back into my Volvo dealership and buy the car of my dreams…ZOOM! ZOOM!
All opinions expressed by Teresa Cavaliere are solely her own and do not reflect the opinions of Stay Thirsty Media, Inc.