You must have Adobe Flash Player to use this function.
#33 - 2012 January
By Sarah L. Myers
Editor-in-Chief
New York, USA
---
It's my favorite New York City bar, my favorite New York Dolls song, and now it's my favorite way to get trashed.
You can't ring in the New Year without wrapping up the old! We're sending out 2011 from the heart of the Fashion District, and part of me is waiting for the other shoe to drop along with the ball. Last year I was stricken by a flu so horrible I lasted just 20 minutes into the celebration. Once I hit that midnight mark I can relax, exhale, and gear up for one of the busiest months in Thirsty history. But before all that...
Joe Coleman and Whitney Ward
---
My friendship with Joe Coleman and Whitney Ward is special to me for so many reasons. My admiration for his work aside, he is unique and intricate in a way that reminds me so much of Ryan. It makes sense why he was Ryan's favorite artist, and why we chose him as our first Thirsty interview in 2006. We bonded immediately, and shared many moments over the past five years. Their parties must be seen to be believed, their anniversary celebration at Work in Progress no exception. The location, a signless, subterranean shelter, is covered in artwork. Graffiti adorns EVERYTHING, artists paint live at the bar, and the bathroom's chalkboard walls act as a yearbook for the over-served. I expected it to be both romantic and terrifying. I wasn't disappointed. Fifi the Zombie Bunny stalked guests all night. A roasted pig held a stuffed animal in its glazed jaws. A wax head offered guacamole from its hollowed skull. Joe and Whitney shared kisses, dedications and toasts all night while burlesque and go-go dancers performed versions of "Whole Lotta Rosie" and "I've Been Loving You Too Long". Congratulations to my favorite New York City couple!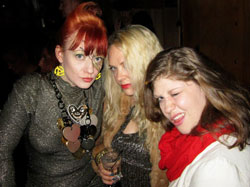 Bowie Ball
---
It was total glitter and glam at the 2011 Bowie Ball, held at Le Poisson Rouge December 17th. I'd heard about this legendary party from Erin O and couldn't wait to rock my best vintage fur and Jerry Hall makeup for the raucous evening. Teetering in (the heels were big), I could only imagine I was seeing a present-day Studio 54. Confetti, sparkles, lightning bolts, feathers and neon were everywhere, and most of it seemed to land on host Deryck Todd. The whole gang grabbed some drinks and hit the dance floor, where "Dancing on My Own" meshed with "You Shook Me All Night Long" and 12am became 3am. Somewhere in between there were amazing performances from Keanan Duffy and Kelle Calco, and renditions of Bowie staples "Heroes" and "Rebel Rebel", but it was really the 80s DJ that kept us moving. We ended the night at (where else?) 200 Orchard, where Jordi and I outlasted even the guys. I moved to New York for these types of parties. If I had a mother ship, you know it would be Bowie Ball!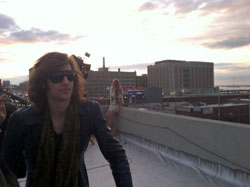 On the set of "Star Baby" music video shoot
---
It's been a very good year for my beloved Killing Floor! The guys signed a major deal, released their debut LP, and started talks to film their first music video. There was a lot of chatter, but the cat finally came out of the bag via Page Six of the New York Post. It was announced legendary director Joel Schumacher was tackling "Star Baby"! Marco Argiro, Oliver and Mark Alberici, and Chris Bunatta spent the day-long Brooklyn shoot with actress Mallory June, and anticipate an early 2012 release. I couldn't be happier for these guys. Every so often you meet a band that just works – everything about them spells success. It's like throwing the firecracker right before it goes off. Every time I see them I know they're hitting that point of explosion. I've been trying to nail down an official interview with these guys for a while, but it's too hard to get down to business when I'm around them. We came close at the wrap party but, alas, rock n' roll intervened again! But when we do, just remember you saw them first right here in Thirsty. Congratulations, boys!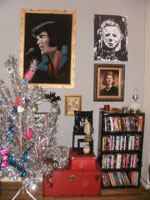 If the Mayans are correct, we've got a few more months before doomsday, and Thirsty is making the most of them. After a relaxing holiday visit back in Indiana, I'm headed to Vegas for a birthday that I just know will result in some sort of Elvis marriage. Who knows what this winter will bring, but once it thaws out, I'm voyaging right back to my other favorite city. Stay Thirsty for London! And Happy New Year!
Until next time...

Links: