By Mark Yost
Chicago, IL, USA
---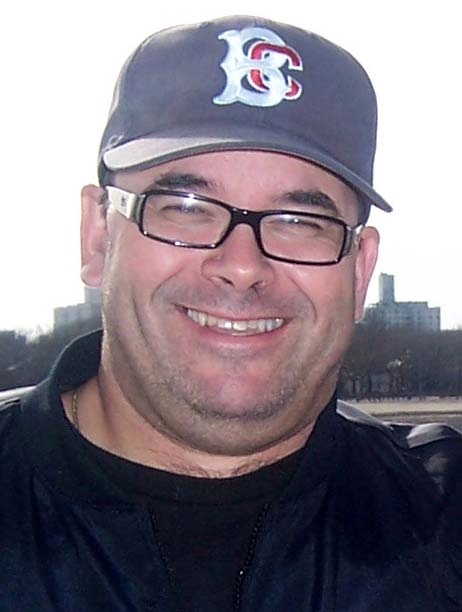 Well, we did it.
The last time I wrote here about the incredible, decade-long journey that my son, George, and I have taken to see a game in every Major League Baseball stadium, I told you that we had four stadiums left at the start of the 2016 season. I'm happy to say: Mission Accomplished. Like so much of this journey, it has been as much about the friends we've met along the way and the experiences we've had both inside and outside the ballparks that has made it special.
In March, we went to Arizona for Spring Training. We'd been to the Cactus League before, but this time we spent the week in Arizona with our good friend, Ciaran McGovern.
I met "Squeeks" in the dorms at San Diego State in 1982 and we've been friends ever since. George had heard about Squeeks for years, but had never met him. He lives in San Francisco's East Bay and is a diehard baseball fan, fluctuating his loyalties between the Oakland A's and the San Francisco Giants, depending on which way the pennant wind is blowing. Needless to say, he's mostly been in the Giants camp the past few years. We stayed with Squeeks when we went to the Bay Area in fall 2015 to knock off O.Co Coliseum in Oakland and AT&T Park in San Francisco.
As long as I've known Squeeks, his mom has been everything to him and his dad. So I quickly grasped the breadth and depth of the tragedy when she died suddenly of a brain aneurism a few years ago and Squeeks went into a downward spiral. When he weighed in at the doctor's office a year and a half ago at close to 400 pounds, the message was blunt: Change your life or you're going to die.
Thankfully, the message got through and a much-reduced, much-healthier Squeeks is still with us. When we saw him in September 2015 in San Francisco, he had lost close to 150 pounds. When we saw him again in Arizona this past spring, he'd dropped down even more to a trim 215.
Squeeks happily abandoned his strict regimen for a few days to have a few beers and hot dogs with us as we went to see my Dodgers play the Cleveland Indians. He also went to Chase Field, Stadium No. 27 for us, for a game between the Arizona Diamondbacks and Kansas City Royals. But that wasn't the best part of the trip.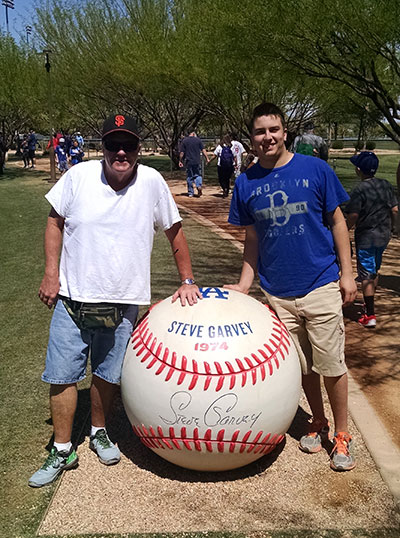 Ciaran and George (Arizona)

Crab Shack (Seattle)

The Wicked Pig Sandwich (Texas)

The Braves Chophouse (Atlanta)
All three of us went to the gym one morning and Squeeks complained that he had lost weight, but hadn't gained any strength. George, who's headed to Marine Corps boot camp at Parris Island in July 2016, took Squeeks over to the weight machines and helped him put together a lifting routine.
"Dude," Squeeks said in his distinctly California vernacular not too long ago, "I can't tell you how much George's coaching has helped me. I'm lifting a couple times a week and can feel myself getting stronger."
To us, that is more important than having Squeeks along for a few of our signature baseball games. George has now created his own bond with Ciaran, one that I know will last a lifetime.
In late-April George and I went to Seattle, Stadium No. 28. We flew into Portland (half the price of flying into SEATAC) late on a Friday, spent the night and then drove up to Seattle the next day. George got us tickets to see the Seattle Sounders, the Major League Soccer team, on Saturday. They play in CenturyLink Field, the Seahawks stadium, somewhere else we've never been. The food, like much of the rest of Seattle, was fantastic. I highly recommend the Korean Pork Belly Buns.
On Sunday, we went and saw the Mariners play the Royals. Weather has always been a factor in this caravan: Will we get there and get rained out (or snowed out, like we did last year in early May in Colorado)? It was a gorgeous, 80-degree day in Seattle. We hardly sat in our seats, preferring to stand in the outfield plaza, not far from the Dungeness crab cakes.
Fast-forward to the last weekend in June. We flew out on Friday morning and went to Dallas, to see the Texas Rangers play my mother's beloved Boston Red Sox. But first I took George to a great little BBQ joint, Smoke, in the up-and-coming West Dallas neighborhood.
What has made these trips so great is that they've been as much about seeing other sites as well as going to the games. In Boston, we visited my mom's old haunts; in Miami we spent a day in South Beach and visited Jackie Gleason/Ralph Kramden's grave; in New York, it has always been about seeing family and friends.
It was a steamy 99 degrees at first pitch in Texas. In fact, the next day, the game would be postponed to a 9:30 p.m. start because it was so hot.
We were less-than-impressed with Globe Life Park. Mainly because the main concourse is completely separated from the field. That's in stark contrast to the open-air, retro ballparks like PNC in Pittsburgh that are now all the rage.
If Globe Life Park does have one thing going for it, it's the food. Everything is bigger in Texas, and that goes double for the ballpark. George and I tackled The Wicked Pig, a $27, double-decker sandwich that features five different types of pork. There's also the 24-inch jumbo hot dogs and sausages that also sell for $27, as well as nachos that fill a baseball batting helmet.
While it was important to check off Stadium No. 29, the best part of the trip was after the game. George and I walked back to our hotel and, since it was still 89 degrees at 11 p.m., we hung out in the pool for an hour or so, just talking about life and George's next adventure just a few weeks away, Marine Corps boot camp. George treaded water for the boot camp-required 30 minutes, while I told him about my own experiences in Navy boot camp back when "Christ was a Corporal," as they say. It was great father-son bonding time.
The next day we were off to Atlanta, Stadium No. 30, and Mets at Braves. I have to say, it was a little anti-climactic. I expected that walking through the turnstile at Turner Field would be a little bit more emotional, but it wasn't. Neither was standing in front of the Chophouse, one of the Braves signature eateries, having our picture taken. Later on, I realized it was because going to baseball games has become so routine for us. Yes, this was Stadium No. 30, but in many ways it was just another baseball outing.
Sunday's game was a little more special. We arrived early and the Braves Community Relations folks gave us a behind-the-scenes tour of the stadium. We got to see Hank Aaron's parking space and go on the field for batting practice. Later in the game the Braves staff came by our seats and gave us a goody bag with caps, bobbleheads and a foam Tomahawk. We had a message on the scoreboard between innings: "Congrats to Mark and George Yost for making Turner Field your 30th MLB Stadium." We also made a sign to hold up between innings and have our picture taken.
If there's a definitive memory from Turner Field, it has to be the Tomahawk Chop. Even though we're New Yorkers and were pretty much cheering for the Mets, George had become fond of the signature Braves chant that, frankly, I had thought had been outlawed by the PC Police in the media years ago. George was exceedingly happy it hadn't been.
After the game, I took George to two of my favorite BBQ haunts in Atlanta: Daddy Dz, a pork palace in one of the city's more notorious neighborhoods; and Fat Matt's Rib Shack, a must-stop for me and countless others long before Clooney recommended it in Up in the Air. His first bite of the ribs may be the only thing George remembers more than the Tomahawk Chop. I told him to remember it during boot camp, and after he graduates we'll come here. Something for him to look forward to.
So there you have it. We accomplished our goal, started in about 2006, of visiting every Major League Baseball stadium in the country. But the journey isn't really over. As I write this, George and I are probably going to Miller Park later in the week to see my Dodgers play the Brewers. And, of course, there will be other stadiums to conquer.
Next year, the Braves will open their new stadium. Like most sports stadiums today, it's not being built out of any real necessity, but for money. The new ballpark will put the Braves closer to their fan base and, hopefully, boost attendance.
George and I have already said, "We should go."
And we will.
---
Post Script: A few days after we completed our quest, George and I went to Milwaukee to see the Dodgers play the Brewers. On our way into the stadium, we talked about how over 30 stadiums, probably a hundred baseball games, we've never caught a foul ball or a home run.
Fast forward to the second inning and the Dodgers Trayce Thompson jacks one into the left field bleachers. George catches it.
Do we have that ball? No.
George gave it to the six-year-old kid sitting behind us.
I guess he learned something more than just how to keep score.
Links:
Mark Yost at Stay Thirsty Publishing
Mark Yost
All opinions expressed in this article are solely those of its author and do not reflect the opinions of Stay Thirsty Media, Inc.