By Mark Yost
Chicago, IL, USA
---
If you ever meet Stephen Bogart, the only son of Humphrey Bogart and Lauren Bacall, you'll notice the physical resemblance to his father immediately. But any comparisons to his late father, who died when Stephen was just 8, end there. He has spent most of his life trying to be more than just Humphrey Bogart's son, and he has succeeded quite well at it.
But try as he might, his father casts a long shadow, even today, nearly 60 years after his passing. For example, the New York Times write up of Stephen Bogart's marriage to his lifelong friend, Carla Soviero, in November 2014, was headlined: More Plot Twists Than 'The Maltese Falcon.'
The younger Mr. Bogart has also thrust himself back into the limelight of sorts with the creation of the Humphrey Bogart Film Festival, now in its 3rd season in Key Largo, Florida, a famous location for his parents.
Mr. Bogart sat down with me for Stay Thirsty Magazine recently "to answer a few questions," as one of his father's characters might have said.
MARK YOST: The first question, I'm sure, that everyone has is: What is it like to be Humphrey Bogart's son?
STEPHEN BOGART: He's been dead for a long time. But it's not really that different than being anyone else's son. Your father just happens to be in the movies. As a kid, you don't focus on that. What I remember is that he didn't want me to go on the boat until I knew how to swim.
He certainly wasn't a bad dad, but I really didn't know him. Just as we were getting to know each other – he got sick when I was 7 and died when I was 8 – he went out of my life.
I think about him almost every day, but that was 60 years ago.
MARK YOST: I imagine there have been many times in your life when you wish you could have asked him for his advice.
STEPHEN BOGART: Not really. What I wonder most is what it would have been like to have a father around. Because father's are different than mothers.
It's not so much what I would have asked, what we would have talked about, but what it would have been like. 
MARK YOST: Did it get harder to be "Humphrey Bogart's son" as you got older?
STEPHEN BOGART: I think within myself there was a handicap. I never got "in the business," as they say. My mom never said, "You should be an actor."
I was in a couple of plays in high school. I was a lousy actor. It's definitely a talent, it's an art. If anything, he probably would have pushed me away from being an actor. There's no upside.
Kids, as they're growing older, want to fly below the radar, and I couldn't do that. There was really no anonymity until I got older.
MARK YOST: How are you like Humphrey Bogart, and how are you different?
STEPHEN BOGART: Normally you'd be like someone because you grew up around them. I think you're like someone because of the environment you grow up in. That wasn't the case for me.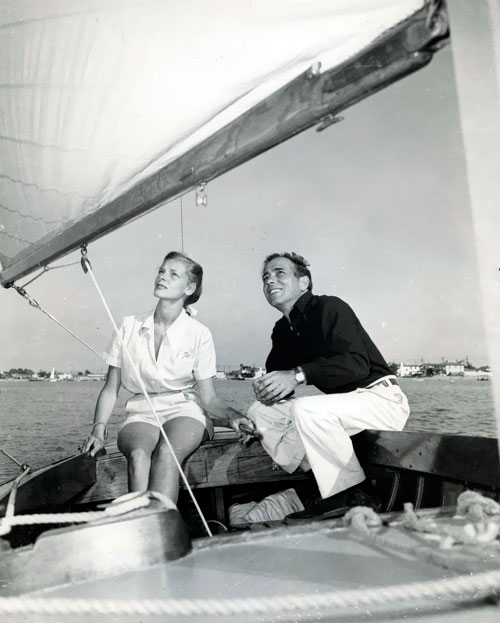 Now, I think whether by accident or by genealogy, I am like him in certain ways. He was a needler and a kidder. I can be like that. I think he was pretty cynical; I'm pretty cynical.
But I would say the overall characteristic I have from growing up is that we believe in treating people correctly, but that's probably a family thing as well. My mother taught me that. 
MARK YOST: You also had a fairly famous stepfather, Jason Robards. What kind of influence did he have on you?
STEPHEN BOGART: It's funny, because so many people focus on my father, but Jason was probably the best American stage actor we've ever had. Especially when he was doing Eugene O'Neill. You can't beat that. And he was a nice guy.
Unfortunately, he had an issue. He was an alcoholic. It really didn't affect me. I was away at school. They got married in 1961, I went away to boarding school in 1963.
He played ball with me. He had a son, Jason, with whom I'm close. We grew up together. But I never thought of Jason Robards as my dad. I liked him as a person, and he was married to my mother, but that's it.
MARK YOST: Sadly, you lost your mother earlier this year. She was a heavyweight actor and persona in her own right. Talk about her.
STEPHEN BOGART: She did not suffer fools gladly. She was my mother and she brought us up to be certain types of people and live a certain life. She never told me what to do. I got married when I was 20, had a kid when I was 21. I wanted to get away from that [Hollywood] as quickly as possible. I wanted to find out who I was, over and above being the son of Humphrey Bogart.
I ended up in a small town in Northwestern Connecticut, made my own friends, and found out who I really was. They didn't really care who I was.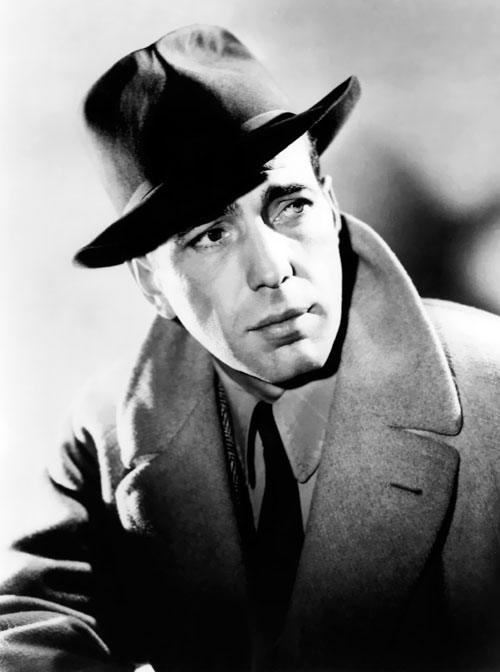 MARK YOST: But you've sort of crept back in – slowly – to that life. You've worked in television and the movies most of your life, as a writer and producer. You wrote a book in 2010, Bogart: In Search of My Father, and now you have the Humphrey Bogart Film Festival, set in Key Largo, a memorable filming location for your parents. Talk about the foundation and its purpose.
STEPHEN BOGART: It was time. Frankly, many of us who are involved in putting on the festival were surprised it hadn't been done. Key Largo was the place to do it. The town has been fantastic. Supportive of the whole thing. This is our third year. It's a great marriage and a perfect place to do it.
MARK YOST: What books – outside of your own – about your parents do you like best?
STEPHEN BOGART: I really don't read them. Because they're basically the same as mine. I actually interviewed people who were my father's friends. Most books don't do that.
MARK YOST: What's your favorite Humphrey Bogart film and why?
STEPHEN BOGART: I knew you were going to ask that. I like Treasure of the Sierra Madre. It's such a great movie, and was such a great part for my dad.
He didn't know if he was going to do it, so he went to his agent, Sam Jaffe, and asked, "Should I do it?" Jaffe said "John (Huston) wants you to do it. He won't do it without you. You should do it because he's your best friend."
The result was John Huston earned two Oscars, one for directing and one for writing. Walter Huston won for best supporting actor.
It was one of the first movies shot totally on location. My father had a great part. And it was the first time since he became a really big star that he died in the film.
MARK YOST: What's your favorite Lauren Bacall film, without your dad?
STEPHEN BOGART: Probably How to Marry a Millionaire. She was so good. The cast was so great. It was a great time in her life. The movie was well received.
Growing up, I was really more immersed in the theater, because of my mom, who was in Goodbye Charlie, The Cactus Flower. And, again, because of Jason Robards, who was such a great stage actor.
I also lived in London for a year. I saw Camelot with Richard Burton and Julie Andrews, The Music Man, My Fair Lady.
It was really a great time.
MARK YOST: What are you doing with the intellectual property rights for your mother and father?
STEPHEN BOGART: The Humphrey Bogart Estate exists to honor and promote the legacy of Humphrey Bogart. Part of fulfilling that mission includes entering into partnerships and licensing agreements. We like to do deals that either keep Bogie's films in the spotlight (the Humphrey Bogart Film Festival in Key Largo), that relate to products he enjoyed during his life (he was a client of our current partner S.T. Dupont, and he enjoyed gin, hence our partnership with Patron Tequila co-founder John Paul Dejoria for Bogart's Gin), or that expose his image to large and/or new audiences (like our current partnership with AT&T and DirecTV).
As far as my mother is concerned, my brother Sam and my sister Leslie along with myself control those rights. At this time we are exploring a number of opportunities and have licensed a few things in the fashion and book world, to name two.
Links:
Humphrey Bogart Film Festival
Estate of Humphrey Bogart
Mark Yost at Stay Thirsty Publishing
Mark Yost
All opinions expressed in this article are solely those of its author and do not reflect the opinions of Stay Thirsty Media, Inc.