By Mark Yost
Chicago, IL, USA
---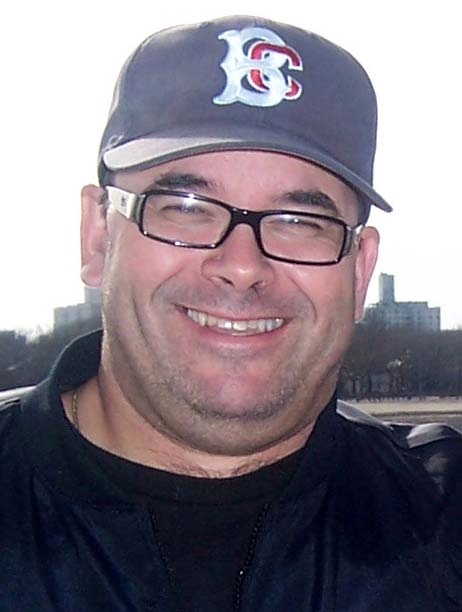 By the time this column goes to print, my son George and I will have visited 26 of Major League Baseball's 30 ballparks. Our goal, started when he was about 8 years old, was to visit them all by the time he graduated from high school. He's 17 and entering his senior year. Barring some disaster, we should complete our quest next spring.
The final tally will actually be 32 ballparks. We've been to both old and new Yankee Stadium, as well as the Metrodome, the old home of the Minnesota Twins, and Target Field, their new facility.
We didn't start out to do this. It just sort of happened.
We live in Chicago, and I'm originally from New York. So when we'd drive home during the summer to see family and friends, we'd stop along the way. Detroit. Cleveland. Pittsburgh.
But before all that, our first stop was the old Yankee Stadium. I'd grown up going there as a kid. For most of my friends, those childhood memories are still our fondest and most cherished. So I wanted George to have some of those same experiences and memories.
Coming up out of the subway tunnel on the 4 train and suddenly seeing that monument of sports architecture rise up on the left side of the train. Meeting friends at "The Bat," a 100-foot tall replica outside The Stadium. Eating the dirty-water hot dogs that were sold at the old Yankee Stadium by special dispensation from the NYC Health Department.
George and I have had all those quintessential Bronx experiences, but it is clear to me, looking back on our journeys to the Bronx and beyond, that George's memories will be uniquely his own. And that's as it should be. But they're also different because baseball has changed so much since the 1970s.
Baseball is much more of a business today. And I'm not just talking about the price of the tickets, which are sometimes downright obscene. It's the stratification of the ballpark experience, dictated by how much your seats costs.
George and I have rarely sat on the lower concourse of most ballparks. That's because it costs a small fortune to sit close to the action. Sure, there are exceptions. On Aug. 24, 2015, George and I went to see the Pittsburgh Pirates play the Marlins in Miami. We sat about 20 rows off the field, behind the Pirate dugout, for $20 a seat. But those deals are rare. Sitting that close, more often than not, costs hundreds of dollars.
That's a shame because baseball stadiums used to be egalitarian enclaves where everyone was just a fan. Lawyers sat next to bricklayers. Today, entire sections of some stadiums are off limits to fans who aren't in the 1% tax bracket or have corporate seats.
The worst examples of this are found in places like U.S. Cellular Field in Chicago, home of the White Sox. If you have an upper-deck ticket, you can't even walk on the main concourse. There is a special escalator that whisks you to the top of the stadium. Exit ramp doors have been locked so that you can't walk down and, say, watch batting practice or get something to eat at some of the more upscale concession stands. I'm sorry, but that is just wrong.
The Yankees are even worse, designating the area between first and third bases, where tickets cost up to $1,500 a game, "a suite." Because of the team's historic over-the-top greed that was aggrandized with the new stadium, I'm no longer a Yankees fan. George bleeds Yankees blue, something I always wanted, but here's the irony of the story:
When I gave up on the New York Yankees, I switched to the Los Angeles Dodgers, partly because they were an historic franchise; partly because their lone World Series victory while in Brooklyn came in Game 7 in 1955 in a shut out gem pitched by a mediocre pitcher from Upstate New York named Johnny Podres, who proceeded to get drunk at the after-party and hit on the general manager's daughter. But mostly, I switched to the Dodgers because, like me, they once called Brooklyn "home."
So I fled the ostentatious greed of the New York Yankees only to run into the arms of the Los Angeles Dodgers, now owned by a management group that includes former L.A. Laker Magic Johnson. In 2015, the team formerly known as "Dem Bums," had the biggest payroll in all of baseball, an estimated $270 million. Adding insult to injury, their games can only be seen on upper-tier, pay cable packages.
The lesson here is that it's not just the Yankees that have jacked up prices; it has happened all over the league, including Spring Training, where in 2015 the World Series Champion San Francisco Giants charged upwards of $100 for games that meant absolutely nothing.
Despite all the economic obscenities of modern-day baseball, I wouldn't trade the memories that George and I have for anything. These trips will be something we'll both remember for the rest of our lives.
Many of these memories are special because we share them with friends. For instance, George's first Yankee game was with Erich Eichman, the books editor at The Wall Street Journal. We have a priceless picture of little George, probably about 7, sitting in the upper deck of the old Yankee stadium, munching on a hot dog, next to Erich in shirtsleeves.
We also have a lot of memories with my best friend, Angelo Kalogiannis, a lifelong Yankees fan from Astoria, Queens. I went to a lot of games with Angelo and his dad over the years. In fact, I immortalized them in a piece I wrote for The Wall Street Journal in 2009 when the old Yankee Stadium closed.
George has heard all the stories of the iconic games that Angelo and I have been to, including the 2000 Subway Series between the Mets and the Yankees when we left early, with the game tied, to beat traffic. It was during that series that Mets catcher Mike Piazza shattered his bat, and a big chunk of the barrel went hurtling toward the pitcher's mound and Yankees ace Roger Clemens promptly hurled it back at Piazza in a fit of anger that emptied both benches.
Fast-forward a few years to Yankees at the Tigers at Detroit's Comerica Park. Nice stadium, paid for by the taxpayers, smack dab in the middle of the rotting urban decay that is modern-day Detroit. As we walked around the main concourse, we stopped out in center field and watched pitching coach Mel Stottlemyre hit bunts to Clemens. Thinking quickly, Angelo yelled down to the field, "Hey Mel, see how he does fielding bats!"
Angelo has been with us on countless visits to both old and new Yankee Stadium, as well as probably a half-dozen Brooklyn Cyclones games in Coney Island. He also went with us on our first visit to Citi Field, the New York Mets' new stadium in Flushing, Queens. Although we were all Yankee fans then, we liked the stadium's wide concourses and upscale food. In fact, George continues to have a soft spot for Citi Field because the centerfield food court has a Shake Shack, celebrity chef Danny Meyer's upscale burger joint. But I think George's lasting memory from that trip will be Angelo trying to buy him a cocktail at one of the centerfield bars. George was 15.
Another memorable trip for George and me was to see the St. Louis Cardinals and Kansas City Royals. We sat on top of the Cardinals dugout, courtesy of my good friend Tony Mattera, who snagged us the Wells Fargo corporate seats.
About halfway through the second inning, we all noticed a guy standing in a separate dugout just behind home plate. Every time a ball was fouled off, the ball boy would toss it to him, he'd mark the ball with a Sharpie, and throw it into a bucket. During one of the between-inning breaks, I asked the usher what he was doing. He said he was marking them as "game-used balls" that they sold in the gift shop for $75.
Tony also went with us on our first visit to the new Yankee Stadium. We ate at Grimaldi's, the formerly great pizzeria under the Brooklyn Bridge, walked across the bridge, and then took the No. 4 train up to the Bronx. I have memorable pictures of George walking on the Brooklyn Bridge in his Derek Jeter Yankees jersey, as well as photos of all of us in Monument Park, including a photo of Tony and me standing next to Phil Rizzuto's plaque in Monument Park.
George never heard "The Scooter" call a Yankees game, but he knows all of his signature phrases because they were burned into my brain and Tony's from watching countless hours of Yankees games on WPIX in New York as kids. Tony and I often repeat Rizzuto's signature phrases at games we go to today. So long after we're dead and gone, if George is at a baseball game and hears the organist play "the Tarantella," only one thing will go through his head: Rizzuto commenting to his broadcasting sidekick: "Ya know White, [catcher Rick] Cerone usually gets a hit when they play that Italian music."
We also met our friend Ben Koster at a midweek day game at Target Field in August 2015. Ben is a diehard Twins fans and one of the architects who helped design the new stadium. So in addition to spending some quality time with a good friend and baseball aficionado, Ben walked us around the stadium and showed us its design flaws.
But without a doubt the most moving baseball trip for George and me was in August 2014 when we went to Southern California. We went to Dodger Stadium, saw the Angels in Anaheim, and went to Petco Park in San Diego.
It was an emotional trip for us because we had planned it with my good friend, Capt. Joe Woyjeck of the Los Angeles County Fire Department, and his son, Kevin. Our plan had been to go see the Dodgers one night, the Angels the next. Great father-son time for the four of us.
Kevin, following in his dad's footsteps, was one of the 19 Granite Mountain Hotshots killed in the Yarnell Hill Fire in Arizona in June 2013. It was a tragedy that rocked us as firefighters, and as close friends with the Woyjecks. So when summer 2014 came around, a little over a year after Kevin had been killed, I said to Joe, "Hey, you don't have to go to these games."
"Kevin would want us to go," he insisted.
So Joe and his wife, Anna, met us at the Dodgers game, where we saw legendary Yankees closer Mariano Rivera come into the game in the 9th inning to his signature song, "Enter Sandman." The next night, we all went to Anaheim for a game against the Toronto Blue Jays.
Kevin was a huge Angels fans and always wore a cap with "KW" written in black magic marker near the brim. George and I both bought Angels caps before the game and put our own "KW" initials on the hats. I still wear mine to nearly every game. It's my quiet way of remembering Kevin and his sacrifice.
Needless to say, it was an emotional night. Especially so because none of us had remembered that the Angels play "Calling All Angels" before every home game. When the song came on, Anna, understandably, started crying and buried her head in my shoulder. Joe was up at the concession stand and met another firehouse buddy who said, "I thought I saw Anna in the stands, but some guy has his arm around her." Joe laughed and said, "That's my good friend, Mark. He's a firefighter from Chicago."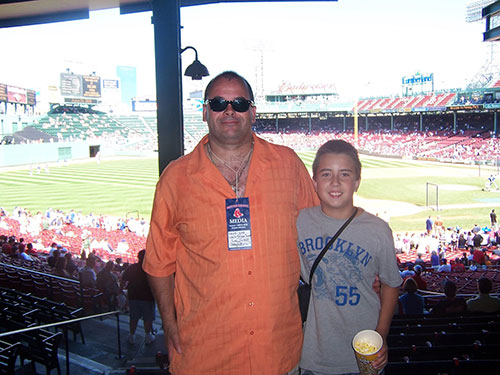 While not nearly as emotional as our trip to Anaheim, George and I both had mixed feelings when we went to Fenway Park in Boston. The Red Sox are, of course, the Yankees' hated rivals. But my mom grew up in Boston, never lost her thick Boston accent, and was a huge Red Sox fan (she once told Boston slugger Jim Rice, near the end of his career, that he needed glasses but was too vain to get them). She was a major force in my life, and George's as well.
My mom had passed away not long before we went to Fenway, so it was a special trip for us. In addition to going to the game, George and I spent a few days travelling around Boston, visiting some of the sites that were special to my mom: Revere Beach, where she spent most of her summers; Kelly's Roast Beef, one of the iconic beachside restaurants my mother liked; and, my Aunt Nell's Chelsea apartment house where I spent many summers when I was a kid, and my mom spent most of her time after my dad died. Because of that trip, George has an even stronger connection to my mom.
As for the stadium, George and I both really liked Fenway Park. It's one of the last of the old-school ballparks. It's an urban park, nestled into Allston, where my family lived before moving to New York.
Yawkey Way, the open-air street market outside the stadium, has one of the best atmospheres in all of baseball – and some of the best Italian sausage we've tasted anywhere. Yankee fans or not, we both agree that Fenway Park is one of America's great ballparks.
In August 2015, we knocked off four more teams and ballparks: the Washington Nationals in D.C., the Orioles in Baltimore, the Marlins in Miami, and the Rays in Tampa Bay.
Nationals Park was nothing to write home about. We ate half smoke sausages topped with Ben's Chili, a Washington, D.C., gastronomic landmark.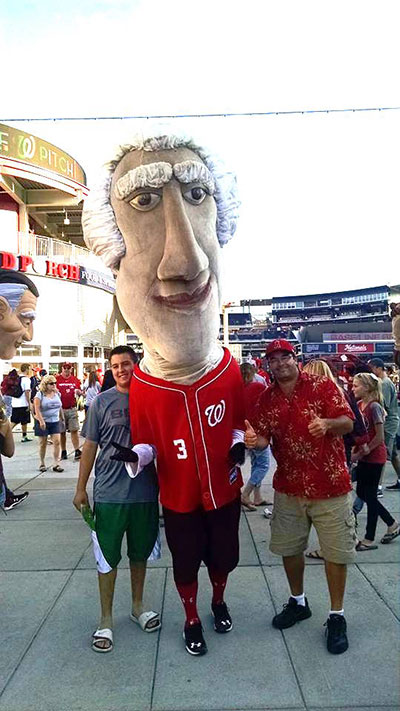 We liked Miami's brand new, state-of-the-art stadium, but it was empty. I'm not sure who in the MLB offices thought Miami's Hispanic and Latino population would unwaveringly support a Major League franchise, but they've been proven wrong almost every season.
There were maybe 10,000 people at the game we went to, about half of them Pittsburgh Pirates fans. But the Cuban pulled pork nachos were one of the best ballpark foods we've had anywhere.
Tropicana Field in St. Petersburg, home of the Tampa Bay Rays, was the rundown dump we expected it to be. At 25 years old, it has none of the charm of the retro ballparks that have been built over the past two decades. And we weren't impressed with the food.  
As for Camden Yards in Baltimore, we liked it. Liked. Not loved.
George and I had both been anticipating our trip there because Camden Yards was the first of the modern, retro ballparks that opened to rave reviews in 1992. We were also interested to go to Baltimore because, so far, our favorite ballpark was PNC Park in Pittsburgh. We both wondered how Baltimore would compare to Pittsburgh. Our consensus is "a close second."
Camden Yards has aged well. In fact, I expected the concourses and amenities to feel a lot more dated. The one big disappointment was Boog's BBQ, the legendary centerfield concession stand run by former Orioles first baseman Boog Powell. I'd heard about Boog's for years from other baseball fans, but George and I were both quite disappointed. Maybe we've been spoiled by BBQ in Texas, but Boog's wasn't BBQ to us. It was nothing more than a dry roast beef sandwich.
Having said that, with 26 of 32 ballparks under our belt at the end of Summer 2015, PNC Park in Pittsburgh remains our favorite place to watch a game. It is the quintessential retro ballpark, with a great view of the Sixth Street Bridge and Pittsburgh's small but attractive skyline just beyond centerfield. It has great sightlines, good concessions, including Primanti Brothers signature sandwiches. And even with the Pirates vying for the NL Wild Card, tickets remain reasonable and available.
Of course, that could all change when we go to San Francisco at the end of September 2015. We've heard great things about AT&T Park, both in terms of the architecture and the food, which is supposed to be out of this world. We'll also visit the A's in Oakland, a stadium that never was much to talk about. I don't expect it to be any better.
That leaves us with four ballparks left for 2016: Seattle, Arizona, Atlanta and the Texas Rangers' Ballpark at Arlington. Four more opportunities to add to the treasure trove of memories that George and I have now…and will have for the rest of our lives.
The Yosts' Top 5 Ballparks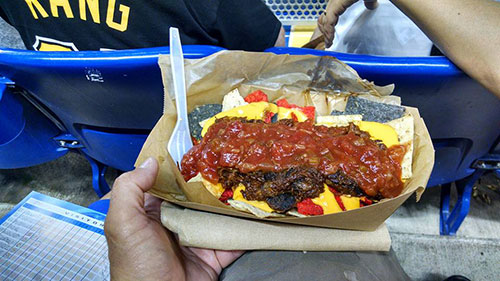 PNC Park, Pittsburgh
Yankee Stadium, Bronx
Citi Field, Flushing, Queens
Camden Yards, Baltimore
Fenway Park, Boston
The Yosts' Favorite Ballpark Foods
Cuban pulled pork nachos at Marlins Park, Miami
Italian Sausage at Yawkey Way, outside Fenway Park, Boston
Shake Shake at Citi Field, Flushing, Queens
Garlic Fries, Dodger Stadium, Los Angeles
Half Smoke All The Way (with Ben's Chili), Nationals Park, Washington, D.C. 
Links:
Mark Yost at Stay Thirsty Publishing
Mark Yost
All opinions expressed in this article are solely those of its author and do not reflect the opinions of Stay Thirsty Media, Inc.