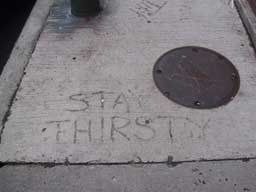 (Chicago, IL) In a small section of concrete where Chicago's Schiller and Wells streets intersect lies a manifesto so inconspicuous that people walk over it every day blind to the power beneath their feet. One might call it an urban hieroglyph. Its quiet simplicity shouts "Stay Thirsty" and it is those words that became the guiding force behind Stay Thirsty Magazine.
"Stay Thirsty" is more than an idea. It is a call to arms. Founded on the philosophy of Ryan Licht Sang, a shining young musician, artist and writer who passed away at the age of 24 from Bipolar Disorder, "stay thirsty for life" is the magazine's clarion call to shine a spotlight on creativity and ideas in all forms from around the world.
"The founders of this magazine are driven by passion and a 'thirst' for knowledge," said J.D. Wilkes. "However, they carry a torch for a much more profound reason than just simple curiosity. Theirs is a special mission to carry on a great legacy; to cherish the fragility of life and chronicle both its nuances and its extremes. Stay Thirsty!"
Operating from a truly 21st Century virtual platform, Stay Thirsty draws upon the insights, impressions, opinions and expertise of writers, musicians, artists, dancers, filmmakers and thinkers without regard to convention or location.
We invite you to slip beneath the cracked cement of society's streets and discover the pulse of contemporary expression.
We invite you to Stay Thirsty.
More about The Creative Legacy of Ryan Licht Sang