By Gerald Posner
Guest Columnist
Miami Beach, FL, USA
---
Good investigative reporting is never quick. Cultivating valuable sources takes patience, doggedness, and sometimes a bit of luck. And uncovering leads and fresh information can take months of digging through archival documents and microfilm. Still, even some colleagues are surprised when they learn how long I have pursued one matter. For thirty-two years I have unsuccessfully tried to solve the riddle of what happened to a briefcase stuffed with medical notes and lab specimens belonging to Auschwitz's Angel of Death, Dr. Josef Mengele. There is no better illustration that no matter how great a journalist's resolve and commitment, some issues stubbornly refuse to be wrapped up with a tidy final chapter.
While practicing law in 1981 in New York, I agreed to pro bono representation of Marc Berkowitz, a surviving twin of Mengele's concentration camp experiments. Berkowitz, and his twin sister, Francesca, wanted either the German government or the Mengele family to pay for the expensive medical care that they – and about 100 other surviving twins – incurred every year as a result of what Mengele did to them in his nightmarish lab. More than anything, Berkowitz and other twins desperately wanted to know the details of the procedures Mengele had subjected them to in his zeal to create the Nazi's "perfect race." Without specifics, such as what was in the injections he administered, modern-day doctors were sometimes frustrated in identifying the root causes of chronic ailments suffered by surviving twins.
Berkowitz and other survivors contended that Mengele was so completely addicted to his Frankenstein-styled experiments that he would have preserved some record of them. And that belief was bolstered by the postwar testimony of Dr. Martina Puzyna, an inmate anthropologist forced to serve as one of Mengele's camp assistants. She told postwar investigators that on January 17, 1945, when Mengele fled Auschwitz, he "took all my papers, put them into two boxes, and had them taken outside to a waiting car."
At the time Berkowitz made the trip from Westchester County to my midtown Manhattan office, investigators from Israel, West Germany, the U.S., as well as private Nazi hunters, were all confident Mengele was alive and well. Most believed he was protected in a secure jungle compound, likely deep in the Paraguayan rainforest, protected by killer dogs and armed guards. It was little wonder that Mengele had assumed mythic proportions. By 1981 he not only had evaded justice for 36 years but he was by then the world's most infamous Nazi fugitive. Three years earlier, a Hollywood icon, Gregory Peck, played Mengele in the film, Boys from Brazil, in which "Mengele" – operating from his South American hideout  – was the mastermind of a plot to repopulate a Fourth Reich with genetic clones of Adolf Hitler. Two years earlier, Lawrence Olivier was cast as the seemingly unstoppable Mengele-based Nazi doctor in another film, Marathon Man.  
Although none of us then knew it, Mengele was already dead by the time I met Berkowitz. But his body would not be discovered for another four years. In the meantime, Berkowitz's story of the torture he endured at Auschwitz and the idea that his perpetrator was living his days in freedom, lit a fire in me. What I thought would be a simple pro bono case that took up a few hours a week became an all-consuming passion. The extent of my commitment was evident in the June 24, 1985 issue of Time. The cover story was "Searches: The Mengele Mystery." The article introduced me as "an American lawyer who has assembled 25,000 pages of documents and interviewed 200 witnesses in South America during a four-year search for the doctor of death."
One of those I had interviewed suggested a possible lead in the quest to answer Marc Berkowitz's question: "What did he do to us?" It was in the summer of 1983 that a German, Herbert John, met me in New York. Tall and rail thin, and wearing a rumpled tan suit that looked as though he had slept in it, the middle-aged John – in heavily accented English – proceeded to boast of his contacts inside the remnants of what he called Die Spinne (The Spider). It was, he said, the real Odessa File, novelist Fredrick Forsyth's bestselling thriller about a powerful and secret network that supported Nazi fugitives escape justice. 
At first glance, John had some good credentials. For more than twenty years he had been a roving reporter in South America for one of Germany's leading newsweeklies Der Spiegel. Ladislas Farago, a bestselling author of books such as Patton and The Game of the Foxes, called John "one of the most resourceful and courageous reporters on the trail of fugitive Nazis." So he completely caught my attention when he claimed to not only know a German doctor in Paraguay who had met Mengele, but also to have a Buenos Aires-based acquaintance who knew the whereabouts of an attaché case that Mengele had left behind years earlier in Argentina. That case, boasted John, contained even "notes about his camp work." Only he could broker any deal for the attaché, which he said could only be obtained for "about $100,000. That should do it."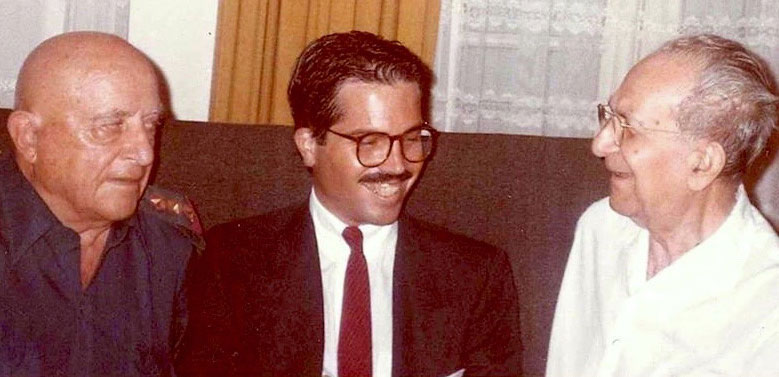 So began my due diligence into the bona fides of the fast-talking German who dangled the promise of a breakthrough on the hunt for Mengele. I was hopeful but skeptical. Over the years I had encountered people who had verifiable connections in the neo-Nazi underworld but who invariably passed along exaggerated tales in the hope of cashing in on the desperation of victims and the frustration of Nazi hunters. In South America I had discovered there was a burgeoning market for fake Nazi memorabilia as well as "latest tips" that were always for sale. Those false leads invariably led to some hotel run by other conmen: "The man you are looking for just left with a group of Germans" was the common refrain. Real facts did not slow the conmen who made money off Holocaust victims. Typical was Erich Erdstein, an Austrian-born soldier of fortune who boasted to me that he had tracked down Mengele and shot him to death. Erdstein even wrote a slim book about his adventures. When I later confronted him with the incontrovertible evidence that Mengele was alive after Erdstein claimed to have shot him, he shrugged his shoulders: "I guess I must have killed the wrong man."
It did not take long for me to conclude that Herbert John was not reliable. I learned that he had told several other journalists that Martin Bormann, Hitler's powerful secretary, was living in Bolivia. Although most historians believe the Soviets killed Bormann when he was trying to escape Berlin in the final days of the war, a burgeoning business existed over providing "proof" that he made it safely to South America. John went one step further, occasionally pulling from his jacket pocket a tiny black and white photograph of some men, one of whom he said was Bormann in 1958 leaving a Rotary Club meeting in La Paz. It did not matter that the picture was so grainy that it was impossible to identify the middle-aged man. John was a good salesman. He talked about the snapshot in whispers and spun a riveting tale of how he obtained it through Hans Rudel, Hitler's most decorated wartime pilot. Every new clue that John offered about Mengele was available only at a price, and the few he passed along without any charge ended up as dead ends.
The possibility of a Mengele briefcase with notes from Auschwitz remained only an unproven rumor until 1985. That year police executed a search warrant in Germany of a Mengele childhood friend and found hidden behind a dresser documents that identified a German-Brazilian family that protected the fugitive doctor. Once Brazilian investigators began interrogating that family they quickly found out that the fugitive doctor had died five years earlier while swimming in the ocean at a coastal resort outside Sao Paulo. A skeleton was soon recovered from a makeshift grave and a team of internationally recognized forensic pathologists eventually concluded unanimously that they were Mengele's bones.
In Munich, Mengele's only son Rolf, a lawyer, turned over thousands of pages of his father's postwar letters and diaries to Bunte, a German magazine. In 1983, one of Bunte's competitors, Stern, had been mortified after it published Hitler diaries that turned out to be fake. So Bunte assembled a team of historians, handwriting experts and document authenticators to be determine whether the Mengele archive was authentic. Because of my extensive file about Mengele, I was invited to be part of the panel. For weeks in Munich I questioned Rolf Mengele and poured over his father's postwar writings (Rolf Mengele later allowed me and my British co-author, John Ware, to use his father's private papers in our 1986 biography, Mengele: The Complete Story).
It was while examining those postwar diaries that I found the first confirmation of the eyewitness account that Mengele had fled Auschwitz with his medical notes. In his own handwriting, Mengele recounted his retreat westward during the spring of 1945. It was then he struck up a relationship with a German nurse he left unnamed. Fearing that if he was captured with his medical notes he would be unmasked instantly as a camp doctor, he gambled by entrusting her with his Auschwitz records. 
It was a wise decision. Mengele was subsequently detained and released twice by American troops. The nurse meanwhile made it safely back to Gera, a small town in the Russian zone. It was in July 1945 that Mengele made a three-week journey that he described as "a crazy undertaking," and risked capture by the Russians, to travel to Gera to retrieve his papers. 
Mengele – who then hid under an alias on a small farm in southern Germany – does not mention his Auschwitz cache until 1949 when he was preparing to flee Europe for the safehaven of Argentina. In his diaries, someone called Erwin met him at an Italian inn near the Alps. Rolf Mengele later confided to me that Erwin was almost certainly Hans Sedlmeier, one of Mengele's childhood friends and the sales manager at the family's agricultural equipment firm. Sedlmeier brought along cash for the trip to South America and also "a small suitcase filled with scientific specimens."
On August 26, 1949, Mengele passed through customs at the port of Buenos Aires. An inquisitive immigration agent asked him what was in the suitcase that contained his specimens. Mengele said "biological notes." Not satisfied, the agent called the port doctor. But that doctor did not read German. After flipping quickly through the documents, he waved Mengele through.
That was the last time the diary mentions the Auschwitz papers. Did Mengele destroy them as the hunt for him picked up pace a decade later? Did he bury them in some unknown hideaway, possibly undiscovered to this day? Or did he pass it along to one of his South American protectors?
Mengele's son Rolf assisted me over the years in hunting for the missing camp notes. He questioned the two families who had helped his father stay one step ahead of his pursuers. Both adamantly denied ever seeing any such documents. The same denials came from Rolf's aunt and a cousin who had lived with Mengele for a few years in Argentina. And I have had no success, despite combing through reams of Nazi party files and records, in identifying the nurse from Gera.
That I have not had a breakthrough yet on Mengele's suitcase is frustrating but it does not deter me from continuing to look for it. Just this past May, I received a note from an American living in Berlin who had some fresh thoughts that rekindled my interest. If it is still out there somewhere, I'm determined to find it. Did I omit another necessary trait of a good investigative journalist? Perseverance.
Link:
All opinions expressed in this article are solely those of its author and do not reflect the opinions of Stay Thirsty Media, Inc.