The Economics of Spring Training
By Mark Yost
Chicago, IL, USA
---
"I want all the spring training teams to be back here," said Rick Scott.
He isn't some rabid Cleveland Indians or Los Angeles Dodgers fan, sad that his team has left Florida for Arizona to hold their annual Spring Training workouts. He's the newly elected Republican governor of Florida who has vowed to win a bidding war for these teams, and he's going to use taxpayer money to do it.
Never mind that there's hardly a better definition of economic insanity than stadium subsidies. This is especially true for Spring Training, where rich teams – Forbes recently estimated the net worth of an average Major League Baseball team at $1.2 billion – often pit small communities against one another to get the best stadium deals. Case in point: In 2010 the Boston Red Sox, estimated net worth $2.1 billion, struck a deal with Lee County, Florida, to sell $81 million in bonds to finance a new stadium. Making matters worse, Lee County still had $17 million in outstanding debt on the old $51.5 million stadium it had built for the Red Sox in 1993.
Lee County's deal is not nearly as bad as the one struck by Winter Haven, Florida, and the Cleveland Indians, No. 25 on the Forbes list at $825 million. Baseball's wandering Tribe trained there from 1993 to 2008, but Winter Haven built the team a stadium, didn't charge them rent, and let the Indians keep the bulk of revenue from ticket sales, concessions, parking and advertising. According to Michael Stavres, Winter Haven's director of community services, annual upkeep of the stadium for one month of baseball and whatever tourism it brought in cost the city $800,000 a year.
When the Indians left Winter Haven for a new Spring Training facility in Goodyear, Arizona, the small Florida community only saw a drop in sales tax revenue of $133,000. Do the math and the revenue from the baseball team was about 16% of the annual subsidy.
And why did the Indians go to Goodyear? Because the small community on the western edge of Phoenix built them an 8,000-seat, $108 million stadium.
These sweetheart stadium deals aren't an anomaly, they're the norm. And by almost any measure, they're a horrible use of taxpayer dollars.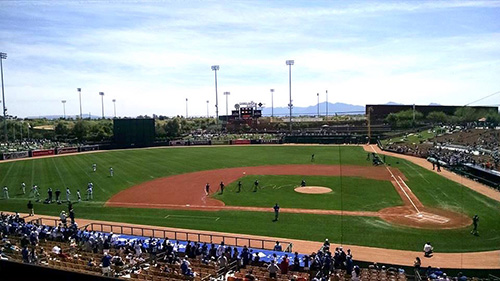 USA Today did an analysis of the economics of Arizona's Cactus League, which in the late 1990s hosted just a handful of Major League teams each spring but now is home to 15 of MLB's 30 teams. In most instances, the subsidies far outweighed the returns.
For example, Maryvale Baseball Park, where the Milwaukee Brewers train, brings in an estimated $630,000 in revenue each March. The city's subsidy? $1.2 million.
And as these teams hopscotch from city to city to get the best deal, they often leave their old hosts stuck with huge debt and no team. The best example of this is the Los Angeles Dodgers, valued at $2.4 billion, who now play in a brand new facility in Glendale, Arizona. In 2009, they left Vero Beach, Florida, where they'd trained since they were the Brooklyn Dodgers. The city was left with $15 million of debt on an empty stadium that won't be paid off until 2031, according to a recent Florida Legislature report on sports subsidies. The same is true, according to the report, for the Toronto Blue Jays, net worth $870 million, whose lease expires on their Florida facility in 2016, but the debt – more than $41,000 a month – won't be retired until 2023.
Even long-established Spring Training clubs are cashing in. The Chicago Cubs, who haven't won a World Series in more than a century but have been in Arizona's Cactus League since the 1950s, recently moved into a new stadium in Mesa, Arizona, thanks to $100 million in taxpayer subsidies.
What makes this all the worse is that while the municipalities are sticking it to the taxpayers, the teams are sticking it to the fans.
If you haven't been to Spring Training lately, it has come a long way from the quaint affair it was just a few decades ago. The star players don't sign autographs the way they used to; in fact, most of the starters, with the exception of pitchers, only play a few innings each game.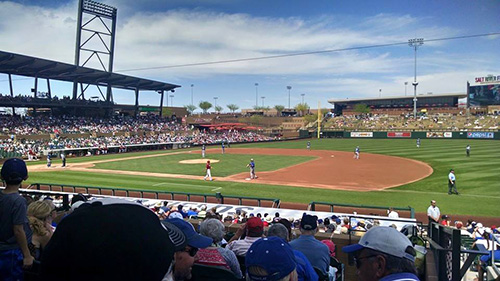 Fans hoping to see the World Series Champion San Francisco Giants, estimated net worth $2 billion, this year had to pony up $100 for good seats at Scottsdale Stadium, which receives some $800,000 in annual subsidies, but only brings in an estimated $500,000 in tourism dollars.
The Giants are one of the teams who apply so-called dynamic pricing to Spring Training games, in which they charge more for games against key rivals. So bleacher seats for a March 26 game against the Oakland Athletics were $49; those same seats for a game against their inter-division rivals, the Dodgers, a few days later were $61.
Despite the dire economics of stadium subsidies and the high price of tickets, fans keep coming to watch games that mean absolutely nothing, played mostly by guys they'll never hear from again unless they follow the AAA farm club. In the final weeks of Spring Training in Arizona, games against key regular-season rivals such as the Giants and Dodgers and what Chicagoans call their Crosstown Rivalry, the White Sox at the Cubs, were sold out.
Unfortunately, what the vast majority of tourists who are here for something other than baseball don't realize is that regardless of whether or not they go to the game they're paying for it in the form of higher sales taxes on hotels, rental cars and food. Money that politicians frequently tell taxpayers will cover the cost of a stadium, but rarely does.
Links:
Mark Yost at Stay Thirsty Publishing
Mark Yost
All opinions expressed by Mark Yost are solely his own and do not reflect the opinions of Stay Thirsty Media, Inc.