By Matt Cutugno
Palermo, Italy
---
Matt Cutugno chillin at piazza San Domenico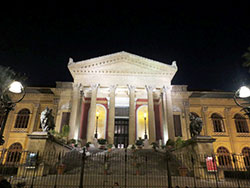 Teatro Massimo
Palermo alley
I dream I'm in Palermo, Sicily. It's raining in the dream; it doesn't rain much in Palermo. I'm waiting out the wetness under an overhang at Teatro Massimo, the storied opera house where Godfather III had its climactic scene. Not much is going on, no opera tonight. The piazza around the theater (called Verdi) is ringed with cafes, ice cream parlors, and vendors from Bangladesh selling trinkets and electronics.
I don't have an umbrella and I don't care. I decide to walk in the rain down Via Maqueda. As I travel the narrow sidewalks past close-set buildings, it strikes me that Palermo is a dirty town—that's not the right word. Yes, buildings have seen much better days, and true the abandoned churches haven't had their walls cleaned in a century. The omnipresent graffiti (from graffiato: scratched) is awful. Still, Palermo is not dirty. This proud city just honestly shows its age.
In the dream I'm at vucciria, the central market located in alleys off Via Roma. The rain has lessened. I make my way down the cobblestones. There are numerous stalls of nicely arrayed vegetables, religious icons of every sort and size, freshly butchered meat on display, and a lot of bric-à-brac. Vendors call out—one recognizes me as the New Yorker who speaks Italian, he gives a wave.
Now I'm inside a salumeria, a deli. It's called Prezzemolo, "parsley," an odd name for the place. They have the best panini ever. The friendly counter man (who reminds me of young version of my Italian uncle Mike from Carteret, New Jersey) makes me a panino with prosciutto cotto, fresh mozzarella, tomatoes, all sprinkled with olive oil. The bread is simply fantastic. Luckily for me and my sandwich, when I exit the store the sun is shining. What to do as I eat? I could walk to the Arab quarter, Kalsa, and the marina in Cala Bay. There are myriad boats moored among laughing fishermen and locals. I could check out Palazzo dei Normanni with its awe-inspiring marble and mosaics. Maybe I should take a bus to Monreale cathedral or to the funky beach at Mondello.
Then I notice, while still dreaming, that it's happy hour and I'm back at vucciria. That's convenient because there's a raucous enoteca where it's one euro for a glass of wine. I like to speak Italian with the barkeep. Good thing because he doesn't speak a word of English. He's a big, slightly slovenly man, but he's friendly to strangers.
"Ciao tizio," he greets me, calling me "guy." He's easy to talk to. All I have to do is offer a topic of conversation, and he takes it from there.
"A proposito, quanto vecchio il locale?" I ask him about the enoteca and he tells me its history. I understand half his words but it doesn't matter. He splits to serve more one-euro wine. Groups of men are around talking soccer, politics, women, the usual things. No one pays attention to me; unless I speak, it's like I'm invisible. I like that about Palermo. Not long afterwards, in the dream, I'm eating a slice of the thinnest crusted, sweet-sauced pizza and having a nastro azzurro. I'm at an outdoor café on Via Maqueda. It's late. The rain has stopped, just wet black cobblestones along the dark alleyways. Then I wake up. And it's cool because I'm in Palermo in my hotel room overlooking Piazza Verdi.
Link:
Matt Cutugno's Profile at Stay Thirsty Publishing
All opinions expressed by Matt Cutugno are solely his own and do not reflect the opinions of Stay Thirsty Media, Inc.