By Matt Cutugno
Indio, CA, USA
---
Uncle Ralph with Matt Cutugno
I've been thinking about my uncle Ralph lately. He's 88-years-old now, and when I was growing up he lived with my Italian grandmother in the downstairs portion of the two-family house we called home. After dinner I'd come down to our backyard and he and I would have a catch with a baseball or football, depending on the season. Sometimes he'd show me how to take pictures with his 35mm camera. He even had his own darkroom for developing his photos—I wasn't allowed in there.
He's been an essential family member all my life. He was around for weddings and baptisms, 4th of July barbeques and funerals. I was raised Catholic and when it was time for my confirmation, my uncle was my sponsor and my confirmation name is Raphael. He was my father's closest sibling so, as years went by and Dad's health declined, he was there to help in any way he could. He would quietly and dutifully trim hedges and rake leaves. Now he's the ultimate living member of his generation in our family, so we call him the Last Man Standing.
He was born in 1925, the son of Italian immigrants. Raised in a small town on the Arthur Kill across from Staten Island, he, like his brothers and sisters, spoke only Italian before going to school and learning English. He served in the army infantry in World War II, seeing action in Europe. Near the end of the war there, he awaited transfer to the Japanese Theater, as fighting still raged in Asia. He was barely twenty-years-old and scared at the prospect of an invasion of the homeland of a foe unwilling to surrender. Uncle Ralph says that President's Truman's decision to drop atom bombs saved his life.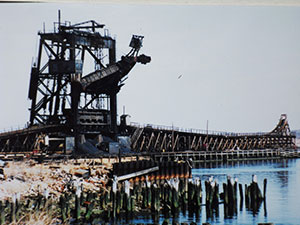 Coal Dumper - Port Reading, NJ (1975)
(credit: Ralph Totero)
Despite no formal training, he is an artistic type. Besides taking pictures, he loves to draw in pen and ink, and is very good at it. He's creative too—he showed up at our house one day with model sailing ships that he had made out of aluminum beer cans. He was also an avid and accomplished bowler. One year he averaged nearly 190 for the season. He could have done even better but my father accidently rammed a two-by-four against his thumb while they were working. My father could be an impatient craftsman, so perhaps the accident was avoidable. But Uncle Ralph didn't complain—he had his big brother fill-in for him on the team, though Dad wasn't as good a bowler.
The man has had a few tough breaks. He was never lucky in love, had no driving career ambition, and his financial fortunes are not good. He was close to his mother and as she aged he was her primary caregiver—before that phrase was fashionable. By the time she passed away he was an adult and a bachelor. He worked in a factory on an assembly line, never complaining about the drudgery. We kiddingly call him Ralphie Boy, like Art Carney used to call Jackie Gleason.
I don't know if we ever truly and fully appreciate the lives of our family and close friends. Uncle Ralph is an extraordinary fellow, and I sing his praises now while I can. I'm not convinced that the meek shall inherit the earth, but for his sake I hope they do.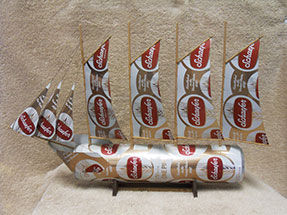 Aluminum Beer Can Sailboat (2002)
Ralph Totero
---
Pen and Ink (1987)
Ralph Totero
---
Pen and Ink (1995)
Ralph Totero
---

Link:
Matt Cutugno's Profile at Stay Thirsty Publishing
All opinions expressed by Matt Cutugno are solely his own and do not reflect the opinions of Stay Thirsty Media, Inc.