By Jay Fox
Brooklyn, NY, USA
---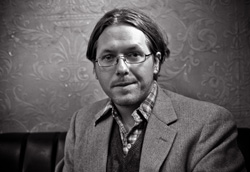 Jay Fox (credit: Ashley Sears)
---
Evil will be done, and yet no one will be responsible — Honoré de Balzac
I had anticipated writing a story about a bar within close proximity to Zuccotti Park, the headquarters of the Occupy Wall Street movement. This was in vain. While there are plenty of places to tie one on if you go into the trendy region of TriBeCa or walk for several blocks down to Stone Street, the happy hour haunt for Wall Street types under the age of thirty-five, there aren't too many bars in the Financial District. True, there are some really posh places, a few Irish pubs that cater to the afterwork crowd, and a few dingy construction worker dives (though these are usually a bit further north), but the Financial District does not have enough of a residential population to support a thriving nightlife scene. This is pretty obvious to anyone familiar with the bars in the area since the majority of them, despite the large amount of tourists who come to the area, do not even bother opening on Saturdays or Sundays (this includes, but is not limited to, Trinity Place, Pound & Pence, and the Irish Punt).
However, just for the sake of mollifying my own curiosity, my girlfriend, Josephine, and I headed down to the area to see if the protesters had hurt the business of one local bar, O'Hara's Pub (the bar that is closest to Zuccotti Park and open on Saturdays). Unfortunately, we couldn't even get a word in with the bartender because she was too busy, we couldn't ask a waiter anything because we couldn't get a table, and we couldn't solicit anyone for a table to then speak to a waiter because there were no hosts or hostesses or anyone who wanted to give us the time of day. Maybe we looked more disheveled than we thought. Perhaps we were mistaken for protestors or anti-establishment types who were bent on mocking the bar's overindulgence in Bush-era 9-11 memorabilia. Who knows? The only thing that I was really interested in seeing was how the protests had affect bar business. From the look of things, it hadn't. Business was booming; the bar's close proximity to Zuccotti Park didn't matter.
We couldn't find another bar in the vicinity. We walked around for some time, too, looking not only for a place to get a drink, but for a chance to witness the pandemonium around the park over which the media has been obsessed for the past month or so. We never found it. We were never inundated with an amount of pedestrian traffic comparable to that of Midtown. We did not smell the miasma of piss and shit that has been the subject of so many (seemingly spurious) complaints. We never felt as though the mob was going to override civilization, or even perpetrate any serious criminal acts because there were at least two cops for every protestor.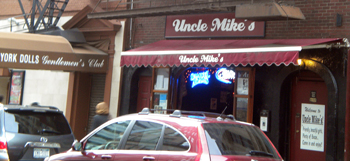 Uncle Mike's
---
We ended up giving up on finding a place nearby, and walked uptown to Uncle Mike's (57 Murray St., Manhattan). This bar serves two purposes. First, it is a blue-collar dive, usually filled with construction workers and a few title examiners who come in for the early happy hours during the week (1-5 pm). Its location next to New York Dolls, which is exactly what you think it is, presents its second purpose: to get those who plan on going next door a little tipsy on the cheap. The bar was split pretty evenly along these lines when we entered a little after five-thirty. The bartender, a pair of hot pants and a string bikini-top away from stark naked, chatted with her two friends in one corner while a poorly planned bachelor party took shots in the middle of the room. Once the clock struck six, the latter group made their way out. The jukebox, which had been playing a solid string of Radiohead songs, courtesy of the bachelors, went silent.
A quiet bar is something of an anomaly, and a rather uncomfortable one at that. Every bar is supposed to be at least a little noisy in order to cushion conversations from one another, to provide shelter from awkward silences, to get the seriously hammered to dance. Unfortunately, Uncle Mike's was not in the business of providing free music, and the bartender and her two friends were not in the mood to put anything on. For a while neither were we, as no awkward silence was going to sprout up between two people talking about the protests and the Occupy Wall Street movement in general.
I went out for a cigarette with my girlfriend after griping about these types of things for well over an hour. The bar was still pretty much empty, the only new people to come into the place being a new bartender with Anime-style hair and two younger guys, Alexander and Nameless, who had evidently been bitching about the same kinds of things as we had.
The four of us shared a few smokes and continued our conversation, now in stereo, about the economic injustices that had really been the inspiration for the Occupy Wall Street movement. Alexander, 23, from Queens, had been unemployed and homeless for almost a year. His friend, whose name I can't remember, had had a bit of a better lot in life, and had bought Alexander a few drinks to help him keep his spirits up. The former had been encamped in Zuccotti Park since September; the latter seemed to be of the more opportunistic and nihilistic sect that has been the focus of a lot of pundits who have come out in opposition to the protests. Even if he wasn't well versed in politics or economics, his enmity towards Wall Street was understandable. While the protests may lack what Gandhi believed was the most crucial part of a mass movement (simple and clear demands), the sense of despair this generation faces is at times debilitating, especially when it seems as though our grievances are either ignored or derided by the political elite.
Before Alexander and his friend left to return to Zuccotti Park, Nameless handed me something that is still sitting on a table not more than five feet away from where I sit right now. It is a survival wrap (more or less a reflective blanket). He told me that it would come in handy should I ever care to come down to spend the night in the park.
My only question—whether this wrap will be considered a tent?
Link:
Jay Fox's profile at Stay Thirsty Publishing
---