By Sarah L. Myers
Editor-in-Chief
New York, NY, USA
---
For any heavy metal fan growing up in the 1990s, Sebastian Bach was a god. Bred from the same front man pedigree as David Lee Roth and Axl Rose, Bach is that magical combination of startling good looks, charismatic personality, and unparalleled vocal talent that's surpassed hair metal, branched to television, and even landed on Broadway. It's been 15 years since he parted ways with Skid Row, with whom he ruled the world as the 1990s "Big 3" with Guns n' Roses and Metallica.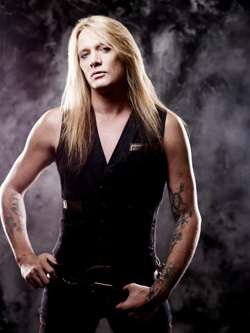 Sebastian Bach
---
Bach is the first to admit that things have changed, and given his larger-than-life persona, he's the last you would expect to be humble. There was a shift as we spoke, and that face from the front of my old magazines and bedroom posters became a grateful, passionate, and enduring artist. His latest record, Kicking and Screaming, arrives with many changes in his life. Recently divorced and transplanted to L.A. (Bach lost his New Jersey home in Hurricane Irene), he describes the record as his saving grace. Songs like "As Long as I Got the Music" and "I'm Alive", combined with a defiant and kickass title track, shows us the mature Bach, who still screams like a teenager.
He's established himself as a solid solo artist, though there wasn't ever much to prove. Kicking and Screaming is out this month on Frontiers Records. Bach's headlining US tour kicks off November 5th in New Jersey. As Bach would say, rock n' roll, mothertruckers!

THIRSTY: You just moved out to L.A.?
Sebastian Bach: Yeah, I have a place out here. I'm staying with Cheryl Rixon, who owns a jewelry line and her husband Art Davis, who owns Voyeur nightclub, among other places. Just an incredible home. I was at the Rainbow, I was hanging out with them and I said I was looking for a place here and they said, "You can stay in the house." I had no idea that she lives in a palace! If you could see where I'm at right now it's just crazy, it's unbelievable. I have a place in New Jersey too, so I'm bicoastal and going back and forth.
THIRSTY: So if you were at the Rainbow, you saw Lemmy playing his video poker, right?
Sebastian Bach: Oh yeah! Yeah, he's always there. I love the Rainbow, it has not changed in 20, 30 years. Incredible to go in there, everybody's nice to me in there. It's just a fun place. The Rainbow has a long history of, you know, it used to be called the Grove before it was called the Rainbow, I think it was called that. And that's where Marilyn Monroe got engaged to Joe Dimaggio, right in the Rainbow. So it's got quite a history.
THIRSTY: Congratulations on the new record! It debuted at number six on the rock charts. That's incredible!
Sebastian Bach: I have not been on the charts in 16 years, which really is incredible.
THIRSTY: So your last was Subhuman Race then.
You must have Adobe Flash Player to use this function.
Sebastian Bach: Yeah, that got to like #45 or something. And (Angel Down) came in at #68. So I'm really establishing myself as a solo recording artist and it feels incredible. After 16 years to come back on the charts like that, it's really… I just have to thank Frontiers Records and my management Rick Sales. They all did such a great job. I just, I really, I don't know what to say. I can get real emotional about it. Like I really loved Angel Down, thought it was a great album, but when it came on the charts, it was only on the charts for one week and it really was depressing. I thought it would do way better than that. So for this album to do very well on the charts, I'm not going to lie to you, it does feel very good.
THIRSTY: Anthrax's last album debuted in the top ten as well, so it's almost like this appreciation is back for good, honest rock n' roll.
Sebastian Bach: Yeah, I mean, you can't control things like that. I can't control people out there going in the store and buying the record. It's beyond my control. All I can do is make a record that I like and I really, really love this album and it sounds great to me. And the fact that other people like it is just incredible. It's a great honor. It guarantees that I get to do another one, which is really the whole point of it!
THIRSTY: Discussing some specifics of the record, obviously you have Bob Marlette working with you, which had to greatly influence the sound of it, being so heavy and so crunchy.
Sebastian Bach: Yeah, it's really clear, it's really clear. You can hear my voice perfectly. It's very clean, the studio. You can hear the separation of all the instruments. You can hear my voice so clearly, and you can hear what I'm saying and my consonants. Everything is just perfectly placed. It's a very, I mean this album is something you can put on, like if you have a good home stereo, this will totally blow off your stereo.
THIRSTY: I can't wait to hear some of the songs live. I know you've been playing a few already. "Tunnel Vision" really stands out to me.
Sebastian Bach: That's a sexy, sexy, grooving riff for sure. Every time I hear it I'm like, goddamn, yeah! It's so fucking, it's just so cool! That song makes me feel really cool, for lack of a better word. I mean, I go running and listen to music and that just gives me so much energy when I'm running. The whole album does. I made the whole album while I was running and if you put it on right before you work out or go running, it will take you all the way through your work out, I can guarantee it. I've been working out to this record for two fucking years, long time!
THIRSTY: The pacing is just so great too. You start with "Kicking and Screaming" which just kicks you in the face right away, then you have that beautiful ballad "Wishin" at the end. It really takes you up and down.
You must have Adobe Flash Player to use this function.
Sebastian Bach: You know a song like "As Long As I Got the Music" is like my big arena-rock, kind of KISS-Def Leppard original rock song. I don't do too many of those, but the sequencing of the record, I love when it gets to that song because it's like just a good time rock n' roll song, "as long as I got the music!" It's not too heavy and then it goes into "I'm Alive" and then it goes right into "Dirty Power" which is fucking crushing! That song is so heavy and cool. I'm a big fan of making records. I know some musicians are saying now that the days of making records are over, but I love records. I like being on a plane flight and press play on an album and listen to the whole album all the way through. I just appreciate that. I love the album Set the World on Fire by Black Veil Brides, great album. So I'm going to continue to make records. I'm not just going to make singles. It doesn't interest me. I like records.
THIRSTY: How did the "Tunnel Vision" collaboration with John 5 come about?
Sebastian Bach: He's a big fan of mine and he said, "Sebastian, I would love to write a song where I could hear you on the radio today." That's going to be our next single. I don't know if it's going to get on the radio but I think it should! I think "Tunnel Vision" is…my voice is really, I'm not over powering the song, I'm not screaming too much. It's very, it's an emotional lyric. It's about people's tunnel vision towards me and me not letting it affect me. That's what I wrote it about. Yeah, I'd like to write a lot more with John 5 in the future.
THIRSTY: You've been playing that one live, so how is it going over with the crowds?
Sebastian Bach: It's mesmerizing. Sometimes when we want to cut the set down, I'll say we need to take out "Tunnel Vision" because it's too new, and my sound man will not let me take it out of the set. He's like, "Fuck you! You're not taking that out!" It's sexy. It's a sexy tune. I guarantee you we will play it live in New York.
THIRSTY: You play cowbell on this record right? You know I have to ask you if you wanted more cowbell.
Sebastian Bach: Everybody laughs at the credit! They go, "Sebastian Bach lead vocals and cowbell!" I love the cowbell! There would have been more cowbell on the record if it was up to me. Bob Marlette kind of laughed at the cowbell sometimes because I always want to fucking play cowbell in there. I'm a big fan of the bell. It's excellent.
THIRSTY: Well, I just think of "Hair of the Dog" by Nazareth, though I like the Guns n' Roses version better.
Sebastian Bach: Or "Mississippi Queen"! My favorite use of the cowbell though is the first Motley Crue record, where Tommy Lee is out of fucking control with the cowbell! He's just nuts on that record with the cowbell! It's like hilarious! It's my favorite cowbell.
THIRSTY: Other than you playing cowbell, what do you think separates Kicking and Screaming from Angel Down?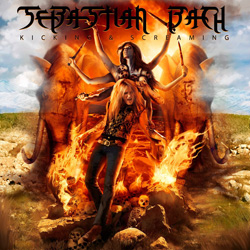 Kicking and Screaming - Sebastian Bach
(2011 Frontiers Records)
---
Sebastian Bach: My new guitar player Nick Sterling. He's definitely the big difference in the record. He's very prolific and amazing. He's a great guitar player. My last guitar player was named Metal Mike and he was a great guitar player too, but I think Angel Down is far more metal. This is a more melodic record.
THIRSTY: That's Nick's riff on "Dance On Your Grave", which I read was right on his site when you were looking for guitar players!
Sebastian Bach: Yeah, I went to his site, it said, "Welcome to Nick Sterling.com" and that riff was blasting out of the speakers. And I was like, are you fucking kidding me? It's a great, great riff. But I knew right away that I wanted him to be in my band pretty much.
THIRSTY: Are you doing any smaller shows before you kick off the Kicking and Screaming tour in November?
Sebastian Bach: Yeah, I'm doing a show in Vegas next week and I'm doing some shows with Camp Freddy of Steve Stevens, Billy Morrison, Matt Sorum, I'm doing some shows with them. But I'd really like to go on tour, play everywhere in America, we're working on that. I wish I could put all the dates on my site right now. I'm establishing myself as a touring solo artist, just like I am with the record.
THIRSTY: You know Guns n' Roses play the same week that you do in New York, so I hope Axl is with you!
Sebastian Bach: I would love that! I would like to open for them. I've been texting him lately just the last couple of days, maybe we'll do some shows with them.
THIRSTY: You've really maintained a close friendship with Axl throughout the years. Can you talk about that a little bit?
You must have Adobe Flash Player to use this function.
Sebastian Bach: Yeah, you know I always wondered why he's so nice to me, like what does that say about me? (Laughs) But he's great guy. He's helped me out so much in my career. He sang on Angel Down and I sang on Chinese Democracy. And he just helps me out and I'm here for him. He's a great friend.
THIRSTY: I heard a rumor that you are working on a memoir?
Sebastian Bach: Yeah, definitely! My life is crazy, and I have a lot of stories, and my book will be a fun book. Definitely. But it's going to be a big undertaking, so I'll get to it when I'm ready. But if it was up to me, I would just do rock n' roll all the time. I love rock n' roll.
THIRSTY: Would you ever consider doing another reality show, especially now that you're in this new phase of your life?
Sebastian Bach: I would consider it, but I don't really enjoy it. I don't enjoy doing reality shows. I don't like being filmed when I go to sleep. Like I fucking hate that! I can't, it's very hard for me to fall asleep when there's a camera like zooming in and out. I'm like, "What the fuck are you filming?" I don't enjoy it. I enjoy rock n' roll. I usually do those shows for a paycheck. So some of them are better than others. I liked doing "Gone Country", it was fun. I didn't enjoy filming "Celebrity Fit Club", but I learned some valuable things on that show about nutrition and exercise that have stuck with me, so it was very smart for me to do that show. So I would consider it, but if it was up to me I would be like Willy Nelson. Just in my bus, touring around the country, getting out of the bus to play a show, get back in, cruising down the road, on the road again, watching some movies with my friends. I just can't wait to get on the road again. (Laughs)
THIRSTY: I wanted to ask you a couple of questions about some older performances. That version of "Delivering the Goods" you did with Rob Halford on "Hangin with MTV" was badass.
Sebastian Bach: Well, that was a fun, fun thing. We actually recorded, days before that at SIR we did "Beyond the Realms of Death" and some other songs that I have on CD and they survived the flood, so that's cool. Rob's always had such an incredible voice, one of the best in the world. So it's always an honor to work with him, definitely.
THIRSTY: Tell me about the "Cold Gin" performance with Pantera and Ace Frehley!
Sebastian Bach: Oh yeah! We brought Pantera on their first arena tour in America, and it was an incredible tour and, you know, we were all big KISS fans and I think that show you are talking about was from the Meadowlands in New Jersey. I remember that show because I had a bodyguard named Big Jim-
THIRSTY: I was going to ask you about Big Jim!
You must have Adobe Flash Player to use this function.
Sebastian Bach: (Laughs) It was really stupid. I used to do stage diving all the time. He's a 6'7", 300 or 400 pounds and I'm like "Dude, stage dive!" He's like, "Ok". And he jumped in and of course, you know, the crowd parted and he fucking hit the ground. And I had pneumonia at that show and I went to the hospital with my lungs all fucked up and I turned around in the hospital bed and I turn to my left and Big Jim is in a gown in the bed next to me with his back all fucked up. I was an idiot to make him do that. But we did a lot of crazy shit back then.
THIRSTY: I was reading some of what you wrote about Dimebag Darrell and that first tour. It must have just been insane.
Sebastian Bach: Yeah, and you know I just lost my home in Hurricane Irene and Dimebag's girlfriend Rita, I went to her house for over a month, so surrounded by all of Dimebag's stuff and it was incredible. People can be very nice in rock n' roll, they're true rock n' rollers. For them to let me live at Dime's house in 2011 is incredible… It's very depressing, it's very confusing. I lived in that house (in New Jersey) for over 20 years, so it was the only home I ever knew, now I have to start over. A lot of the lyrics on the record are just unbelievably art-imitating-life, life-imitating-art. It's always been like that for me. Very, very strange. If I didn't have this album right now, I'd be in a rotten place. It is the best thing in my life, by far, definitely.
THIRSTY: You've been releasing records since you were 19-years-old. Is this the one you're most proud of?
You must have Adobe Flash Player to use this function.
Sebastian Bach: Well, yeah. What freaks me out is how my voice sounds on this record. It sounds so young. And I'm not young. I think I'm going to be able to sing like this for the rest of my life. Other parts of my body are, but my voice is not aging. I don't really understand that. When I listen to the song "My Own Worst Enemy" and also the song "Caught in a Dream", I sound like a little kid singing. I'm not a little kid, you know, so God has given me this voice that has a life of its own. It doesn't seem to age, my voice sounds like the first Skid Row album. I'm so lucky. A lot of singers, as they get older, they sound different. But some of them keep their voices. Dio sounded like Dio. Ozzy sounds like Ozzy. I sound like me. I'm very happy!
Link: