By Jay Fox
Brooklyn, USA
---
I now by instinct followed the streets that took me waterward, for there, doubtless, were the cheapest, if not the cheeriest inns.
- Herman Melville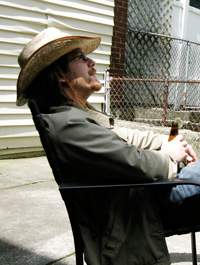 Jay Fox
---
At the very end of Atlantic Avenue, before the Brooklyn-Queens Expressway, but well after the bar Last Exit, a neon sign reminiscent of a noir classic continues to burn well into the night. I don't know how long the Montero Bar-Grill (73 Atlantic Avenue, Brooklyn) sign has been up, nor does anyone else who lives in the neighborhood; it's one of those staples, a beacon even, that exists perhaps for the sole reason of pissing off the majority of Brooklyn Heights residents, who would never step foot in there unless on a bet.
Montero's is the type of place that's authentic because it has never tried to be an institution, let alone anything more than a bar. In fact, if one were to attempt to find the antithesis of Montero's, one would have to travel all the way to the purlieus of the Meat Packing District—where Downtown chic is always generating new and radical trends that few people understand and fewer people can afford to buy into. There you will find the Rusty Knot, which, aside from being the bar where the creators of The Venture Brothers filmed their promos for last season's finale, is essentially how a very hip interior designer would do Montero's. And while I feel as though it's easy to disdain this faux dive for its disingenuous approach, I find it difficult to completely do so: The Rusty Knot's dark and stormy is fantastic, the drink prices are reasonable for Manhattan, and the jukebox is free. It's about as upsetting as seeing your favorite book turned into a Hollywood movie.
I say all this not because one is a dive and one captures the essence of Dive, exploits it, and sells it as hip (irony here being surplus value), but because of the nautical theme these both share. But Montero's is far more than that. Its history is on the walls in old photographs that have been up for at least half a century, in the worn down chairs, in the worn down people who often occupy these chairs. There's more unique, or just plain unexplainable, paraphernalia hanging around, too: The two dozen or so decaying, foam life-savers (not to be confused with life-preservers, which, I'm told, were once called Mae Wests (ask your grandfather)); a huge cast iron gate that bar lore claims came all the way from the Montero estate in the old country; an assortment of paintings that were more than likely picked up off the street over the decades; two phone-booths that are there for reasons that no one can really fathom. The list goes on. Had I been totally sober and intent to document all of these dive appurtenances, I'm sure I could give at least thirty more. I'm sure I also could have gotten a lot more information out of one of the bartenders one random weekday night, when he nonchalantly told me about how Frank McCourt, author of Angela's Ashes, once rented out the space above the bar when he first got to America. Unfortunately, I'm not a journalist; I'm just here to recount what I remember. As Melville said, "There are some enterprises in which a careful disorderliness is the true method."

Montero Bar & Grill
---
I've been to Montero's quite a bit. It used to be one of my neighborhood haunts not all that long ago, and the people I found at the barstools around me never came as much of a surprise. Most of them were introverted, but friendly. A lot of them were workers from the hospital across the street having a beer after their shift. Friday and Saturday nights usually brought in a few younger kids who were curious about the space they'd driven by a hundred times, but never actually been in. They would hang out for a round or two, play a game of pool in the back, marvel at the dusty kitchen in the next room that once served as the grill portion of the establishment, and then leave. In my mind it was, as it had probably always been, a neighborhood bar that didn't really fit in the neighborhood.
A large group of us happened to be in the area not all that long ago. As the bar in which we were drinking was getting crowded, loud and expensive, a consensus was reached that we should walk a few blocks over to Montero's in order to finish off the night. So we went without any argument (rare for a crowd), with the desire to have space, quite, and a few bucks in the morning leftover for a coffee.
The doors did not open to what I was expecting—either an empty bar save for a few geriatrics struggling to stay awake in the early morning hum of a grizzly drunk, or a nearly empty bar with a few groups of people under the age of fifty wrapping up their night. In fact, it may have been the last thing I was expecting—a tune from Rent that was being sung over a prerecorded band. I was stepping into an empty orchestra. Montero's was, for the night at least, a karaoke bar.
I'm not certain who had come up with this idea, whether it was a small group of actors from a nearby theater known to come into the bar every once in a while (who were most certainly there) or the management, but it had attracted a sizeable crowd. It was the first time I had ever seen the place like it, and, even though karaoke bars are about as close to my heart as my feet, cheap bottles of beer have that certain pull that can overpower even the most annoying of gimmicks. Everyone was on the same page.
Unfortunately, I couldn't get my beer immediately. None of us could. This is normal on nights when this particular bartender works; she's probably been back there in a lude-induced haze since 1981, so she has no small penchant for forgetting drink orders, switching drink orders, and simply making up brand new shit that no one can stomach or discern the components of. No one has ever received a buyback from her because she doesn't seem to remember you unless you've been coming to the bar since before the Huxtables moved in a few blocks away. Stories have been told about people waiting at the bar for hours without being served or even acknowledged. In other words, delays were anticipated.
But there was another deterrent. This bartender had been given the microphone. She was going to sing. Now, I'm not one to say that people should not express themselves, but when you decide to take the stage and sound like you've been chasing your whiskey with gravel, I'm going to go smoke. Furthermore, if you're there to tend the bar, tend the fucking bar. Before I could get out, however, a bluesy voice started coming out of this seemingly clueless bartender. I was utterly floored by what became more a song—it was a performance. Not only was she was keeping rhythm, belting out what I think was a Liza Minnelli duet, and pulling out some fancy choreography, but that she was doing this while behind the bar. During the other woman's part, she was even taking drink orders, serving them, collecting money, and, most importantly, not fucking any of this up. All this from a bartender who once managed to screw up a shot of whiskey.
My friends being more typical karaoke patrons livened up the bar a little bit later on with a perfectly executed rendition of "Bohemian Rhapsody," in five-part harmony; the non-thespians also did the standards that one typically hears in a karaoke bar. I could have done without all of the show tunes, but I have to say that the added enthusiasm from all of the actors made for the most attentive and supportive group of karaoke fans I'd ever seen.
And then a wedding party showed up. This was perhaps a bit after one in the morning. Now, while I may be guilty of being a bit too imaginative, I thought that this storyline was too perfect. A ragtag group of neighborhood actors are singing karaoke in the local dive bar in Brooklyn and having a good time until a group of professional Broadway extras (a clear inferiority complex is necessary for a group of bullies in a plot like this) come in after a night on the town to put them to shame. Get a clear protagonist who used to be a stage prodigy, but had her/his career tragically cut short (leader of the locals), and a clear antagonist, the one who got the part when the protagonist fell from grace (leader of the professionals), and you have Dodgeball meets Glee. Add a few stale topical jokes (Charlie Sheen, the tea party, something else about Charlie Sheen), some gratuitous nudity, a tag line that will sell to young men between the age of eighteen and twenty-four, and you've got yourself box office bronze (it'll make up for this less than stellar showing in DVD sales). And then there's the mildly suggestive title…
But that's not exactly how it went down. In fact it's not even close to how it went down. While the wedding party clearly didn't fit in for a myriad of reasons, they were by the far the most drunk and the least talented there that night, so everyone ended up getting along pretty well. They didn't stay very long, either. They were all very, very drunk.
Before the long bus ride home, but perhaps a little bit after a conversation concerning my interest in going shark fishing in the near future, I had one of those reoccurring epiphanies that may not change a Saul to a Paul, but will provide food for thought as the 4am bus bounds down Atlantic Avenue: The door to a bar is a lot like the cover of a book—and, more importantly, the characters have the tendency to change each time you revisit either one.
---
Jay Fox was born in suburban Detroit. He moved to New York City in 2001. When he's not working his 9-5, he spends his time writing fiction, playing with his band (Pistols, 40 Paces), doing the crossword puzzles featured in The New York Times, and drinking in waterholes around the city. If given the option of a PBR or a Budweiser, he would take the PBR. If given the option of an IPA or a Belgian wheat, he would more than likely take the IPA. Whiskey makes him charming, stupid, and then sleepy. He doesn't particularly like writing in third-person, but understands that it's necessary sometimes.
He would probably want to meet anyone who has bothered to read this, especially if it's over a drink.