You must have Adobe Flash Player to use this function.
#29 - 2011 September - 5th Anniversary
By Sarah L. Myers - Editor-In-Chief
New York, USA
---
5th Anniversary Celebration
---
It's my favorite New York City bar, my favorite New York Dolls song, and now it's my favorite way to get trashed.
The first "Trash" appeared in Thirsty's March 2009 issue. It started as a New York City hit list - what to see, where to go, who to meet, and what to drink as you're doing it. It quickly became a virtual yearbook, a "Sex and the City" for the rock n' roll scene. My closest friends became guest stars as we jumped around the city. Our haunts were always the same, Coney Island, Mercury Lounge, The Skinny, The Sixth Ward, and 200 Orchard. Just as Thirsty has its birthplace at Chicago's Schiller and Wells, "Trash" was conceived right there on the corner of Houston and Orchard. I always thought of myself as Lower East Side girl, and then London came calling. My week in the UK with Primal Scream was undoubtedly the highlight of my career. A few months later, I met Richard Ashcroft, what a thrill. It's exciting to look back at all the places "Trash" has taken us. Thank you for going there with me. Here's to another five years!

Joe Coleman and Sarah
Chili fries and 64-ounce beers, elaborate costumes, sword swallowers, and naked people in the street - it must be the Coney Island Mermaid Parade! This year's King Neptune, Harvey Keitel, was the main attraction, but I was more impressed with the legions of mer-people who braved the (endless) New York rain to get crazy at Coney. I ran into my friend Joe Coleman outside the Freak Bar, where we shared sips of beer from a gold-plated skull. Only in New York and only at Coney Island! Check out our features and interviews with the genius of Joe Coleman below...
2010: November
2008: March and April
2007: March and July
2006: September
Jack White and Alison Mosshart
(credit: BP Fallon)
Brooklyn also hosted my absolute favorite band of the summer - the Dead Weather! Prospect Park was transformed into a backlit spook house of rock n' roll, with amp-mounted taxidermy ram heads casting eerie shadows on the crowd. The anticipation was electric, the anxiety most definitely fueled by plumes of acrid smoke wafting between huddled groups in the crowd. I couldn't wait for "Blue Blood Blues". I love Jack in preacher mode, when his voice becomes more of a yelp, and I can't think of a better lyric than "all the white girls trip when I sing in Sunday service". But the rest of the crowd particularly waited for the creep of "Die By the Drop". The first notes of that hit like water on a brush fire. I smiled during "I Cut Like a Buffalo", knowing my friend BP Fallon (who stars in the video) was onstage snapping away. "Sea of Cowards" is full of magic moments, each one of them made even greater by the setting. The Weather are meant to be seen outside under the stars. I've seen a lot, but I saw everything when Jack, bathed in blue light, cut a shrieking solo under that shell.
"Sarah Myers fucking rules.
She is a go-getting it getter and the world is a better place with her in it."
- Dan Sartain

Jerry Lee Lewis
(credit: Marco Argiro)
"I may still be the Killer, but this here piano's a real piece of junk!" Jerry Lee Lewis is still orneriest rock n' roller alive today, and I had the honor of seeing him September 13th at BB Kings. Justin Dean and I took our guest list status literally, and sat on the floor right in front of Jerry's piano. We were like two kids listening to records after school, in complete awe of what was happening onstage. (Never mind the manager of the joint, who kept scolding us back to our seats). Jerry kept up his trademark winking and sly smiling throughout the night, throwing in little jokes and keeping the crowd dancing and laughing all night. Most of the set was newer songs from his brand new record, "Mean Old Man", but "Whole Lottta Shakin" and "Great Balls of Fire" were, of course, highlights of the night. The first time he slid his fingers down the keys, the place just erupted. There were moments of gospel and a couple of great ballads, but the hellfire is what people came for, and hellfire is what he gave them. He's 75 years old and still living rock n' roll. What a memory!
Sarah and Jordi
I am obsessed with horror - horror films, horror makeup, horror rock n' roll. I wait 364 days out of the year for that one special night when I can slather myself with stage blood (Ben Nye is the best, it coagulates and is even flavored!), and finally don that costume I've been constructing for weeks. No city does Halloween like New York. This year's festivities fell on a Sunday, so everyone partied the night before. I'd found my costume back home in Indiana. A vintage 1940s trapeze uniform made of peach satin and candy-colored tulle, corseted and holding me in within an inch of my life! I added some giant marabou feathers, heavy cord, broken glass (smash some plastic cups!), and a healthy dose of metallic glitter for that "antique zombie" look. Jordi made her costume from trash bags and electrical tape, making evil look glamorous as usual. The "Bloody Mary" party at the Hudson Hotel was a bust - the fire department shut it down around 12:30am - but it was worth the attitude just to see the latex-bound line-jumper murmur to the bouncer, "but I know someone at the hotel." Bargaining won't get you anywhere if you can't move your lips! So downtown we headed, where Marco and the Killing Floor boys helped DJ at Niagra. It was everything I wanted - the impossible trip home included. (Tip: just wave down an off-duty cab and offer cash at a double rate). Happy Halloween!
Sarah, Jordi and Erin
---
Not even broken bones can keep me away from Motorhead! I'd heard their new record, "The World is Yours" at Lemmy's apartment and couldn't wait to see it live. The night began with one of my new favorite bands, Valient Thorr. These guys are insane! Singer Valient Himself is a possessed extraterrestrial who claims he's from inside the planet Venus, and works the crowd into an absolute frenzy. Wearing second-skin red jeans and blue wrestling boots, he throws himself around the stage while bass player Dr. Professor Nitewolf Strangees wails on his flying V. Valient's stage patter is pure David Lee Roth, which makes him funny as hell. At one point he jumped into the crowd, motioning them to part down the middle and kneel. Then he pretended he was rowing, urging everyone to join in. It sounds, and looks, ridiculous, but these guys can ROCK. Clutch followed with a short set, and the room began chanting for Motorhead as the stage was set. Upstairs in the VIP balcony, my leg propped on a chair, I scanned the people below and picked out Trash and Vaudeville's Jimmy Webb in the front row! Lemmy, Phil, and Mikkey arrived to an avalanche of circle pits, playing for more than an hour. The highlight for me is always "The Chase is Better Than the Catch", but when Doro Pesch and Todd Youth came up for "Killed By Death" everyone went ballistic. "Ace of Spades" closed the set. The room exploded into mayhem. Bodies flew over each other, cups and t-shirts sailed through the air, and smoke shot out of cannons next to Mikkey's drums. Lem thanked the crowd for being the loudest in the world, setting off yet another near riot in the venue. Amazing night, even more so when I rode the elevator with Keifer Sutherland on the way out!
"I'm drenched! Five years of sweat, thirst, and truth!
Keep kicking ass and have an 'Iggy' celebration! XxX"
- Jimmy Webb from Trash and Vaudeville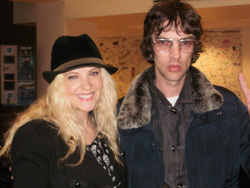 Sarah and Richard Ashcroft
---
Last month I wrote about "a dream I've had since I was 15." This is it! Thirsty readers know how I feel about Richard. He's my favorite voice in rock n' roll - not just writing songs, but soundtracks to major events in my life. I'd been tracking the United Nations of Sound release for months. It finally debuted in the States in March, which became Richard Ashcroft Month in Thirsty-land. His New York press included a day at Sirius, and I was invited to sit in on an intimate acoustic set, followed by an interview for the Spectrum. Justin Dean and I walked in as Richard was strumming "Space and Time", and I took a seat next to his wife, the beautiful Kate Radley of Spiritualized. As he went into "Song for the Lovers", I remembered the first time I'd heard it. I was going through terrible challenges. Music was one of the only things I found pleasure in, and the single had just been released. To hear it so closely, in a room with five other people, was my reward for making it through that time. He took a shot at "Are You Ready?", stopping a few times with a humble expletive. He'd never done it acoustically before, so we all had a laugh as he poked fun at himself for trying!
The interview itself was a blast. Only a few of us stayed in, so it was like catching up with an old friend. He spoke about the record, but also of family, The Verve, his children, his love for New York, and his need for a shower! He's the second rock star in a week to laugh about how dirty they were (I'm looking at you, Monkey)! A couple of days later he sold out Bowery Ballroom, where the first in literally ran to the front. The favorites were there, including "Sonnet" and "Lucky Man", but the real surprise was "Lonely Soul". It was dark and quiet, with hands facing the front and heads nodding. That the track still sounds modern shows his collaboration with No I.D. was just a matter of time (Jay-Z was also reportedly in the house that night). After a couple of encores, the lights stayed off teasingly until it became clear the night was over. I party-hopped around the Skinny, Double Down, Local 269, and Manitoba's before finally turning in around 5am. It's as if I didn't want the night, or the week, to end. But now I'll always remember the first time I heard "Born Again" or "America" - in front of a packed house, with Richard blowing out the speakers, and a tall Guinness at my side. It was a perfect night in his favorite city!

Links: