You must have Adobe Flash Player to use this function.
AUGUST 2009
By: Sarah L. Myers - Editor-In-Chief
New York, USA
Starr Rinaldi and Sarah
---
---
It's my favorite New York City bar, my favorite New York Dolls song, and now it's my favorite way to get trashed.
Superheroes and villians came together at Greenhouse July 23rd for Jordi Scott and Starr Rinaldi's annual themed birthday bash! Elaborate costumes, some home made, stole the show. The hostesses went as Poison Ivy and Emma Frost, respectively, and mingled at the open tequila bar alongside Dr. Evil and Mighty Mouse. Greenhouse was completely taken over as caped crusaders and knife-weilding murderers (yours truly) climbed atop booths and tables. With the night ending around 5am, we can assume our heroes turned back into ordinary folk. Here's to next year!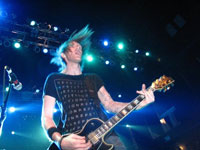 Poison The Well
(credit: Shaye Lefkowitz)
---
The "10 for $10" tour rolled into NYC this month at the HUGE Terminal 5. Stay Thirsty and Solid PR joined up sidestage to jam for Poison the Well, who shook the all ages crowd with their hardcore set. It was a long bill and a long night, which had everyone mingling up on the smoking deck between bands. The night ended somewhere in the neighborhood of 4am, with band and crew around the way at Kennedy's - my new favorite after spot Terminal shows! Check online for "10 for $10" tour dates! You won't want to miss it!
Johnny Thunders
(credit: Johnny Black)
---
You can't put your arms around a memory... Another year without Johnny Thunders. Friends and fans jammed into Don Hill's July 22 for a Birthday Bash honoring the beloved icon. Johnny Black and La Dolce Vita led the crowd in a series of classics including "Chinese Rocks" and "Born to Lose". A night of close friends and great songs, Johnny woulda been proud.
Anthony Bourdain - that heathen rock n' roll chef and true Thirsty personality - just debuted the new season of "No Reservations" on the Travel Channel. We're huge Tony Bourdain fans here at Thirsty. From his stop in Cleveland with Marky Ramone (who can eat 50 pieces of sushi, we're informed!), to the stirring episode where he's trapped in war-torn Lebanon, Tony's take on the world is a don't miss. Pick up some "No Reservations" swag and start watching now!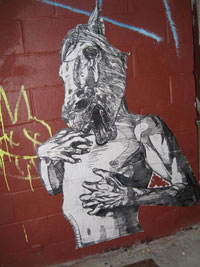 wheatpaste
If you've been reading, you'll see that Thirsty has recently launched a successful publishing division Stay Thirsty Press. Bringing established writers into the digital age is the wave of the future, and we're here to bring them to YOU. If you haven't downloaded a book yet, what are you waiting for? You put your music on your iPod, now put your books on a Kindle, iPhone or iPod Touch! We're breaking new ground, and even Publisher's Weekly is taking notice. Check out our recent article HERE. As I'm always on the lookout for fresh street art, here's a wheatpaste I found walking through Brooklyn. Back in my beloved Lower East Side I tracked yet another Neck Face! Always keep your eyes open and until next month - stay curious, stay informed, and Stay Thirsty.
Links: