David Fulmer is an accomplished writer with six successful books to his credit. His latest novel, The Last Time, premiered as a digital book published by Stay Thirsty Press and is available on Amazon in the Kindle Book section. During his acclaimed, award-winning career, Mr. Fulmer and his works have been called many things by many critics. The Washington Post Book World called him "a marvelously evocative writer." The Minneapolis Star-Tribune commented that the atmosphere he establishes is "rich, nuanced, and authentic." Southern Living said that "author David Fulmer delivers." Booklist called his work "believable and spellbinding." The St. Louis Post-Dispatch said that he "skillfully tells a memorable tale." And, Crime Spree Magazine said that his work is "dripping with detail, environment, and character."
Winner of the Shamus Award and the Benjamin Franklin Award, David Fulmer is one of today's best mystery writers. Thirsty caught up with him at his Atlanta home for this interview.
Thirsty: Where did the idea for The Last Time come from?
David Fulmer: The first spark of the story came to me when the rights to Bob Dylan's "The Times They Are A-Changin'" were sold for an accounting company to use in a commercial. The use of such an iconic, important anthem totally irked me. For years, there was a rush of all kinds of great songs being snatched for TV spots and often, the song had nothing to do with the product. It was just something that would spark memory banks. Very cynical. Around that same time, I was grappling with a falling out with a childhood friend, one that ended up being permanent. Those two strands melded together in the core of the story.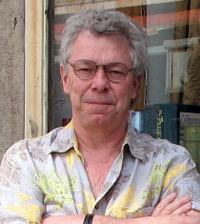 David Fulmer
(photo credit: Sansanee Sermprungsuk)
---
Thirsty: Which character in The Last Time do you most identify with and why?
David Fulmer: I tell my writing students to be very wary of inserting too much of themselves into the characters they create. That goes triple with first person. The Last Time is my first first-person effort, so I was very sensitive to keep autobiographical elements to a minimum. That said, every author identifies most with the protagonist, in this case Richard Zale. In this case, I also had an identification with Joey Sesto, his one time best friend. As always, though, I keep my editors hat on and separate them from any deep connection to me or my biography.
Thirsty: Who are your major literary influences?
David Fulmer: As writers, I always loved great naturalistic storytellers like Joyce, Malamud, Steinbeck, Styron, James Baldwin, and James Jones. More recently, Anne Tyler, Toni Morrison, E.L. Doctorow, and Alice Walker. For mysteries, I'm a fan of James Lee Burke, Walter Mosely, and Tony Hillerman. On the more edgy side, I am partial to Kenzaburo Oe and William Burroughs. There are a dozen more I could add. As to guiding me toward this career, I had a great high school English teacher named Randall Stephens who encouraged me constantly. My readers bring the greatest inspiration. I get some great fan mail.
Thirsty: You were Media Director for the Panoz Schools and Road Atlanta earlier in your career (1988-1999). How did you become interested in Motorsports?
David Fulmer: I was a car guy from the time I was twelve and started reading William Campbell Gault and Henry Gregor Felsen. I kept an eye on cars and racing all my life. But I had no intention of getting involved in the motorsports business. I stumbled into it by way of freelance magazine work. It so happened that my entry into the business coincided with racing coming on as a marketing phenomenon and I learned a great deal about media and promotions that I later applied to my writing career.
Thirsty: You waited until you were fifty-one before publishing your first novel Chasing The Devil's Tail in 2001 and embarking on a new career as an award-winning novelist. Why did you wait so long?
David Fulmer: For much of that time, I wasn't waiting; I was stalling. After failing at two novels in my early thirties, I knew how demanding and difficult that life would be. So I played around with being a screenwriter and wrote some plays and generally avoided my fate. Eventually, though, destiny grabbed me by the collar and said, "Let's go." Then came the long march toward publication. It was eight years between the time I began writing Chasing the Devil's Tail and when it was finally released.
Thirsty: Music has been a significant theme in your prior six novels. What music and musicians do personally gravitate to and what role does music play in your life?
David Fulmer: I've always been enamored of music. As a kid, I kept a transistor radio stuck to my ear. When the British Invasion came along, I got swept up in that and put down the trumpet and picked up a guitar, like so many kids my age did. Eventually, I started going backwards, through early rock-and-roll electric blues to country blues to the origins. I went from The Kinks to The Butterfield Blues Band to Muddy Waters to Robert Johnson to Son House. I'm still a huge fan of Blind Willie McTell, Blind Blake, and Mississippi Fred McDowell. I made the same journey with jazz and country. I love listening to the Carter Family and Riley Puckett. So I have a lot of the Smithsonian Folkways recordings. New Orleans music has stayed with me, from Satchmo up to Dr. John. I'm fascinated by the musical architecture of ragtime.
I'm very much drawn to roots and crossroads: that is, where a certain form began and scenes where the history of the genre changed fundamentally. I use such settings as stages for my stories. I played guitar for years, including semi-professionally on a couple occasions. I don't play much anymore. When I write, I listen to Baroque and chamber music, as well as Debussy and Satie, and piano jazz like George Shearing, Bill Evans, and Oscar Peterson.
My tastes in music remain very eclectic, I listen to almost everything, but these days I spend a lot of time with world music. Right now, Zap Mama, Bebel Gilberto, and Lhasa de Sela are at the top of my list.
Thirsty: Will music be a theme in your next book?
David Fulmer: Yes, though from a different direction. Unless something unexpected happens, my next book will be the fictional account of the true story that inspired a great murder ballad.
Thirsty: You spend some of your time teaching other writers. What advice do you have for young writers just starting out?

David Fulmer: Writing is a craft. Like any skill, you work hard to learn the mechanics and then be disciplined about applying the lessons. Start small. I recommend finding a time and place to work every day. Same time, same place, even if it's only for fifteen minutes. Do that for a while and then go to a half-hour and so on. It's like a runner building stamina for longer distances. Persistence is everything. A writer with 25% natural talent and 75% persistence will be more successful than a writer with 75% natural talent and 25% persistence. Understand that the overnight successes and the tragedy of the undiscovered genius are the rarities. The rest of us are slogging it out in the trenches. Have a good time. And read, read, read.
Thirsty: We understand that your play, Storyville, will have a staged reading at the Decatur Book Festival in early September, 2009. Is playwriting and screenwriting yet another chapter in your acclaimed writing career?
David Fulmer: As I mentioned earlier, I wrote scripts and stage plays years ago and turned out some good material. I was a finalist in the Nicholls Fellowship and other screenwriting competitions. I've kept a few of my scripts in circulation, but it's a tough market and harder than books in terms that getting something pushed down the track. The stage drama came out of nowhere as an extension of my Storyville books. I don't have any plans to pursue a second career in plays. This was just a project that was a fit for the stage and so I decided to see if I can make it work. We'll find out on Labor Day weekend.
Links:
Thirsty features The Last Time
David Fulmer's Profile on Wikipedia
Stay Thirsty Press
davidfulmer.com