By: Jarrod Dicker
New Brunswick, NJ, USA
---
Danny Fields: Were you at the Angry Jews seminar the other night? I'm pissed they didn't ask me to be on the panel...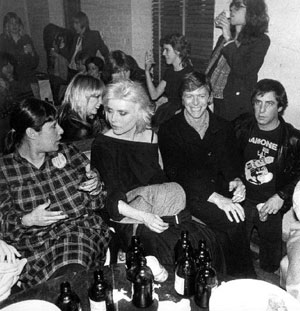 Linda Stein, Debbie Harry, David Bowie, Danny Fields
(credit: Bob Gruen)
---
Thirsty: No. I read about it in the paper though...A lot of people were on that panel, correct?
DF: Yes...I love them all. Chris Stein, Lenny Kaye, Tommy Ramone, Dick Manitoba. But I'd have liked to have been there too. I'm really funny at those things. Mainly what excites me now, though, is that some of my old friends like Jonathan Richman are still out there doing it.
Thirsty: Of course...founder of The Modern Lovers. My generation probably knows him better from his part in There's Something About Mary.
DF: I saw him twice this week. I've known him since he was 16! He was so endearing and so wonderful. He's such an amazing dancer and he moves so brilliantly. After the show he came running down the stairs and he had a pad and paper with him because he's not supposed to use his vocal chords, when he's on tour, for anything but singing. So he was writing things down and just acting like an adorable little boy. When the name of our mutual friend, Donald Lyons, came up, he began hopping up and down on his toes...LIKE A KID GETTING A MODEL RAILROAD FOR CHRISTMAS! He's the sweetest guy, so very talented, a true genius, and I love him...and how much his audience loves him!...and how much his fans love him...I imagine it's an identical cohort.
Thirsty: It's a shame that more people of this generation don't indulge in Jonathans "Modern Lovers" material. That's some great stuff...
DF: Well...he did it without the record industry. And I applaud him for that, because that's tough waters to swim. And The Dead did it without the record industry and Iggy and The Ramones...That's the story of my life!
Thirsty: The Allman Brothers were similar in that regard? Are you a Duane Allman fan?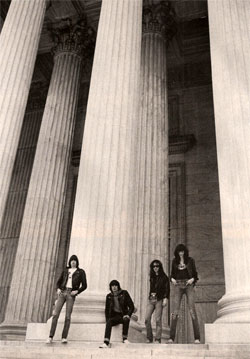 The Ramones - Supreme Court building, Washington DC, 1976
(photo courtesy of Danny Fields)
---
DF: I'm a fan of the band, you know about me and the Allman Brothers Band? When I worked for Atlantic Records I was told that there was a band in town playing at Ungano's, a club near B'way and 71st, and this band was de facto an Atlantic band because their manager had a deal with the record company. The band's "people" had asked the label people which Atlantic records employees were going to see them that night. At that time, I was the lowest I've ever been on any corporate totem pole. So they sent me to see them, and I thought "This band is fucking great!" It wasn't exactly what I was drawn to, but they were like a southern Grateful Dead. They rocked. I was very impressed. The next day at work someone remembered to ask me if I had done my assignment, and I said, "Yes, this group can be huge!!!" And the record company people said, "Are you kidding? Southern white kids playing guitar? They're never going to make it"...that was the mentality at Atlantic at the time, probably everywhere else as well. They were never really helped by their record company. They just didn't believe in them by definition..."White kids playing guitar from the south, they'll never make it!" Of course it wasn't until their third album, Live At The Fillmore East, that the Allmans became multi-platinum.
Thirsty: Ya...It's unbelievable that some of these bands can do it on their own. The Ramones became so huge in their later years. It seems like they were way ahead of their time...now they're icons...idols...fucking gods!
DF: Johnny and I spoke together a lot in the years before he died, and he said "I knew we'd never have a hit." And I knew it early on too, but I couldn't tell him or anyone that I thought that! Nobody is giving 20% to a doomster. The Ramones had to do it with their feet...you know...with wheels and engines. They had to tour places like South America and Asia which, I know Johnny didn't enjoy the idea.
He even despised all of Europe! Well, during my years with them (1975-1980) anyhow. [laughs] He didn't like the food! When he was in England once he exploded at a sound check during a tour...
Thirsty: [chuckle] You were there?
DF: My partner, the late Linda Stein was with them then; I'd had to stay in New York. She called me just after this happened. The Ramones were doing a sound check in some "shire" in England, and when you're touring the UK, you always got curry at sound check. Well...Johnny just wanted hamburgers, which is what he would get in America. By the way the only places they ever played in America, before England, were New York, New Jersey and Boston, never more than 250 miles from New York. It was hard moving them out of home territory, nobody wanted them. But in England, they were stars overnight! They were stars before they even got there. It was amazing. Still, like most bands you didn't get to choose the catering, you couldn't get lobster dinners, certainly not a hamburger during a sound check. This was before McDonalds, I don't think they knew what a hamburger was in Europe. So Johnny yelled, "God Damn curry!!! Fucking curry!!! Why can't I get a hamburger!?!" As everybody knows, you didn't want to be around Johnny Ramone when he was angry. But Linda Stein said, "You know what John? If you don't like it then pick up your fucking guitar...get on a plane...and go FUCKING home!"

Johnny and Dee Dee Ramone
(photo courtesy of Danny Fields)
---
Thirsty: Whoa...Johnny Ramone put in check! That's insane!
DF: Some spies of mine said it was the first time they ever saw Johnny Ramone with his tail between his legs…errr, so to speak.
The punch line to this anecdote came many years later, when I was visiting Johnny and his wife Linda at their beautiful hillside house in some LA canyon. Johnny had been consulting the exterminator about dealing with 'mole holes' in the yard. They had just redesigned the kitchen, to Johnny's very specific specifications, and it was right out of Architectural Digest--[laughs; we share a laugh at the fact that badass Johnny Ramone had redesigned his kitchen]. So I was there with Linda, and we were waiting to meet up with Rick Ruben and Eddie Vedder and John Frusciante for dinner, and Johnny says to me "Hey Danny, there's this great Indian restaurant in Beverly Hills, really fantastic, we love it there, would you like to go?" Believe it!! The FUCKING-GOD-DAMN-CURRY Johnny Ramone opting to take everyone to vindaloo. I loved John so much; he was one of the smartest people I ever knew, and one of the wisest as well. He drove a Cadillac, and he said that a kid came over to him in a parking lot and sort of snickered, "Hey, Johnny Ramone, a Cadillac isn't very punk, is it?" And Johnny answered, "Excuse me, I invented punk. If I drive a Cadillac, it's punk, OK?" And the kid was stammering by then.
Thirsty: [laughter] That's great...It's amusing because everyone assumes that the Ramones had to have some Billboard top ten hits. I mean...they are immortal now, so it would only make sense that songs like "Blitzkrieg Bop" [the "Hey Ho" chant] and "I Wanna Be Sedated" were number one...
DF: Yeah, people assume that "Sedated" and "Sheena" and "Rockaway Beach" were big hits. They never even remotely made the charts. The "Hey Ho Let's Go" chant, though, is huge. They play it in every stadium before a sports event, like Queen's "We Will Rock You." In retrospect, I think we all relied on the wrong model for a so-called single. Even the word "single" is a leftover from the days of albums and hit-singles and hit radio, and those days are gone. Somebody please tell the record companies, although they only have to look at their bottom lines. Two minutes thirty seconds is way too long. The biggest money making songs are the ones used in commercials, like Iggy's "Lust For Life." People should concentrate on writing 15-second songs, and singing and playing them really well. That's where the future is, the kind of songs the Ramones did but shorter, and it was too way too soon. The music business didn't comprehend so many things that we take for granted. Well, how could they comprehend the idea of the Internet or the demise of Top-40 radio? Nobody could. But they STILL can't.

Joey Ramone in the hospital, 1978
(photo courtesy of Danny Fields)
---
Thirsty: Well whether they knew it or not they were, and are now, legends nonetheless.
DF: Johnny knew! He knew everything. Even at the time of his death he had absolute control. Looking at pictures and checking for material that he wanted to use in his obituaries. Made sure that all the estate information legalities were unequivocal. Wow, still in charge. I'm sure he didn't want to go, but since he knew he had to, he made sure of all the details, and the aftermath.
Thirsty: Do you have an existing relationship with David Byrne or Lou Reed?
DF: Lou is everywhere. We always had a prickly relationship, and it's been a very long time, and I don't really want to talk about it. As for David, we never had any relationship, except a cordial one. You know, Seymour Stein was eager to sign the Ramones because A) he loved them, for all the right reasons; and B) he wanted the Talking Heads and he probably assumed we were all one big happy family. He was bananas about "Psycho Killer," and he really wanted them - and a chunk of and their publishing as well, of course. Seymour knew that Tina and Chris (and later Jerry) and I were friends, although Johnny thought of them as rivals. To the Ramones, all other bands were rivals.
But there's this ancient story about Johnny and me and the Talking Heads. They were auditioning at CBGB, and Johnny and I were there to talk to Hilly [Kristal, the owner] about an opening act for the Ramones on the coming weekend. And Hilly said, "Wait a minute fellas, I want you to hear this band that's going to audition right now. They just drove down from Providence. They're kind of weird to me...the bass player's a woman, and...well, you should hear them." Johnny was very critical of anyone who might open for the Ramones, and anyone the Ramones would open for. The Talking Heads had played for about ten seconds and Johnny said to me "They suck...it's fine...they can open for us." Ironically, the Talking Heads went on to sell lots more records for Seymour than the Ramones ever did, but that's OK. I've never stopped being really fond of them, especially Tina and Chris, who I see...well, bump into, pretty frequently.
Thirsty: So technically you were partially responsible for the Talking Heads success?
DF: No, THEY were entirely responsible for their success, as everyone is - or is not. I was instrumental in bringing them to Seymour. There was at that time someone else who wanted to be their manager and wanted to take them to a record company of his own choice. Tina Weymouth called me and told me that Seymour really wanted to sign them but there was another guy who promised to bring them other places...Tina asked me, as a friend, how the Ramones had been treated by Sire Records [Seymour Stein's label], and I told her that I couldn't ask for anything more, in terms of supportiveness. He was a "record man," still is, and nobody was more distressed than he was that the Ramones never had a hit single. As I said, they were too far ahead of the curve, I suppose we all were.

Danny Fields / MC5
(photo courtesy of Danny Fields)
---
Thirsty: You also discovered Iggy and The Stooges and the MC5...Do you still keep in contact with Iggy?
DF: I saw him about two months ago. Wayne Kramer, who I love from the MC5 and Iggy were doing a benefit for a 12 Step Junky Program in prisons. It was a theatre in midtown which was sold out and packed...I'm going to go back to another anecdote with John Sinclair, do you mind?
Thirsty: Of course not...(John Sinclair, one time manager of the MC5, poet and leader of the White Panther Party...an anti-racist group to assist the Black Panthers)
DF: So I was having dinner with John Sinclair at Max's Kansas City. The record company was paying for it, and he was ordering the biggest steak you could get at the place. And our friend Steve Paul who owned, "The Scene" where Tiny Tim and Jimi Hendrix would play after hours, came over to us. He looked at John's steak and said, "So this is the revolution?" And John Sinclair responds, "This is what the revolution is all ABOUT!" and points to his steak! [laughs]
Thirsty: [continuous laughter] That's classic! So back to Iggy...
DF: I was at the "Times Talks" event he did for the New York Times with the critic Ben Ratliffe in June. So amazing that it even happened. When Iggy and the Stooges first appeared, around 1969, they were lower than dog shit as far as the New York Times was concerned. As far as most anyone or anything were concerned. And Ben had asked Iggy to pick out the artists in all of rock and roll history who impressed him the most, and then they played a film clip of each, and Iggy talked about it, or them. I think the audience was astonished at how articulate and smart he was. So, he chose Jerry Lee Lewis, Bo Diddley, James Brown, Louis Armstrong, Howlin' Wolf...I don't recall the exact list, but you get the point. Then, when there was time for one more, Iggy said, "The Ramones." I flipped out, I was so thrilled. He certainly didn't know I was there in the audience, because he talked about me and blamed me for putting his name as "Iggy Stooge" on their first album. Then when the Ramones came around, he said to himself, "Aha, Danny is at it again!" i.e. giving everyone a last name that's the same as the group's name. And Iggy did near-perfect imitations of Joey and Johnny off-stage, or backstage, and they showed a clip of a sound check or video shoot of the band doing "Cretin Hop" at the Castle San Angelo in Rome, where Tosca had jumped off the roof!

Iggy Pop - Max's Kansas City, 1973
(photo courtesy of Danny Fields)
---
After the "talk," Iggy was signing autographs and I pushed through the crowd until I was sitting next to him at the front of the stage, in the New York Times Center auditorium. So I tapped him on the knee, and then we hugged and laughed, and I said, "They were ALL named 'Ramone' when I first met them! I never tried to give them names! I wouldn't dare." And he said, "Oh, I always wondered about that." I had seen him perform about two months earlier. Wayne Kramer, who I love, from the MC5 and Iggy were doing a benefit for a 12 Step Junky Program in prisons. I saw Iggy in the dressing room, and it was the first time I'd seen him since Ron Asheton died, and we started talking about him, and I began to cry. All these people were standing around staring at us, I suppose they were wondering what we were saying to each other, and I was sobbing - quietly, I hope. I didn't care. And before that I saw him at some huge club on the West Side, and I thought that he finally had the audience I always wanted for him...which was white Jersey teenagers, pounding and thumping for rock and roll. And 40 years ago I'd dreamed they would come to Iggy Pop for it. Plus, he did a show in Harlem at Reverend Ike's Theater, which was one of the most amazing shows I'd ever see anyone do.
Thirsty: Ahhh! That place is unbelievable. I saw Neil Young play there a couple years ago. Great architecture...
DF: It was all gold wood carvings, even the ceiling, like a mosque. It's an absolutely beautiful room, great sound. I never knew it existed before that. I'd never been so far uptown, maybe the Cloisters a long time ago.
Thirsty: Wow...sounds like some great memories. It's awesome that you've been able to build such outstanding relationships in Rock and Roll throughout the years...What was your favorite position you held throughout the years? As you were a photographer, journalist, promoter, manager, editor...
DF: Favorite position? Not missionary, for sure. OK, the thing I thought I did best besides taking occasional good pictures is interviewing people. I truly love interviews. I have about 2,000 of them on tape. I like getting past the basic stuff, and I do my homework. A really nice gentleman named Warren Kinsella did a thing with me at NorthByNortheast in Toronto, in front of an audience, and when we met beforehand I told him I'd read his book on "punk rock," and he was astonished. Well, how can you have a public conversation with a writer and not have read his book? When I do an interview, I try to open up some area that's interesting to me. My favorite interviews have been with people whose music I wasn't crazy about. I think the best one I ever did was with Tony Orlando, it was great!! He was funny and smart, a high five kind of interview...I just LIKED him from the start, and it's easier when you like the person, rather than the music.
Thirsty: Has there ever been an interview that you were nervous going in to?
DF: I was nervous going into Roger McGuinn.
Thirsty: From the Byrds...
DF: That's right...He to me was Mr. Cool. And I had met the Byrds way before when I worked for Datebook, my first teeny-bopper magazine. I liked their records so much that I actually shoved a note under the door of their dressing room at a concert in a Long Island club. I guess I talked mostly to David Crosby and Chris Hillman. I feel a kind of kinship with David even after all these years, though we rarely run into each other; he's extremely smart. Roger was kind of distant. When I came to interview him for radio...must have been 1988, I just was sort of awed. He didn't exactly radiate a welcoming charm. And he had a totally cool way of speaking, like Dylan and Bobby Neuwirth and Al Kooper. Super hip. Anyway that was an interview I was definitely nervous about…and it wasn't that good, my fault.
Thirsty: I only ask this because I just re-read, "The Electric Kool-Aid Acid Test" and it may be relevant to your time in New York City...Did you ever come in contact with Ken Kesey or the merry pranksters?
DF: I don't think that was a New York City thing, but no, I never met up with them. I always thought it was a wonderful thing they were doing. Acid? Who me? Now that's a stretch! [laughs]
Thirsty: There were a bunch of Beat writer's on that bus. Did you ever see Alan Ginsberg mosey around The Village scene?
DF: Well...you couldn't miss Alan Ginsberg. He was like the pope of everything at that time. As well as a wee bit pretentious. Albeit a very great human being.
Thirsty: William Burroughs?
DF: I was not fortunate enough to have met him. We had mutual friends, like Legs McNeil, who used to visit him in Kansas.
Actually, I had to smuggle Naked Lunch into America from Paris, France, in the early 60's. It was banned in America. Smuggling a dirty book! What excitement!
Thirsty: Yeah, I guess in the 60's and 70's there were so many people on the scene that it would be impossible to run into all of them.
DF: Yes well, people were just emerging, it was almost a new breed of humans. This is what I always thought and it has never been disproved to me. I thought that we [the WWII generation and the Boomers] were the first generations of people growing up that were free...well, freer than their parents who were children of immigrants. Now, this is generalizing an awful lot. But you didn't have to be something with a title like an "accountant" or a "doctor." I think that for the first time, on a significant scale, the rebels were coming from the educated middle and upper-middle classes. You know, Dylan was the son of a prosperous Minnesota appliance merchant, Grace Slick was in line to be a debutante, McGuinn came from a line of distinguished Chicago lawyers, Joan Baez' father was a physician, David Crosby was from very rich Santa Barbara, Leonard Cohen came from a classy Montreal Jewish family. And, as Leonard said of Joni Mitchell, she's a girl from the prairies who lives in Beverly Hills. Mick Jagger went to the London School of Economics, not exactly a workhouse, and John Lennon's family, such as it was, lived "up the hill" in Liverpool. Paul McCartney once told me that John was decidedly from a higher social class than he was, and you know the English are certainly sensitive to that factor. One's friends went to Ivy League schools, or the equivalent, or had the resources to follow Woody Guthrie to New York, but it was OK to be insane, a little.
It was not a peasant revolution, but then most revolutions - the French and the Russian Revolutions, for example - don't rise up from the peasantry, they're lead by educated but frustrated people. We in the 60's (and onwards) were a sociologically elite bunch, and we all just wanted to party with the wild kids and folkies, and the faggots and artists and decadents, and that's who we became. Well, the Motown stars, who we maybe liked most of all really WERE from the "projects," but you never met them, although some girls did get to fuck Chuck Berry and Smokey Robinson, which was extra special. But as a rule, your role model wasn't an uncle or history teacher...the world was much more open and our parents eventually gave up, and/or died, leaving a generation of beautiful lunatics. This is all super-simplistic, to be sure, please don't hold me accountable for these theories. I'm as full of shit as any politician who's trusted by the electorate.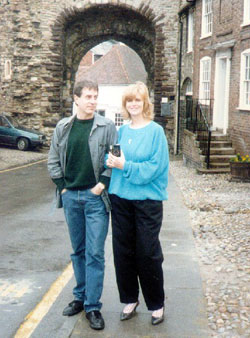 Danny Fields and Linda Eastman McCartney
(photo courtesy of Danny Fields)
---
Thirsty: I'm going to now bring up a very special relationship in your life. This was with dear friend, Linda Eastman (McCartney). After she died, you wrote her biography, correct?
DF: Incorrect. It's not a biography. In no way would I attempt to do an encompassing biography. To even try that would have been way out of my reach; it would require a catalog of everything she ever did...she was an artist, a humanitarian, a very classy and beautiful woman. The book was a tribute to her, to her memory.
Thirsty: Of course...you guys were extremely close?
DF: Before she married Paul we were very close friends. After the marriage and the family, she was of course off in another world, but we stayed in touch, and saw each other when I was in England or she/they were in New York.
Thirsty: Do you remember one of your first encounters with her?
DF: Yes. One of my first jobs at a teenage magazine was to get on a boat ride with The Rolling Stones...but I missed the boat! It was my photographers fault...the one the publisher assigned to me...this idiot kid. He didn't bring any film! So we had to stop in Herald Square at Willoughbys to grab some. It's not as quick as if we just had to stop on the highway for a pack of cigs. So by the time we got there we missed the boat. I waited for it to come back to see if there was anything I can salvage when it returns. There was this beautiful blonde girl, with big tits and an oxford shirt stepping off the boat. I approached her and said, "Hi, did you get any good pictures, are you selling any pictures?" She told me that she already promised another magazine that they could see them first. I peeked at her contact sheets and saw images of Mick Jagger posing...she had shot a few groups, before but that was her first big experience.
Thirsty: That's interesting how fate can bring two people together...even though the kid was an idiot, you were able to have that engagement with Linda...
DF: And the rest was history, well, my history. Well, part of my history.
Thirsty: Did you ever have a relationship with Paul?
DF: Well...if I truly like a woman, I'm inclined not to love her husband.
...To be continued in Part 3
Part 3 Forecast: Linda Eastman McCartney, Paul McCartney, Sound Garden, the present Danny Fields and more!
Links:
Thirsty : July 2009 : Interview with Danny Fields - Part 1
Thirsty : October 2009 : Interview with Danny Fields - Part 3