You must have Adobe Flash Player to use this function.
By: Jarrod Dicker
New Brunswick, NJ, USA
Images courtesy of Danny Fields
---
Danny Fields is a Godfather in the Rock & Roll community. He has been a journalist, editor, disc jockey, photographer, manager, publicist and record executive throughout his musical tenure. After dropping out of Harvard Law School, Danny returned home to New York City and began integrating with Andy Warhol and The Factory crowd. Once acting as the publicist for The Doors, Danny's career flourished. He went on to work for Elektra Records, and was responsible for discovering The Ramones, MC5 and Iggy and The Stooges. He had a life-long relationship with Linda Eastman McCartney and, after her death, wrote a biography of her life. This interview will be a three-part series. Part 1 (which is presented to you right here) follows Danny's journey to adulthood, experiences within The Factory crew and his relationship with Cream and The Doors. Stay Thirsty's Jarrod Dicker sat down with him. This is Danny's story.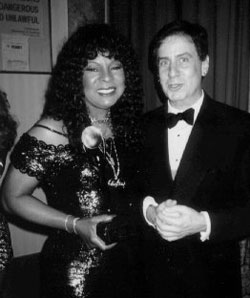 Martha Reeves and Danny Fields
---
Thirsty
: There had to be a reason why you chose the path of life you followed. Let us begin with your childhood.
Danny Fields
: My parents were musical. My father played six different instruments. The violin, saxophone, etc....and then guitar late in life. You know...Spanish Guitar. He was a band leader while he was in Medical School. My mother walked around the house singing Carmen throughout the day. They were sort of middle brow. And they had one of those collections that you know was like in the 19....1830's [laughs]. Now it's on this (motions a CD-size shape with his arms and hands). But it used to be like big albums with 12 inch 78's, you know? And you had different colors in Bach, Beethoven, Brahms and Schubert, so that was there. They discovered Yma Sumac. Do you know Yma Sumac?
Thirsty
: I've never listened.
DF
: Do you want to hear some? It's just so amazing. It's like one of the few things in my life I agreed with my parents about. Everyone thinks Tchaikovsky and Beethoven were wonderful. We all did and all that but..I was getting a little edgier. At then it meant a lot to me, but you know there was pressure on me to be some kind of musical. So I took clarinet lessons. And all I could do was make believe I was Benny Goodman coming home with my clarinet, giving it to the butler. As for playing the clarinet forget it!! [snickers]. I couldn't get all these fucking symbols and everything.
Thirsty
: Why did you originally choose Harvard when you eventually ended up leaving anyway? Was this just a way to escape and seek something new?
DF
: Well...I chose Harvard Law School because I was 19 when I graduated from college and um...wanted to be some place cool. I wanted something crazy. You know...I've been to Harvard many times like on football weekends...the only way I figure I could do it permanently was to go to law school. I didn't want to be a teacher or scholar. I just wanted to live my teens. So I applied and ended up getting 99 percentile on the law school aptitudes test. I obtained one of the two highest grades in my graduating class during my undergrad. My music stuff really took an arc then. And my parents gave me a portable stereo, and I had some real romantic stuff of Schubert. One day I was at a record store...records were important then...I love music. I needed to jazz up my collection, not jazz...the opposite of jazz. So I was in the store and there was something with an odd cover. And I said, "Hey put this on, what's this?" He played it and it was Carmina Burana. Probably the first time anyone in this universe ever heard it.
Thirsty
: I wish records were important now, [chuckle]. Were opera and show tunes your music of choice throughout your time at Cambridge?
DF
: Well, I soon became a folkie, because that's what all the kids from college did during Thanksgiving break and such. They went to hear The Weavers. That was actually my first Napster download, "Don't Tell Aunt Rodey…the old grey goose is dead." I love that stuff. It was so childlike, but it was ok because it was cool. And they were great singers and strummers and political. Not to mention the cutest crowd. The cutest Jews from Manhattan. Back in Philadelphia, I went to folk clubs and listened ironically to Elektra records...folk songs of Bulgaria and Tibetan chants and medieval music. Then I moved back to New York and what did I do? I don't know. More gay-like stuff. I saw Judy Garland at Carnegie Hall...that legendary show. This was about the same time when I met Andy Warhol.
Thirsty
: And Edie Sedgwick?
DF
: Nooooo. Edie moved in with me. You didn't have to join her in with Andy. Edie had her own rocket fuel and…by then the Cambridge – New York axis was really established. I had a loft...a small loft...nevertheless, where people would crash. Many of the people from Cambridge would come to NY for the weekend and stay at my place. Sooo...I was going to feed (speak about) into The Factory...I like to date it from...well...first time...I mean I saw Andy every night at the same bar, but his crowd disdained our crowd. We were the YJS (young Jewish set) then and they were the Mole people or...whatever...we had nicknames for every crowd. And it was Edward Albee and Jasper Johns, Andy (Warhol) and Ondine. I thought they were incredible looking so I would stare at them. We weren't flamboyant or as flamboyantly brilliant as these people (The Factory people, etc) were starting to be. So I would stare at them. And then one day, Ondine smashed his fists on the table and stood up and pointed across the whole bar and said "WHY IS DANNY FIELDS STARING AT ME?" I didn't even know he knew my name but I was like...well...I just sunk into the floor. But I can't help it. I couldn't help it. I wasn't always so cool.
Thirsty
: Did you later maintain a good relationship with Andy?
DF
: Well, here it is. I was at a party on east 72nd street. And, Andy was sitting there. Gerard Maligna was on one couch just like that and I was sitting on another and this girl named Ivy Nicholson, who was his Girl of the Year or something, was there. She was this beautiful model. And she crawled across the floor and tried to lick Andy's boots and he sort of...not kicked her in the face...but sort of "go away (kicking gesture)" like you would to a dog..."Get outta here" gesture. So she crawled back across the floor and started to climb out the window. This is the 6th floor so...and I was just like ...I GOT UP AND GRABBED HER TO PULL HER BACK IN. She sobbed and whatever. But later Andy said "OOO YOU SHOULDN'T HAVE STOPPED IVY FROM JUMPING...WE WANTED TO SEE HER JUMP." And I thought "now that's cool." That's a good attitude. You know? [laughs] . Whether or not he would have been happy to see it happen, it's nice that he could have been wistful to not see it happen. "Awww, I wanted to see her jump (impersonating Andy)." The punch line of this one is that she lived, one of the few of us that lived. And she's now just a nuisance hanging around, attacking people in Chelsea and the Village. "SHE SHOULDA JUMPED! WHY DID I DO THAT!?"
Thirsty
: Haha. That's hilarious...so now...about Edie?
DF
: First, let me tell you about my Assassination Party of '63. It was Thanksgiving weekend, the weekend after John Kennedy was shot. And everybody was, um...it's hard to describe...you would not...there was nothing so battering since...well, World War II. There was nothing really big until that. He was shot. That was the biggest thing in everybody's life you know?
Thirsty
: But a party was held...
DF
: I was thinking it was all just too gloom and doom. I had planned to give a party that weekend because there were going to be a lot of people here from Cambridge...I said "we all need to party". And I had a big punch bowl and crystal ladle...and put a thing of ice the size of a foot stool in there. And poured vodka and grapefruit juice AND THEN MORE VODKA AND GRAPEFRUIT JUICE...[snickers/laughs]. It got wild, it was great! I made a tape!! I wish I still had it...it was cool...funny. I wish I still had it, but you can't tell what a tape is from looking at it can you...and they're too many tapes. So we're dancing and The Factory people and the New York people were really mingling together,, flirting or dancing or schmoozing whatever. So that was a big connecting moment.

Thirsty
: (Danny takes a phone call. I take a break and walk around; admiring the rock haven he lives in. The walls are covered with vintage vinyl's. White boxes filled with taped interviews line the top of his office. There must be at least 600 tapes… Danny returns)
DF
: Where was I? Oh yea, so Edie moved in with me...wait...before that, there was another great moment at this party. Do you mind me talking about this?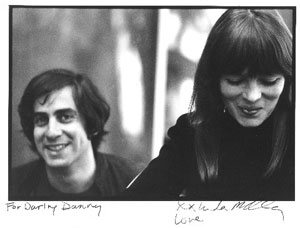 Danny Fields and Nico
(credit: Linda Eastman McCartney)
---
Thirsty
: No, not at all that's why I'm here.
DF
: Ok...so Nico walked in with this guy who was presenting himself as a Chilean Count. I didn't know they had Counts in Chile, but who cares? There was the punchbowl with the ladle. And...everyone's like "Wow, that's the girl from La Dolce Vita". This was this real insane assassination party and she was enough to stop people just to catch a look at her. And she just walked straight to the punchbowl, scooped the ladle, lifted her arm over her head and poured the punch into her mouth in A PERFECT STREAM. Not a splash or drop! And that was her New York entrance at my Assassination Party so...she was being brought to the attention of the Warhol world as it was 1963 in any case. She was a European movie star. Later on, she became sort of like my sister.
Thirsty
: That's unreal. She had her fair share of popular boyfriends. But we'll get to that later when we touch on [Jim] Morrison. So Edie moved in with you after this party?
DF
: No, it was early 1964 when Edie came. Tommy Goodwin from Harvard drove her in that night. She had no place to stay in New York. She had been thrown out of her grandmother's house on Park Avenue some weeks before. I don't know, she was probably stealing things out of the butler's pantry [laughs]. So it was expected that Tommy was staying over that night and he asked if I'd mind if Edie stayed over too...so I said, "Of course not, anything for you". Anything for Tommy...he was so wonderful. So she just sorta moved in [chortles] and she just lived there. She was always on the phone and I already had a roommate. And we had one phone and we didn't have cell phones at that time, obviously. It was one line. And she was like blablablabla and smoking cigarettes and throwing clothes into the closet. The one good thing she did was drive my roommate away. Because I was hating him already. Just getting on my nerves, you know how people do.
Thirsty
: I guess Edie's story becomes kind of tragic. We'll progress to a lighter note, The Doors. When you were at Elektra Records, you were placed as The Doors publicist?
DF: It's the other way around. You see, I had worked for The Doors as an independent publicist. I called myself that...that's one of those things that I just fell into. I was very close with an all-girl band in New York called the UFO'S. They were going to Los Angeles and they were going to play The Whisky. So I called The Whisky blind and asked to speak to whoever ran it. It was a woman named Ronnie Harrin. She ran The Whisky and was its press agent while also sort of closet managing The Doors. I said, "Would you look at my girls when they're in LA?" She said yes, and then she asked if I'd look after her boys while they were in New York. So I did and by then the cafes were buzzing as they say in Amadeus..."the cafes were buzzing"...with news of these guys (The Doors). So I decided to kill two birds with one stone and check this band out while she looked after the UFOs. They were an interesting band and "Light My Fire" was just…well…I couldn't get it out of my head. What a song! I'm good at that, too. In the days when you know songs ruled, that was a fucking number one the first time I heard it. And the next day, I called Elektra and I said "Hello, Hello...I'm The Doors press agent." They responded, "Ooo, come over, come over, we've never met a press agent." And I said, "Well, there was some song they did last night, fire or flames or all that."

Thirsty: Ya, that song hits you hard when you hear it. So The Doors actually led you to Elektra?

DF: I was visiting Elektra. Introducing myself to them. And I said "Light My Fire" should be a single and they argued it was much too long. They said some other people at Elektra agree that it has single potential, but they had just released "Break on Through." And I said.. ahh ok...

Thirsty: I've read in prior interviews that your relationship with Jim Morrison was a little rocky...

DF: He was an asshole. The band hated him so much. I had interviewed them after he died and...they had nightmares that he was still alive. They'd wake up screaming that Jim wasn't really dead! Imagine? The band just hated him so much. They told me this after he died.

Thirsty: I can't even watch Oliver Stone's The Doors movie. As much as I love their music, I can't get over his nauseating personality. People would pay and he wouldn't even perform, correct?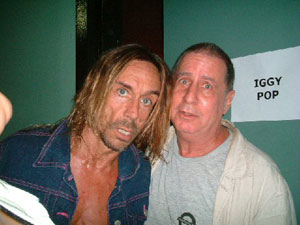 Iggy Pop and Danny Fields
---
DF
: Well...I think your thinking more of Iggy (Pop). Jim wasn't as bad as they make it seem. Even if he did have to take his cock out to get remembered some times. But he was a master performer. He was a genius...a lousy poet...but a genius as a star. He was just so incredible. And I hated him and he hated me because I had to kidnap him to fix him up with Nico...so...he had never stopped hating me for that. He even tried to have me fired from Elektra and Jac Holzman wouldn't do it. Then he kind of vanished from my life. I read an interview with him after he lost his looks and...he...did not like those pics of him when he was gorgeous because as he got older and drank more and got more puffy and sodden looking, those pics were there to haunt him. So he hated that. And he thought he was a poet, so these pretty pinup pics didn't matter. I had connived with Gloria Stavers (E.I.C. 16 magazine) to make him a teen idol in 16...of course they had an affair...and...he was so mean to her...
Thirsty
: What other, more enjoyable times did you have at Elektra?
DF
: In my early days, Nina Holzmen said to me...well...she was showing me where the files were. "Ohh," she said, "there's a big festival in Monterey. Would you like to go to that?" Uhh.. I was like "Yaa!" It was '67 or something. "We'll put you in First Class," she said. "I go First Class?" She said, "We fly First Class... you feel so much better when you get there..."
Thirsty
: Ahhh... the good life. So you went to Monterey? That must've been amazing!
DF
: The names in the lineup were, among others: Otis Redding, The Who, Janice, Jimi Hendrix, Mamas and The Papas and a bunch more.[Monterey] was the big festival. That was like the jewel...the treasure. And The Doors weren't there. I was depressed that they weren't there. I was...but they were busy touring. Couldn't do it, so Nico was there with Brian Jones.
Thirsty
: That must have been a dream...
DF
: I worked for Cream that spring of 1967. The Who and Cream were making their first American appearance in New York. In fact, Easter of that year I took Jack Bruce to Central Park where we went to the "Bee-In." He accidentally took acid for the first time. We had to carry him back! These were The Who and Cream's first appearances in America. And Brian Epstein had hired me to work for Cream while they were in the states. And so I did.
Thirsty
: I never knew you worked with Cream? I just actually finished Eric Clapton's autobiography. I didn't realize there was so much tension between the band. I always assumed they got along because they produced such amazing music.
DF
: Um...you know what? They really went THEIR separate ways in New York. And, of all possible permutations and combinations and possibilities, Ginger Baker and I bonded. We used to frequently have dinner at Max's Kansas City. I mean if you think about it...this is an odd couple of buddies. Jack who had a girlfriend and Eric who had groupies who had gotten the word from England. They were lined up. And one blond beautiful girl who supposedly gave the best blowjobs in New York so he always took off with her. And one particular afternoon (Easter of '67), the Blues Project was also in the show. We were all sorta buddying and Al Kooper and I took Jack Bruce to Central Park and he was all wow, geez and I turn around and see him take a handful of Technicolor popcorn from a Technicolor Girl and I said, "Ohhhh, did you eat that?" He said, "Yea, why?" "YOU MAY HAVE JUST BEEN DOSED WITH ACID," I tell him. He goes, "I don't feel any different," and all of sudden...he was like "whoa" and started walking through the crowd...you know... He was scared. He didn't know where he was. Of course, you don't know where you are in a foreign city with foreign people...and your playing at a theatre for the first time. Adding to all that it's ACID for the first time in your life. So then we grabbed him and dragged him to Central Park West to get him into a taxi. And we got him back in time for the show. Eric (Clapton) was like "What the fuck did you do to my bass player?" He said it to me and Al Kooper. (laughs). " Well Eric.... he's tripping," (laughs)!
Thirsty
: That concert must have been a ridiculous scene! I don't know how he did it!
DF
: They got through it somehow. Al Kooper remembers it more from a musical point of view. He was the singer, too...remember. I was in the recording studio with them (Cream). There you don't notice friction because you have all the mavens from Atlantic Records there. They were recording "Wheels of Fire" at the time. You know...so...they were doing this song called Brain Soup.
Thirsty
: (I correct him and say "brew?") The song was called Brain Brew or Strange Brew right?

Danny Fields, Johnny Ramone, Dee Dee Ramone
DF: Huh? Well...it was originally Brain Soup. And I said, "Uhh, I don't think so. I think the whole 'ayyyy ooo' is ok." So they came up with Strange Brew. Brain soup! UGH, you know I never liked the recording sessions anyhow. If there was friction, it wasn't any of my business. They did musician shit and I was never sure exactly what they did, where all that music came from. If it sounds good, let them do it. Wake me when it's pressed into vinyl.


Links:
Thirsty : August 2009 : Interview with Danny Fields - Part 2
Thirsty : October 2009 : Interview with Danny Fields - Part 3