By: Sarah L. Myers
---
A sold out crowd of Nick Cave
fanatics had the best night of their lives Wednesday - after a set consisting of the Grinderman
album in its entirety, Cave came back out for two encores, both full of Bad Seeds classics and bringing some to tears.
First out of the gates were "the dirty three" - Warren Ellis, Martyn Casey, and Jim Sclavunos. Cave only sat at his piano for a moment before jumping up and grabbing his guitar, slamming it against his hips and shaking violently to "Grinderman". "I'm the Grinderman, yes I am," he sang, after which the crowd erupted in absolute frenzy. It's like they were speaking back to him in a telepathic dialogue they kept up for nearly two hours.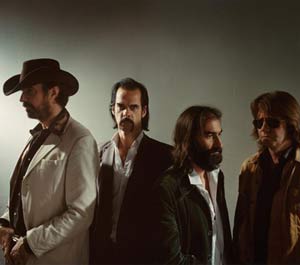 Not even the quiet was quiet. "Go Tell the Women", perhaps the most inaccessible song on the record (three plucked notes and spoken lyrics with barely a backbeat), took a nasty, rowdy turn. Cave turned the microphone on the crowd, who released the chorus like a rally cry. He looked so pleased he even smiled. Cave snarling "Come on, Jim," introduced the electric sleaze of "Depth Charge Ethel". Pressed against the barricade with arms outstretched, the front of the crowd grasped hands with Cave, threw cigarettes and lighters, and heaved backed and forth as one giant mass.
He paced the stage, pointing his finger and setting his legs wide in his famous stance. Smoke rose from his fingers as he flicked cigarette after cigarette onto the stage, his shadow tall on the Metro's scalloped walls. The heaviest moments of the night came with "Ethel", "Honey Bee (Let's Fly to Mars)", and "Love Bomb". The groove of "I Don't Need You to Set Me Free" had everyone swinging back and forth, climaxing with Cave's forceful "come on, Grinderman!" A soft, blue light offset "Man in the Moon" - "keep the light right there," he said quietly, seated at his piano with his eyes closed.
Cave kept his fans waiting just like the frustrated protagonist in "No Pussy Blues" - they'd been screaming for it all night. He barely made it to the microphone before the first body went sailing over the banging heads. "I can't help but think standing up here in all this applause," he began. "That I must above all things love myself!" the crowd returned. This is as raunchy as it gets, obscenity without being obscene. Cave could barely contain himself, rotating his guitar suggestively while Ellis fidgeted like he was trying to shake the filth from his hands. Cave screamed and seethed, "she just laughed at me and said that she didn't want to!" We've seen him a lot of ways - melancholy, junk-sick, repentant - but we've never seen him pissed at not getting any. After 30 years, he's still angry.
The sign out front suggested a short set, about 45 minutes. The surprise came with two encores of Bad Seeds songs. "We don't have the equipment, but we're out of Grinderman material," Cave said, the crowd geared with anticipation. "We're going to play some Bad Seeds stuff."
The requests came immediately. The chant "Stagger Lee!" took flight and filled the entire venue. He never played it, but it was forgotten when "Red Right Hand" introduced itself with a loud chime. "The Weeping Song" was performed with Blixa Bargeld in San Francisco, and in Chicago with a thousand audience members. "Deanna" was insane, "Oh Mama" more reserved, and "The Ship Song" was undoubtedly the most beautiful moment of the entire night. Every hand was in the air, palms facing Cave in testimony. He gave it right back, as gentle as he was ferocious only a few minutes before. There was a collective relief in the room unique to anything but Nick Cave and the Bad Seeds.
Nick Cave
does something to people. Something about him can repair the most ruined heart and tormented soul, if only for one night. Maybe it's because his fans know that he's lived that kind of life. He harnesses mystery, romance, violence, and redemption in a way unlike any other performer in the world, and his fans worship him for it. It was the best show ever hosted at the Metro, and with just four dates in the United States, Grinderman
gave the crowd something to remember for the rest of their lives.