Nick Cave and the Bad Seeds
The Abattoir Blues Tour
DVD review

By: Sarah L. Myers
---
Nick Cave and the Bad Seeds released Abattoir Blues/ The Lyre of the Orpheus in the fall of 2004. The season's bitter months seemed the stretch out forever, as unforgiving as the cold snap that seizes late October in Chicago. The double album served as my soundtrack for the remainder of that year, and carried me even further when I thought I wouldn't survive even that long. The best records are those thought to be recorded only for you, and every song on Abattoir Blues seemed to have a message as I struggled to get through the worst months of my life. I didn't think it could ever mean more to me as it did then, but the newest release, The Abattoir Blues Tour (a two DVD and CD set) seems to introduce it all over again.
Backed by The London Community Gospel Choir, each song in the Bad Seeds' set is swollen with harmony and accompaniment. "Hiding all Away" opens the first disc, taken from a November 2004 performance at London's Brixton Academy. With its ugly opening bass line, "Hiding all Away" creeps up on the audience like an animal stalking its prey. Cave is equally primal, and even with backup singers, muted blue lights, and no fewer than eight people onstage with him, he's more punk rock than ever. Minutes later, after delivering the gentle piano intro of "Messiah Ward", he gets the spirit in him - jumping up and throwing his arms above his head, cigarette caught in his lips, clapping his hands and cutting angles with his hips.
These songs are beautiful. The silence of the crowd when Cave sings "Babe, You Turn Me On" is stirring. You wouldn't even know they're there but for the few arms swaying back and forth in time. "Get Ready for Love" simply kicks ass, and shows Cave in his signature move for this performance - a frantic outburst of spread legs, rounded back, and thrown microphone over his head. "Carry Me" comes next, appropriately so. It's the last quiet moment in a set that still offers "Red Right Hand" and "Stagger Lee".
I read somewhere that "There She Goes, My Beautiful World" was Cave doing Elvis. It's not the first time - he covered "In the Ghetto" on 1984's From Her to Eternity (though he doesn't remember shooting the video), and "Tupelo" came a year later on The First Born is Dead. This Elvis is the one Cave is most fascinated with - the one that falls so far as to forget the words to "Are You Lonesome Tonight?", ad-libbing and making jokes onstage. There's something so sad and tragic about it, but still so grandly rock n' roll. "There She Goes" salutes all of these figures: Dylan Thomas, Johnny Thunders, Nabokov, and Karl Marx. "If you got a trumpet, man, get up on your motherfucking feet and blow it!" he shouts to those in front, who sing every word back to him.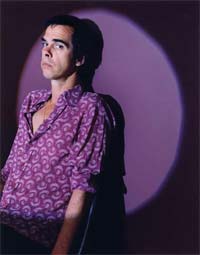 Each encore from this point tops the one before. One can only imagine what it must have been like to hear "God is in the House" in that cramped, smoky hall - people pressed together in complete darkness, with only a spotlight on Cave's piano. Warren Ellis's violin is mournful, lifted beautifully by applause at the break of the song. When Cave whispers "there's no fear about, if we all hold hands and very quietly shout, hallelujah, God is in the house," you're witnessing the presence of something very special.
There's a predictable freak-out at the beginning of "Red Right Hand", which features an incredible crowd sing-a-long. The crimson light washes them in what looks like blood, and every perfect shot of Cave's shadow is offset with one of their eyes fixated on the stage. "The Ship Song" features Mick Harvey's acoustic guitar and some of my favorite lyrics of all time: "we make a little history, baby, every time you come around." This is the love song that had little girls in white dresses circling Cave in the video. The purity of that image translates onstage. The only thing missing is Blixa Bargeld, who thankfully makes an appearance in footage of the "Bring It On" video shoot, included on the second DVD.
"Stagger Lee" concludes the set. The audience knows what they're getting as soon as that first, tight down stroke comes at them. The live performance allows much more buildup - sleazy backup vocals and droning notes from Martyn Casey's bass. Cave's suit jacket is off, his white button-down is untucked, and his hips come out again, as serpentine and evil as he was in 1995. Ellis looks devastated, crouched in ruin and rocking back and forth disturbingly, his head buried in his violin. These are the Bad Seeds as we best know them, screaming about murder in a way you'll only see from one other place - behind a pulpit.
The first disc is the standout here, but the others offer performances of classics like "Deanna" and "The Weeping Song". From Abattoir Blues/ Lyre of the Orpheus there's also "Let the Bells Ring", "Breathless", and "O Children", all performed throughout Europe in late 2004. It's an elegant collection, and a must-have for every Nick Cave and the Bad Seeds fanatic.
www.nickcaveandthebadseeds.com