FLOSSIE TURNER LEWIS and PAULA MESEROLL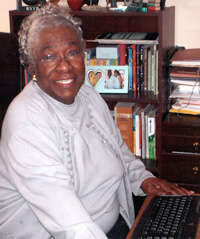 Flossie Turner Lewis
---

THE AUTHORS
Flossie Turner Lewis began delighting audiences with songs and dances when she was just two years old in 1935. Known by her stage name "Little Hot Mama," she was the child of black show business stars Hot Papa and Dolly Turner. Flossie, along with her sister LuLu B. and brother Junior, traveled with their parents and performed as the Turner Family Revue. Her own show business career lasted for more than 40 years.
A woman of strength and determination, Flossie raised five children on her own, despite the fact that she could not read or write for most of her life. With the support of the Fayetteville Urban Ministry, the United Way, and her local community, she was finally able to realize her lifelong dream of literacy and received a high school diploma at the age of 72.
A motivating and inspiring personality, Flossie has lobbied Congress and addressed countless clubs and organizations on behalf of adult literacy programs. She has been featured in print articles, public service announcements, and on television and radio talk shows in her drive to promote the importance of literacy.
A most unlikely partnership was born when Flossie Turner Lewis at the age of 69 accepted the National Award For Excellence as the Outstanding Student of 2002 at the National Literacy Conference and met writer Paula Meseroll. Their journey together to chronicle Flossie's amazing, inspirational, and truly American life's story took over eight years to write and reach publication as LITTLE HOT MAMA.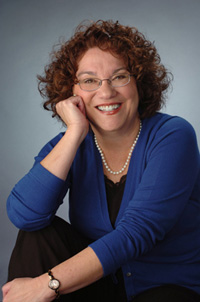 Paula Meseroll
---
Co-author Paula Meseroll is a public relations professional and an award-winning freelance writer and columnist whose work has appeared in newspapers and magazines, including Syracuse University Magazine, UB Today, Central New Yorker Magazine, and All Kids Considered. A summa cum laude graduate of Marywood University with a degree in communication arts/public relations, she is director of marketing and communications at Syracuse University.
THE CAUSE
In recognition of Flossie's extraordinary life and literacy achievements, ProLiteracy, the leading international non-profit literacy organization, has partnered with Stay Thirsty Media, the publisher of LITTLE HOT MAMA, to help champion the power of literacy through Flossie's inspirational story.

And, in gratitude for all that literacy has brought to her, Flossie Turner Lewis, co-author Paula Meseroll, their literary agent, Leticia Gómez, and Stay Thirsty Media have joined together to donate 50 cents from the sale of every digital copy of Flossie's book to The Flossie Turner Lewis Literacy Fund at ProLiteracy to support this most worthy cause.
In September 2010, LITTLE HOT MAMA reached #1 on the Kindle Bestseller List in Literacy.
Links:
Thirsty : 2012 July : 2012 #1 Best Sellers for Summer
Thirsty : 2011 July : The Extended Life of eBooks
LITTLE HOT MAMA in the American Libraries Magazine
The Indomitable Spirit of Little Hot Mama, S.I. Newhouse School of Public Communications
Literacy Coalition of Onondaga County :: News
Flossie Turner Lewis Helps the United Way, Fayetteville Observer, August 17, 2010
Thirsty : 2010 July : Thirsty features LITTLE HOT MAMA by Flossie Turner Lewis and Paula Meseroll
Fayetteville Observer - July 2010
United Way of Cumberland County Interview
Thirsty : 2010 June : PREVIEW : LITTLE HOT MAMA - The Flossie Turner Lewis Story
LITTLE HOT MAMA on ProLiteracy
LITTLE HOT MAMA Website
LITTLE HOT MAMA on Facebook