Now Playing : Your Neighborhood Spaceman (Feat. Jel & Odd Nosam) - Peeping Tom
By Wayne Graham
---
The unfair truth is that Mike Patton has done whatever he wants, whenever he wants for so long that it can be easy to take his fearless approach to music for granted. There's never been a sell-out point, or a phone-in performance, so it's not shocking anymore to hear that he contributed to a Bjork a capella album and a Dillinger Escape Plan EP. Or that he's collaborated with both avant-jazz architect John Zorn and Slayer drummer Dave Lombardo. From the moment that Faith No More spent the capital earned by the massive success of "Epic" to produce the gonzo oddball masterpiece Angel Dust - which "underperformed" commercially, to say the least - it was clear Mike Patton was working from an entirely different blueprint than anyone else. We're so used to odd mash-ups of talent in his work that it ceases to surprise us. We naturally expect to hear the unexpected.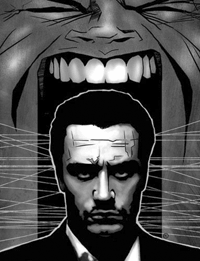 Patton's long-in-the-making Peeping Tom album, however, was made under an entirely different set of ground rules than his usual different-cooks-in-the-same-kitchen methods. Inspired by the tone of British director Michael Powell's 1960 psychological horror classic of the same name, Peeping Tom was designed as a pop and hip-hop project that the official press release describes as devoid of "physical intimacy." Where Patton's previous collaborations are notable for the sparks that would fly from putting unlikely collaborators in the same room with one another, his idea for Peeping Tom was to swap songs with potential collaborators (including Norah Jones, Dan the Automator, mouth percussionist Rahzel of the Roots, and Massive Attack) through the mail, and to sit back and wait for interested party's contributions to make it back to him. Both the good and the bad news is that the concept works; it totally lacks a sense of flesh and blood. It's all bones, no heart. Not to say that it doesn't have its fair share of hooks, but the record has nowhere near the fire in the belly as the best Patton efforts usually display. It's his unmistakable voice, his unique delivery, but given the impressive roster and the fact that this is supposed to be his take on popular music, we're expecting songs, but get more in the way of beats and textures.
This may explain the appreciative (but not rapturous) reception the music got at the band's set at the Vic Theatre in Chicago. The far-from-capacity crowd was audibly enthused to be in the same room with him when he made his entrance, but once the novelty of being up close and personal wore off, Patton and his backup band, which included Rahzel, openers Dub Trio, and vocalist/violinist Imani Coppola, had a bit of an uphill battle making the crowd love the songs. A shame, because, performed live without the albatross of the "no-touching" mission statement applied to the record, the same numbers that felt lifeless and mechanical on disc came off much better on stage. Songs that work well on the album were nearly explosive.
Unfortunately, when the band would finally get the audience going with a few infectious choruses, or a nice groove or two, Patton would exit stage left, and the audience would get a pace-killing beatbox spotlight from Rahzel, or this generation's answer to the drum solo - the turntable feature. When Patton would return to stalk the stage in his white jumpsuit and hairnet, the ensemble had to start back at square one.
It's fitting that the group plans to open select dates for Gnarls Barkley, a similar oddball collaboration aiming to reprocess hip hop and pop music for Generation MySpace. Perhaps by making do with a shorter set length and supporting a combo whose efforts both on record and especially onstage more ably get bodies moving, Mike Patton, of all people, can learn something.