By THIRSTY
---
Carole Bayer Sager has been honored with an Academy Award for Best Song (1981), a Grammy Award for Song of the Year (1987), two Golden Globes and was inducted into the Songwriters Hall of Fame. The list of superstars who have worked with her is a "Who's Who" of the recording and entertainment industries and includes Barbra Streisand, Michael Jackson, Frank Sinatra, Whitney Houston, Ray Charles, Dolly Parton, Aretha Franklin, Bette Midler, Celine Dion, Reba McEntire and Andrea Bocelli, to name just a few. Then, after decades of extraordinary musical accomplishments as a singer, songwriter and lyricist, she expanded her creative horizon to become a painter, with many solo shows to her credit, and has recently written a memoir entitled, They're Playing Our Song.
Stay Thirsty Magazine was truly honored to visit with Carole Bayer Sager at her home in Los Angeles for this Conversation about her life, her career and her new book.
STAY THIRSTY: You begin your memoir, They're Playing Our Song, with an epigraph of the lyrics to your song "Someone Else's Eyes" that you co-wrote with Burt Bacharach in 1990. The final two lines read: "I can't love you, I can't love me / Through someone else's eyes." How close to the real Carole Bayer Sager are those words?
CAROLE BAYER SAGER: Very close. I think I lived a lot of my life through the way someone other than me saw me. In the beginning through my mother's eyes and as an adult through the men I had relationships with, none more apparent than when I was with Burt Bacharach.
STAY THIRSTY: You dedicate They're Playing Our Song to "Cris and Bob." Why did you choose them?
CAROLE BAYER SAGER: Because they are my son Cristopher Bacharach and my husband Bob Daly and definitely the two most important men in my life.
STAY THIRSTY: You achieved songwriting success early in your career and you were exposed to and worked with some of the most extraordinary musical talents of the day. How star-struck were you or did you feel that you just naturally fit in?
CAROLE BAYER SAGER: I was given the opportunity in my life to work with some of the most talented writers and producers of our time. I don't think I was star struck as much as I was spoiled, having worked with composers of the caliber I did. It's very hard to be impressed with songwriters today who come to you with a pre-recorded track and who ask you to consider writing the music and lyrics on top of their track and think of that as collaborating.
STAY THIRSTY: You write about the creative environment of the "Brill Building" and "Screen Gems" when you were a young songwriter. Do places like these exist for songwriters today?
CAROLE BAYER SAGER: I think they do in Nashville, but not in New York or L.A. anymore.
STAY THIRSTY: You identify yourself first and foremost as an artist with a need to "do something creative every day." Did you always feel that way? How does your creative drive affect how you structure your time?
CAROLE BAYER SAGER: I have an intense need to be creative. As I write in my book: "I have to do something creative every day. That is the key to me being an artist. The medium is almost irrelevant, as long as I can practice it fully."
STAY THIRSTY: As you look back on your career in your memoir, you point out that a songwriter cannot be "the hot writer in town" forever and you acknowledge that you were lucky to be that writer twice, once in the Seventies and once in the Eighties. Do you long for those days? Do you believe that you might have one more go-round at that level?
CAROLE BAYER SAGER: I don't long for any time past. I try and live in the present and today is a good day. I am happy. One of the great things about being alive is the mystery of life. I don't know what the future holds for me, but I will welcome it and hope to meet its challenges and its surprises. If I'm meant to have another creative burst in music I will. Perhaps not on the top 40 charts but perhaps in another medium, like musical theatre.
STAY THIRSTY: You took up painting later in life, first portraits of your famous friends, and then abstracts of food. How did you settle on those two categories of subject matter? What do the celebrities you paint think of your work?
CAROLE BAYER SAGER: You'd have to ask them. I was inspired to paint who and what I painted, and we'll see if that inspiration strikes me again.
STAY THIRSTY: Your emotional health in your early childhood was an issue for you during your life. How did you find your center? What role has faith played in your journey?
CAROLE BAYER SAGER: I found it by showing up for life and doing what was in front of me and trying to do my best. You can't purchase self-esteem or a "center." Taking the high road, one step at a time, makes you feel better about yourself and one day you have transformed your fear in to faith. That has proven to be one of the most important transformations in my life. I realize you can either be in "fear" or in "faith." My hope is I always choose "faith."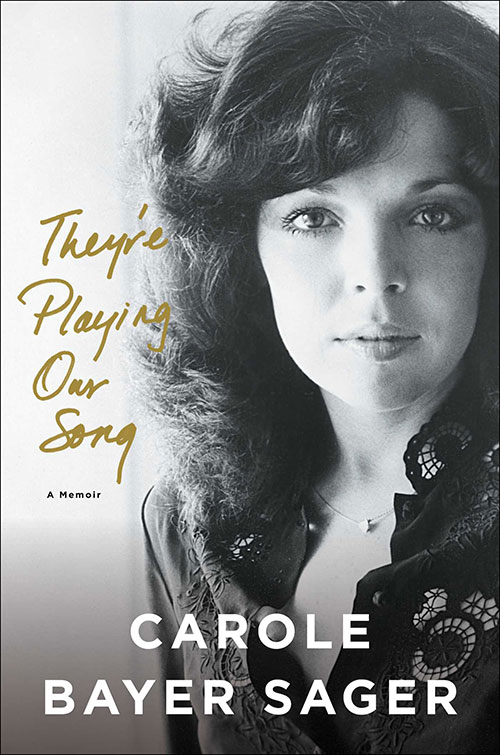 STAY THIRSTY: When you are out and about what song(s) run around in your head?
CAROLE BAYER SAGER: Usually, any song I am working on, and when I am not composing, any song I hear on iTunes or Spotify that I love stays in my head and I hear it over and over and over. Sort of like a mantra!
STAY THIRSTY: How do you feel when you hear some of your songs, like "The Prayer" for example, performed by such icons as Celine Dion and Andrea Bocelli?
CAROLE BAYER SAGER: Amazed. Hearing "The Prayer" by Celine and Andrea elevated the song to a place I never knew it could go. Their extraordinary voices made the song even more than I dreamed. They took it to a place close to "heaven."
STAY THIRSTY: What projects are on your drawing board for the coming year?
CAROLE BAYER SAGER: I am not certain. I always believe you have to empty the rice bowl for something new to enter. Right now I am embarking on a book tour to promote my memoir that will take me to close to the end of the year. Time will tell whether I return to painting, music or writing another book.
STAY THIRSTY: You believe in giving back and have devoted your energies to several worthy causes in what you call your third act. Which charities are most important to you?
CAROLE BAYER SAGER: LACMA (Los Angeles County Museum of Art), Donors Choose, Elizabeth Taylor Aids Foundation and Save The Children.
Link:
All opinions expressed in this article are solely those of its author and do not reflect the opinions of Stay Thirsty Media, Inc.