By Sarah L. Myers
New York, NY, USA
---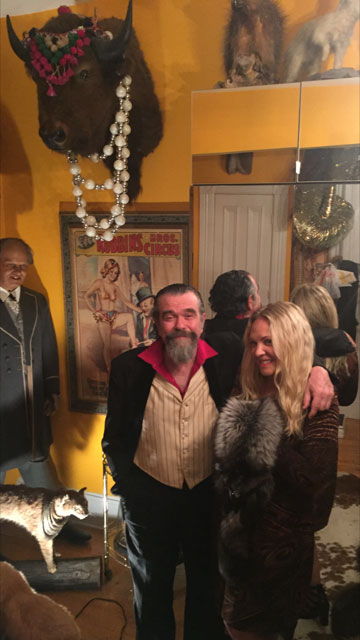 [Our first conversation with Joe Coleman appeared in the Inaugural issue of Stay Thirsty Magazine (September 2006).]
The painting, "A Doorway to Joe", is Joe Coleman's magnum opus. An invitation of epic proportions, it allows us into his world of childhood Catholicism, Coney Island sideshow geeks, personal health struggles, members of his family and "tribe", all detailed in single-hair brushstrokes bordering a life-size Joe in the center. This is a different Joe. The regal touches we know – vests adored with badges, pins, and taxidermied animal feet, sharp-toed boots and groomed moustache – are gone. He stands atop a white platform (the only white space to be found), barefoot in a long underwear shirt and workman's trousers held up with suspenders. A look of challenge crosses his face. Perhaps he's talking back to the work, which pushed him physically, mentally, and emotionally, and remained his single focus as his notoriety amongst celebrity collectors (Leonardo DiCaprio and Johnny Depp are owners) began to rise.
Shifting your gaze just up from Joe, flashing her blinding smile, is Whitney Ward. Painted just above him, she seems to be in authority of all that happens around her. You only have to have attended one of Joe and Whitney's outrageous parties to know this is not metaphor. In a tornado of chaotic revelry, overflowing champagne glasses and endless deafening chatter, Whitney is a pillar of calm. Joe is quick to note her devilish childishness. Capturing her in 2015's "Doorway To Whitney", he opens a diary into her life, with cartoon characters and mermaids swimming throughout its pages. She stands taller, literally and figuratively, with her hand on her hip and leg thrust forward, just how she teaches you to pose for a photograph. "Doorway To Whitney" premiered December 2015 as part Miami's "Unrealism" exhibition, curated by Jeffrey Deitch as a joint project with gallerist Larry Gagosian.
It's been 10 years since we first spoke to Joe via telephone for Stay Thirsty's debut issue. Then, in March 2008, I stepped through the front door of Joe Coleman's Odditorium in Brooklyn for the first time and felt like I'd reached into a mirror and found it has another side. Turning slightly to avoid bumping into the life-size wax figure of Charles Manson on my right, I caught a glimpse of a few squares of paint against a huge, white background.
"All you see is what's painted," Joe tells me, as we settle in for conversation. "There's no sketching on the surface. It's just raw."
On August 26th of this year, I joined Joe and Whitney at home for further conversation. Our mugs of wine (mine a Tiki man, his a Walmart-esque photo collage!) filled over and over, we laughed and shared stories. He showed me their fire escape garden, groomed by Whitney and overflowing with tomatoes and herbs. He sketched me again, this time surrounded by Halloween décor and within the glow of the Cyclops television piece. It would be hours later that I stepped back over to the other side of the mirror, but Joe made sure my ride was there to take me safely.
Joe Coleman's next exhibition is slated for May 2017 at the University of California Fullerton. It will be the largest display of his work on the West Coast.
STAY THIRSTY: Will the upcoming California exhibit be the biggest since Berlin?
JOE COLEMAN: It's not as big as Berlin because, you know, Berlin was on four floors so it's not going to be as big as Berlin. But it's the biggest thing I've ever done on the West Coast that's for sure. And it is encompassing my work from, as I said from the 1980 to the most contemporary works so it's a pretty good representation of the work. And the catalog, which is planned to be extensive, like 300-500 pages, is going to be inclusive of everything from my underground comic work to my performance work to my collection. You know, so it'll cover a wide range of things. Some water colors, everything, even drawings because I don't even do that many drawings, but I have done some and maybe a lot of people haven't seen them.
STAY THIRSTY: I can't wait to see those. I had The Book of Joe: The Art of Joe Coleman out today and I'm still finding things! It's amazing! It's like this puzzle that I've looked at a million times but I just found a piece. It's incredible. I'm really looking forward to seeing work I've not seen before.
JOE COLEMAN: I'm psyched too, to show it!
STAY THIRSTY: It'll be the University of California Fullerton correct?
JOE COLEMAN: Yes, Mike McGee is curating the exhibition.
STAY THIRSTY: Do you have a background with him?
JOE COLEMAN: No, I was introduced to him by Greg Escalante. But he had wanted to do an exhibit of my work and he and Greg Escalante were talking and Greg contacted me because I was already friends with Greg and I said sure. I've been wanting to do something in California. I was wanting to do that anyway.
STAY THIRSTY: What had you done ten years ago? This was a small exhibit?
JOE COLEMAN: Yeah, it was an exhibition curated by James Corcoran at the Ernie Wolf Gallery and that was the last exhibition I had done in Los Angeles. Early in my career my work was seen for the first time on the West Coast at Billy Shire's old soap plant, you know the la Luz de Jesus gallery? That's when the West Coast was most familiar with my work and then I did that one show with James Corcoran and really that was it. I haven't really done anything on the West Coast since.
STAY THIRSTY: Is there a particular reason for that?
JOE COLEMAN: No, there's no real reason. I just got busy with things in New York with the Jack Tilton exhibition and once that ball started rolling it got picked up and went to Paris. Then from Paris it went to Germany so all the works were being taken on this journey. So they weren't really even available to be seen anywhere else at the time. I think it's good that its waited until I finished the two big monuments, the one of Whitney and the one of myself, for them to be exhibited and that's going to be for the first time in a museum setting… although they did premiere in Miami – Jeffrey Deitch premiered them. That was only for a week they were only able to be seen. This is going to allow a lot more people to be able to see.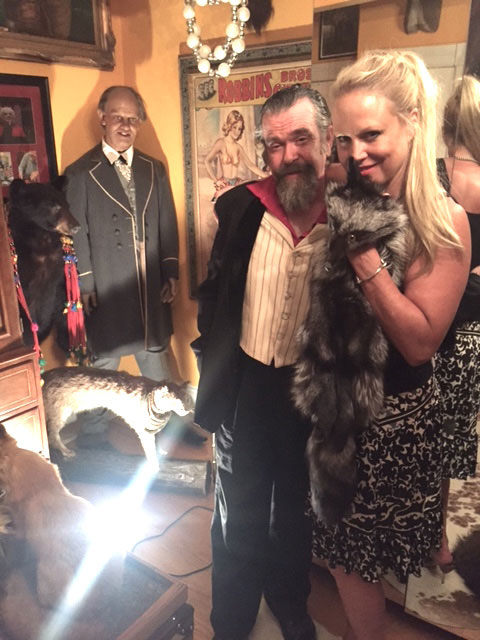 STAY THIRSTY: Tell me about that collaboration with Jeffrey Deitch and Art Basel. How did that come together?
JOE COLEMAN: I guess Jeffrey had following my work and he'd been watching the process that I was going through in painting Whitney. He got to see it in several different stages and he was very excited about it and he really wanted to do something with me. He wants to do an exhibition at his space but that's going to be in the future.


So there was this thing that happened with him where he combined with (Larry) Gagosian to do this special exhibition titled "Unrealism". I don't even know if I know what outsider art is right now! Or (if I'm) Unrealist! Again, there's, I'm put into another category. I mean, I don't know if there's been an artist that's been as many–isms that I have been categorized as but I don't necessarily fit into any of them and that's why they can keep doing and finding another one.
STAY THIRSTY: I saw your portrait at Dickenson but I never saw Whitney's. I was reading about that exhibit and everyone's saying this is Joe coming into the mainstream and I'm like … really? (laughs) But everyone wants to put you somewhere!
JOE COLEMAN: I know and they want to claim me and that's ok. I don't mind that. For them to feel special finding me is good. I mean, it's a wonderful thing to find something that you connect with. I'm perfectly happy to be called anything, to be called outsider is fine or an Unrealist or whatever it is, and it's fine. Dickenson was pretty mainstream so I'm not sure I've necessarily not been in mainstream context before, but maybe in the context of contemporary art because Dickenson dealt with primarily old masters works. So maybe there is a slight shift in putting me with more so-called contemporary artists of my day, doing works that deal with the figure. So there is maybe a slightly new area that I'm being seen in.
STAY THIRSTY: Has that new accessibility to new audiences and clientele altered the process of acquiring your work? I remember the first time I met you we talked about the waiting list and how people came to own your pieces. Has that changed that?
JOE COLEMAN: The waiting list changed many years ago; that was not a recent change. It changed just because there was no way I could keep up with the waiting list and Whitney pointed it out to me one day. Usually I'm too busy creating and she tried to explain to me (that) this is not really working, you can't really do this. So we ended up having to pay back deposits on works that I hadn't painted because it was just impossible for me to do it. Now it's changed, the work is, it's harder to acquire. There's more people wanting it so the price has gone up, which is only understandable and the ways that kind of success has influenced me is that its pushed me to do things that I didn't think I could do. I pushed myself harder. It seems like a crazy thing to do, at the very time I'm at my most successful I commit to do just two paintings that take me eight years to complete!


So it's not a money choice, that's a choice of the heart and the soul. Because I don't know how much time I have on the planet in order to ... right now my hand eye coordination and my mind is still good and my hands can speak and this beautiful way that's gotten to have this certain freedom and I want to let my hand do something big! I don't want to die and not have this chance to let my hand really go crazy and let my hand make this epic. I made this present to my hands because, yeah, now we can do it. Let's do it. Because maybe when I reach my late 60s or my 70s I won't be able to do it anymore so let's do it now when we can.
STAY THIRSTY: And you've talked about how the subjects dictate to you what you're going to do. I remember the first time I was at the Odditorium you were working on "A Doorway to Joe" and you had maybe a square foot of it done of the door and –
JOE COLEMAN: And no idea what was going to happen!
STAY THIRSTY: Exactly! And you said, "I don't know what's happening with it but it's happening!" And three years later I saw it in the gallery and now Whitney's done. That's very admirable, speaking to the way you operate as an artist, you've chosen just to do those two and they're kind of your opuses.
JOE COLEMAN: Yeah, and maybe when I was younger I couldn't have done those and now with the success that I've had it's allowed me to feel confident enough to challenge myself. And, really, I'm the only one that I'm making these works for in the end. So I have myself to answer to and I spent that time committed to doing these you know, painful, loving works that put so much passion in … and a lot of ways my most personal and I push myself in every possible way, push my abilities, what my hand can do, what I can search for inside of myself emotionally and spiritually. I really just pushed myself really hard on these two and tried to put more, pack more and more and more, vulnerable and personal stuff into it.
STAY THIRSTY: That's exactly what I wanted to talk to you about. There has been this evolution in your self portraits going all the way back to "Coal Man" and my favorite was always "I am Joe's Fear of Disease" and even in the literal sense we see more of you. We see your whole body whereas we usually see your face. We now have all of you. Is this representative of you becoming more realized and are you allowing us to see parts of yourself that may have been hidden before?
JOE COLEMAN: Yeah, absolutely. You see it because it's there. Is there, even in the most obvious way, like I'm barefoot! Even that's a suggestion! It's there. And the more you look the more that's revealed. What I have to give is in here and I'm trying to give it while I still can.
STAY THIRSTY: When I first saw "A Doorway to Joe" you'd even commented that the use of the door itself was suggesting something. Is there something about these pieces, both yours and Whitney's, that's allowing us in a way that didn't exist before?
JOE COLEMAN: Just the word itself is suggestive because if it's a door, and now the door is open, it's suggests that the door was closed before. Now you can actually look into the door. You know, Whitney is a very private person as well and she was trustful of me allowing me to show the vulnerable sides of her. That's an act of love on her part, too, to make herself vulnerable to me through me presenting her to the world.
STAY THIRSTY: Expanding upon that, is Whitney one of the reasons for this evolution? You're "Doorway To Whitney", I see it as a compliment to the reveal you did of yourself.
JOE COLEMAN: It is. And I also made it slightly bigger. Because she's slightly bigger! And she's bigger in my eyes and she's bigger in my heart so she's bigger! I think what you were getting at, and if you weren't it's something I want to say anyway, is that yeah, she has allowed me to feel more comfortable to be revealing. And it's really beautiful in allowing me to be revealing of her, too.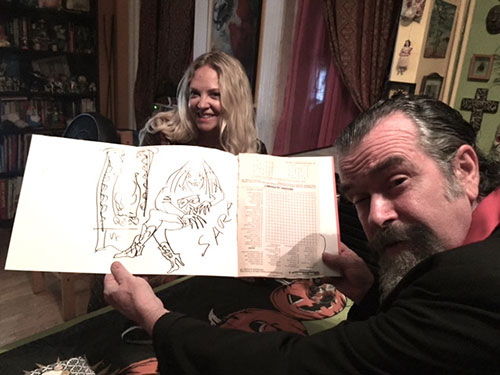 STAY THIRSTY: Do you consider Whitney's piece as a standalone or as a companion piece to your portrait?
JOE COLEMAN: I think they both can exist as stand alone pieces. If they were not in the same collection that's OK but my heart wants them to be together.
STAY THIRSTY: Did you learn things about Whitney that you didn't know during the process of painting the piece?
JOE COLEMAN: Yeah, sure. So many wonderful things that happened during the making of that piece and then I would put them right in as I learned them. They would go right in to the painting. The painting exists in doing many things at the same time, it's a portrait but it's also a diary. It's also a biography. It's also what's happening in New York at that moment because Hurricane Sandy hits and then that's part of it. So it's all these things at once.
STAY THIRSTY: I've always considered you a painter, of course, but I almost think that's just the chosen form it takes. I always considered you a biographer, a storyteller, a pathologist, all of these things and it just so happens that it comes out here.
JOE COLEMAN: Yeah, it's just, I don't know that's what the form that it's taken, at least in this life.
STAY THIRSTY: When you were working on "A Doorway to Joe" in 2008, you were talking about the election. It's 2016 now. We've discussed how you can look at the world as a Joe Coleman painting, and Dolly Parton just said this election is the best TV show she's ever seen. What are your thoughts on this election?
JOE COLEMAN: Well, it's so entertaining! (laughing) You know, it's most fascinating period in American political history for many, many years. I mean the closest thing in my lifetime, it was in the tail end of the McCarthy era, you know, so I still got affected by that. Then the Nixon era was also pretty entertaining and tragically fascinating. And this period is even more than any of those. It's closer to Andrew Jackson, like Old Hickory doing a duel, you know against his opponent, taking ten steps with the pistols. It's really like the old, early American politics.
STAY THIRSTY: And he had bullets in his arms, didn't he?
JOE COLEMAN: Yeah! And I love that! I mean, that's, it is very American! It's raw and it has similarities certainly to other things in history but with differences like, I find that Trump reminds me a lot of Huey Long, you know the Kingfish in Louisiana. But Huey Long came from the poor, working class and talked about fighting the established order and that he, as he said, "I'm a hick, you're a hick". It was like us against the established order. But he was one of the most corrupt politicians destined to possibly be a presidential candidate that was assassinated. But the big difference with Trump is that he comes from the most-wealthy class but he's charmed this poor, working class and become heroic to them. That seems so unexpected and it's the whole reality TV phenomenon that's caused that to happen and it's really quite fascinating. Even Hitler came from poverty, so there was kind of an understanding why he was able to convince so many people that they were actually opposing his enemy. But Trump is telling you to attack the very people that are keeping him in business! And people are believing it! And he's trying to convince you that he's gonna save you from the very thing that he's created! This position for himself where's he's above you. And you think he wants to share his wealth with you and that's what he's going to do? It makes no sense!
STAY THIRSTY: The reason I wanted to ask you is because this whole thing just wrote itself! Here it is, it's 2016 and I just consider this a reality TV election. It just comes back to "As You Look Into the Eye of the Cyclops, So the Eye of the Cyclops Looks Into You" (2003). It's almost like it's coming to life.
JOE COLEMAN: Right! It's right there! (points to the installation art piece, which stands in his living room)
STAY THIRSTY: I know! And how many times have we talked about this? [Television] is God! What is happening right now? You nailed it.
JOE COLEMAN: Yes, it's the kind of propaganda that's,


there's been propaganda throughout history but the propaganda of the television set now has become so, it's always been powerful but as time goes on it gets more and more powerful. This God is hungry and it's hungry for more power. And Trump is just like a dupe, you know, the God is that one-eyed monster.
STAY THIRSTY: It's like this is running for President. I almost see it that way. Like we were saying "It's a Joe Coleman kind of day". I just couldn't wait to ask you about it because it's coming true.
JOE COLEMAN: I'm kind of thrilled that I'm here to see it! (laughter) Because I remember years and years ago I said that I was really happy to be born in this time, that I'm here in NYC too that I have ringside tickets to the apocalypse!
STAY THIRSTY: Sometimes I think that too when I get off the train! Would you like to add anything else?
JOE COLEMAN: One really other important thing that I think is good to talk about is the new documentary. This documentary film crew have been shooting the progress of creating the Whitney painting so they've shot that form the very beginnings of creating the Whitney painting and they've been following us and documenting our lives. I also like being part of the TV set (laughter), that's why I mounted on the smoking robe that I wore in the Asia Argento movie (Scarlet Diva). You know that it's mounted on that, or do you? (Takes me behind the piece to show the backside).

This is great! There was an exhibit at the Horse Hospital (in London) where they hung the paintings from chains. And that's the reason they did that because they found, when they opened the boxes of the paintings that the backs of the paintings were really fascinating. So they wanted to let people walk behind the paintings.
STAY THIRSTY: It's a whole new way of experiencing the work.
JOE COLEMAN: Yeah, and so it's been over four years that they've been shooting this documentary. The producer is James Muscarella and the director is Scott Gracheff. The editing process is going to take at least a year so I don't know when their release date is but they've shot the movie like a feature film. These are guys that worked on Boardwalk Empire and True Detective and in that time off they had all the equipment and they've been stealing all the documentary stuff to make this film! They're great and they're very passionate. They've put so much of themselves into making this project happen and I'm proud of them for working so hard. Whitney and I have been very open to them and they've become like family. You get close to people when you're doing a project like this. And now I'm going to officiate. The director's getting married. I'm going to marry them in Puerto Vallarta on Whitney's birthday, October 8th.
STAY THIRSTY: Let's talk about the Mermaid Parade and the extreme costumes you create. Whitney had worn a volcanic ball gown with hand-painted miniatures a few years ago. I know when you're working on a painting that's your single focus, so do you consider these costumes another project?
JOE COLEMAN: Well, you know, I can't take full credit for Whitney's costumes. There's some, like for instance, you're thinking of the Sheila costume. Sheila is in Greek mythology and it's in the Odyssey where there's these monsters at the straits of Messina when ships are trying to pass though they have to deal with these two monsters on each side. Whitney and I often vacation in Sheila and there's a town that's the monster's lair and there is a cave in which little kids, the legend is that she lives in this cave that the ocean flows into and the sound of the ocean pulling out sounds like her like roaring, and the kids run away screaming! (I was working on) my self-portrait, and we were vacationing there and then I pictured Whitney as Sheila and Sheila had sex with Poseidon and his lover was jealous. And Sheila was just a normal woman at the time but she was wading in the water up to her waist and in vengeance Poseidon's lover deformed her but only to where she had been in the water. Above the water she was still a normal woman but under the water she grew a fish tail and grew these hounds coming out of her lower stomach into her pussy. So I painted Whitney as Sheila during our vacation there and then Whitney said, "I want to be that for the Mermaid Parade!"
STAY THIRSTY: I had to hug her from the waist up so things wouldn't fall off!
JOE COLEMAN: And they were still going flying! (laughing) 
STAY THIRSTY: You've described giving a piece over to its owner as sending a child off with its new family, and you've always said how strongly your work communicates with you throughout the process of creating it. Have any of the pieces stayed with you in that sense? Or is it really a separation for you and when the work is gone, it's really gone?
JOE COLEMAN:


I have said this before, but we've kept certain paintings but only because Whitney can't bear to part with them! Not because I can't bear (it). The way I feel about them is that as my children, I raised them and I nurtured them and brought them to life and once that part's done I want them to leave the nest. I want them to go out into the world and have a life. Because they do. They go and they have a life with another family and then that family interacts with them … and one of the parents was actually the one that acquired the piece but then he children grow up with my children in their lives and that affects them when they become adults. That's what they need to do. That's what my children need to do. They need to go and have this other life. They don't need to stay with me. They need to leave me. That's why I don't want them to be around. The only ones that stay are the ones that Whitney decides to keep or the ones that accidently we get to keep, like the Cyclops ones we got to keep because the guy that was supposed to get it went to jail! I probably shouldn't say too much about that but that was fortunate for us! (laughing) Whitney tells the story of the "Love Song" painting, which even that one I was ready to sell, but then Whitney made me buy it back!
STAY THIRSTY: Are "A Doorway to Joe" and "Doorway To Whitney" already sold?
JOE COLEMAN: Well, they both have to be sold. One of them is already sold but they both… we can't keep either one. But Whitney understood that I can't. It needs to have a really important place to be and Jeffrey (Deitch) is working on that too. That's what great about Jeffrey being involved in my work right now, too. To make sure that they have proper homes because we're not going to be around.
STAY THIRSTY: You're known for painting some extreme characters. I remember specifically when you were painting Ed Gein you were quoted as saying, "He might be lying to me but I want to know what he has to say." Have you ever experienced a more sinister communication where you felt like a subject was communicating something through you? Have you ever scared yourself working on a painting?
JOE COLEMAN: (long pause) It's a complicated answer because I'm just trying to be really thoughtful about the answer. Yeah, I mean I've been scared because I'm a human being and dealing with some of the most atrocious acts committed by human beings. So there's a part that's very scary and frightens me too but that's one of the reasons why I even, was compelled to dig in there. Because it's scary I needed to go there. I mean, that's why I was compelled to do an autopsy in Budapest. It is scary, it's really fucking scary.


It is scary but the strange thing is that when I really got into it, when I would start painting them they became less scary and I could feel the humanity in the worst of mankind and maybe there's something really scary about that because how do you deal with that?
But never in my work or in any interview I ever did, I have to make it clear, I have NO interest in freeing anyone! Getting any monster out of prison like Norman Mailer was trying to do. That's never my intention. My intention is just to find the humanity in the worst of humanity or just to find "what is humanity?" What am I? What are you? If you can't see something of humanity in the very worst monster, whether it's a terrorist of a child molester or any atrocious person, if you can't see a tiny, tiny bit of what it means to be a human being then what hope does any of us have? It's that need for understanding and to realize that we're all on this planet and we're all flesh and veins and bones. When you create a fault line against "this is me, and that's you" or "this is us and that's them". When you create a fault line and say, "This is a monster but this is what we are" you make that fault line (black and white) and there's a difference there. You could make it about anything. If you erase all the fault lines and you see that all of humanity, no matter what, is still human. In some ways that's even scarier and it made me think of my childhood being brought up with this catholic idea of the martyr. All the great saints were tortured and killed and that's what made them holy. And their stories were wonderful stories but what about the person that caused that atrocity? What about the guy that nailed Christ to the cross? What about his story? Without his story it's incomplete.
STAY THIRSTY: And there is an understanding there because Heaven and Hell does exist in each of us, in the veins and bones as you said. We have things that can ravage our bodies and then we can experience intense pleasure in our bodies. You look for that understanding, which makes it a little less scary. It goes back to "I am Joe's Fear of Disease" (2001). You're making friends with the monster.
JOE COLEMAN: Yeah, and I think it's throughout all the work. It delves into different aspects of what that is.
STAY THIRSTY: You always paint subjects that inspire you, which often leads to you becoming inspired by a new aspect of that subject as you're working. Did a new subject reveal itself during the new Joe and Whitney pieces?
JOE COLEMAN: There's several things that happened through the Joe and Whitney paintings. On the one hand it made me think of this one subject I wanted to paint while I was working on Whitney and it was this American Indian. I haven't done a Native American yet but he captured my imagination. He was a Cree Indian known by the white man as Swift Runner. In the mid-1800s he was a pretty well-respected hunter, the buffalo was their main source for food and income. He was very successful as a hunter and he took care of a large family, brothers and sisters and their extended family. Then the white man came in and they had these powerful weapons that were capable of killing hundreds of buffalo in a short amount of time and it depleted his source of living. That's literal. So they were starving. The whole tribe was starving, his family in particular. He kind of lost faith and he took to the white man's liquor and he slowly became possessed by a Wendigo and he stopped even trying to hunt anymore. At one point, the rest of his family was out hunting and he was left with the youngest member of the family, just a baby, that he was supposed to be taking care of, and he killed and ate the baby. Then he went out and hunted the rest of his family and he killed his entire family except for his favorite son. He induced to help him hunt and kill the rest of his family and then after he killed all of them, he killed his favorite son and ate him. It's an incredibly painful story. He came back to the white territory authorities, who saw him as being way too overweight compared to the rest of the Cree Indian at the time so they were suspicious. They plied him with alcohol and soon had him confessing to his crimes and he brought them to the place where he killed and ate his family and admitted to the murders and to his cannibalism. The hypocrisy that he was… His tribe also despised him but he was judged by an entirely white court and executed by white authority. He also had, as dark as he became, he developed this dark sense of humor. During the trial he was looking at some fat guard and they wanted to ask him questions and he said, "Pardon me, can you move that guy? He looks too yummy." (laughing)
He had that early charismatic presence of someone who's gone over so far into the dark side that they just embrace it. Even in a nightmare there's a certain place where the snake pit of humor, where there's a calm, where you can even make jokes when the world is so fucked up that there's even humor at that moment that you can find humor at the darkest hour. It's a grace of humanity. There's a certain grace about that. There's something about humor that's the redemption of humanity. Humor is one of those things that we all can connect to. I like the term "gallows humor". That's the term I also like to put on it. It comes from the snake pit. It's not looking down but you're still able to find something funny because you're already at the bottom. You're not laughing at someone who slipped on the banana. You're the one who slipped on the banana!
STAY THIRSTY: And you're the one who put the banana there!
Links:
Joe Coleman in Stay Thirsty Magazine:
Joe Coleman: Interview (2006)
Joe Coleman at the Palais de Tokyo – Paris (2007)
Joe Coleman "Internal Digging" (2007)
Inside the Odditorium: A Conversation with Joe Coleman and Whitney Ward  (Part One) (2008)
Inside the Odditorium: A Conversation with Joe Coleman and Whitney Ward  (Part Two) (2008)
Joe Coleman: Auto-Portrait (2010)
All opinions expressed in this article are solely those of its author and do not reflect the opinions of Stay Thirsty Media, Inc.