By Abriana Jetté
Staten Island, NY, USA
---
I first read Jericho Brown's poetry after I saw a graduate-school friend tucked away in the corner of the library, head buried in a book, nodding along through the pages. I asked what he was reading. He was finishing Please. He lent the book to me until the next week, when our class would meet again. I finished it that night. Ordered my own copy the next day. Yes! I thought after reading it. Yes!
I can't tell you exactly what it was that drew me in to Brown's poetry. It could have been his natural connection to music, from Prince to Janis Joplin to Diana Ross, from Jazz to the Rhythm & Blues, voices and genres that range in their deliverance of pain. It could have been how each poem appears perpetually aware of the human, of the body, and how our bodies live and sing in conjunction with our imagination. It could have been either of these things. Or, it could have been the fact that Brown's poetry, whether personal or mythic, comments on the political and social atmosphere of contemporary America. When we read his work we realize that everything we write, in some way, represents our ethics and morals, our past and our present. And when we think this way, the word has the potential to change the world. His words changed mine, after all. From his poetry, I learned fearlessness in the face of the truth. I learned that avoiding truth is in and of itself a privilege.
This summer, I was deeply honored to have spoken with Jericho Brown about the craft of poetry and the Black Lives Matter movement. Brown's many accolades include the Whiting Writers Award, fellowships from the Radcliffe Institute for Advanced Study at Harvard University and the National Endowment for the Arts. In 2009, Please received the American Book Award. Brown's second collection, The New Testament, was named one of the best poetry books of the year by Library Journal.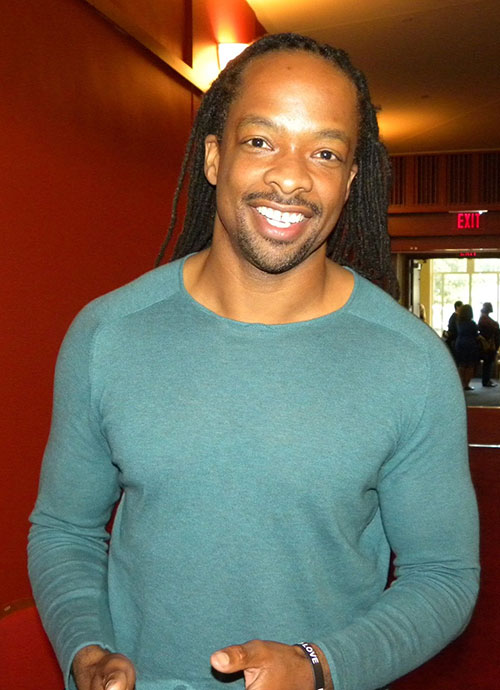 ABRIANA JETTÉ: In 2012, we didn't yet have Black Lives Matter, but we did have your poetry. We had Please and poems that sounded like the blues and jazz and sung of violence and the body and beauty. Then, Trayvon Martin. What sort of changes have you noticed in your own craft since Alicia Garza, Opal Timeti, and Patrisse Cullors created Black Lives Matter?
JERICHO BROWN: Hmm…this is a very interesting question I haven't thought about in a direct way at all. I mean that I often see strategies in art that I think of using in my poems—certain moves in dance, certain gestures in songs, certain blends of color in visual art—but I've never thought about activism as a craft influence. I do understand it as a content influence, but that's the case with anyone's poems; we write what we think about, and I think a lot about police brutality because I've experienced it and know so many other people who have.
Of course, the content of a poem should have a lot to do with its structure and form. I see how poems like "Bullet Points" and "The Tradition" and "Stand" might be representative of my belief in the Black Lives Matter movement, but I don't think of them as poems that could be chanted at a protest rally…though I do think of all of my poems as little songs.
In all, I think what's most important is that our craft becomes the unknowing vehicle for our beliefs. I would never sit down to write a poem about anything (unless someone was paying me a commission to do it). I sit down to write poems to see if I can achieve certain craft goals: "make a longer line work, Jericho," "try a more abrupt ending, Jericho," "see if you can start with an abstraction, Jericho." I believe in this as the best process because it ensures I write the best poem no matter what my thinking about the world is at that time. My poem about race should be as well crafted as my poem about kittens.
Yes, I am surprised that more white poets (who watch the news and use social media as much as anyone else) have so little to say in their work about whiteness or white privilege…but not really so surprised since that is exactly what whiteness and white privilege allows them: the option to turn away, to not be obsessed with the ways our current social systems slowly kill us all. At any rate, I still would rather read good poems about anything than a bunch of bad poems directly about race and whiteness from white folks who haven't taken the time they'd have to take to think deeply about such things.
ABRIANA JETTÉ: What other artistic mediums do you think have been greatly influenced by the movement?
JERICHO BROWN: You mean other than Beyonce's Lemonade? Lol! Well, if we think about the truth of black music, even the most pop-oriented of our artists have been making some form of activist music/performance since long before studio recordings. In terms of activist visual art, I'm most interested in Wengechi Mutu, Kerry James Marshall, and Barthlemy Toguo. These are the folks who make me break down and cry! More important than my tears, though, is that their art leads me to think of words in terms of colors and tactile materials. Thinking in this way has had a lot to do with new ways I've been conceiving of juxtaposition and what words and lines I've found it most effective to align one after the other.
ABRIANA JETTÉ: Other than necessary, how would you categorize Black Lives Matter? Do you think it speaks to the religious? To the physical? How has it functioned beyond a social movement for you?
JERICHO BROWN: Well, I don't know that I've ever categorized a time or a movement in this way. And I can tell that I may be letting you down a bit on how much I can talk about Black Lives Matter in a specific way. My downfall here has to do with the fact that nothing recent organizing has done says anything I and many other poets weren't saying in interviews long before the murder of Trayvon Martin. It feels redundant and silly for me to say too much again about what I clearly wasn't saying well enough before.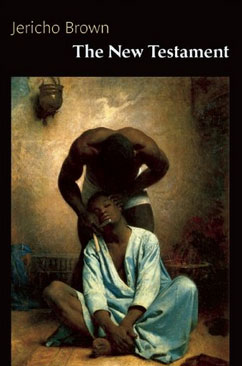 Also, while I do believe I write activist poems, I wasn't thinking of myself as an activist poet when I wrote Please or The New Testament. I wasn't thinking of myself as an activist poet because the phrase itself seems somewhat superfluous to me, like "flying pilot." I don't know who isn't an activist poet, but I do know that some activism in many poems espouse principles that support the status quo while I'd like the work I read to question the status quo.
If anything, Black Lives Matter has functioned for me personally as a signal that everyone must do what he or she already does well but with the movement in mind. Just like it's not a good idea for me to be in charge of cooking a meal or leading a basketball team, no one wants me to organize a rally, meet with community leaders and politicians, or even to keep up with Twitter and Facebook posts. Them ain't my gifts. I'm much too hotheaded and angry and prone to tears for any of that. The current movement has taught me to shut-up and listen when black women are talking, to let those who are younger and freer act whatever fool they need to act and be proud of them for acting it, to look my white students squarely in the face and be honest with them about the privilege they sometimes won't ever get to know they have if I don't tell them.
My only trouble with Black Lives Matter is that there isn't an accompanying violent movement going on at this time that would make Black Lives Matter more appealing to folks in power. America loves its mythological and unreal history of nonviolence and creating change through existing channels. But this myth only exists because every Martin needs a Malcolm and a Huey Newton. Every Harriet Beecher Stowe—bless her heart—needs a John Brown and a Nat Turner. If there were a really strong "Kill Cops Destroy Property" organized movement that existed and saw itself as diametrically opposed to Black Lives Matter, then more folks would get real interested in ending unnecessary police brutality and the confidence with which police officers commit crimes of violence against black folk.
ABRIANA JETTÉ: Do you still believe that all poetry is political poetry? If it's political, is it dangerous?
JERICHO BROWN: Yes! I hope my answers so far make this clear. I won't be changing on that one. Every poem builds, dismantles, or lies its lazy ass down. And all three of these are dangerous to someone. Everyone who writes poetry is interested in danger whether they know it or not.
ABRIANA JETTÉ: Yale students recently made headlines for boycotting a syllabus void of diversity. No artists of color, no women. What sort of reactions have you noticed from the poetry community that support and promote writers of color? What sort of changes have you observed in the Academy? Do you have any suggestions or hopes for either of these communities?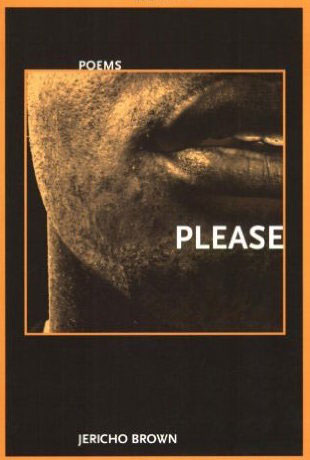 JERICHO BROWN: If Yale students boycotted such a thing as you mention "recently," then no real change has been made in the poetry community. The community is only really changed when its changes bleed into the fabric of other communities. Since a bunch of poets teach at Yale and you can't graduate from there without having read a poem, then no award anyone of color has received yet matters since syllabi like that have to be boycotted in the present day. But…
There are many poetry communities within the so-called larger poetry community. (I say "so-called" because many poets think of their poetry community as the larger one or as the only one.) Of course, much has been done for poets of color, women poets, and queer poets to feel and be more supported, to hone their craft, and to defend themselves and their work when they're told its subpar or unnecessary. Examples include VONA, VIDA, and yea, Cave Canem.
My personal experience is that poets and poetry readers now more than ever are interested in reading, teaching, and talking about poets of color than they were when I was in graduate school ten years ago. And when I say "interested," I don't mean they throw Kevin Young on a syllabus for the sake of tokenism or out of fear of having their classes boycotted.
My only suggestions for the poetry community and the Academy in this regard is "stop being racist" or "keep being diverse." It's a good idea to go look at your bookshelf (at home!) and see how diverse the writers there really are. If they're not, don't make excuses. Just fix it. Buy some books and read them.
ABRIANA JETTÉ: In an interview with The Kenyon Review, you suggested something along the lines that teaching can help the writer feel less guilty about the writer not writing. I couldn't agree more. Sometimes, teaching, as in the conversations I am having with my students, feels more immediate and satisfying than writing poetry. What writers are you teaching this semester? Who is on your required reading list?
JERICHO BROWN: I'm judging the National Book Award this year, so I'm under a sort of gag order as it relates to what I'm most excited about right now, but I will go as far as saying that reading all of Gwendolyn Brooks, Lucille Clifton, and Audre Lorde is a very good idea.
ABRIANA JETTÉ: What are you writing these days? What can readers look forward to from you in the future?
JERICHO BROWN: If I could get my collaborator to call me back, I'll be moving forward on a play we staged a reading for a few months ago. It's called Here to Love You Uncomfortable, and it's an adaptation of the first two books. The writing is very funny, and I love knowing I'm capable of doing something other than the dour and dark stuff I'm known for.
Also, I'm about halfway through a new book of poems, but I'll be honest with you, Abriana… When people ask me what I'm working on now, I usually just make something up to be respectful and stay in their good graces. In truth, I have some craft goals and a title, and I see some themes emerging, but if I type them all out here, I won't want to figure them out when I go to the writing table. (The real trouble with any arts application is that they ask artists what the plan is when the artist is often better off not knowing—and definitely not sticking to—the plan.) So to answer your question with what I know to be true: I'm trying to write some of the greatest poems the world will ever see as per usual. People can look forward to me writing really great poems that challenge what I and other poetry readers think a poem can do as long as writing helps me show the world my mask of sanity.
ABRIANA JETTÉ: Your words are a tremendous gift to our world, which is in desperate need of them. Thank you so much for sharing your wisdom and taking the time to talk with me.
JERICHO BROWN: Thanks, Abriana. Very kind of you!
Links:
Abriana Jetté at Stay Thirsty Publishing
Abriana Jetté
All opinions expressed in this article are solely those of its author and do not reflect the opinions of Stay Thirsty Media, Inc.