By THIRSTY
---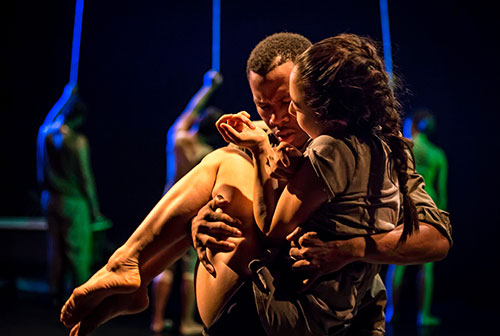 Invertigo Dance Theatre was named "one of the top trend-setting companies in Los Angeles" by Dance Spirit Magazine and is known for concert programs that blend wit, playfulness, live music, intense physicality and beautiful design with bold theatricality. The company has performed, in Los Angeles, at the Ford Amphitheatre, the Dorothy Chandler Pavilion, the Odyssey, the Broad Stage and the Los Angeles Theatre Center and recently was awarded a Bloomberg Philanthropies' Arts Innovation and Management (AIM) Program Grant to help further its remarkable work.
Founded in 2007 by Artistic Director Laura Karlin as a non-profit organization, Invertigo's mission is to: 1) create connections and community through dance, storytelling, theatre and music; 2) make dance compelling, fun, thought-provoking, and accessible through performances and community programming, by telling stories that matter; and, 3) to support professional artists and a vibrant dance community in Los Angeles.
Invertigo works tirelessly to create powerful, whimsical and fresh dance theatre that connects with audiences on a visceral and thoughtful level; to collaborate with choreographers, theatre companies, musical ensembles, social service agencies, education programs and design artists; and, to promote physical and artistic empowerment by making dance accessible and fun for many underserved communities, while specializing in low-income students and people living with Parkinson's disease.
Invertigo's latest production, After It Happened, tells the story of how a community rebuilds itself and searches for hope in the aftermath of a natural disaster. The performance features a company of nine dancers and two musicians and is choreographed by Laura Karlin in collaboration with the dancers. Live music is performed by Toby Karlin and Diana Lynn Wallace.
Stay Thirsty Magazine is pleased to present the following preview of After It Happened because it shows a remarkable nexus between creativity, community and social responsibility and to name Invertigo Dance Theatre as our THIRSTY WORTHY CAUSE for Fall 2016.
Link:
All opinions expressed in this article are solely those of its author and do not reflect the opinions of Stay Thirsty Media, Inc.