By Lenny Cavallaro
Methuen, MA, USA
---
I first interviewed Grammy Award-winner Joshua Bell in February 2013, on the occasion of a recording – the fourth and seventh symphonies of Beethoven. I caught up with him again recently, shortly before the Sony Classical release of his CD with Steven Isserlis, For the Love of Brahms, on which they are joined by pianist Jeremy Denk and the Academy of Saint Martin in the Fields. The album presents an intriguing – and in my opinion, absolutely remarkable – program: the Brahms Trio in B Major, Op. 8, the "Double" Concerto for Violin and Cello in A Minor, Op. 102, and the slow movement ("Langsam") from the Violin Concerto in D Minor, WoO 23 by Robert Schumann, with the codetta by Benjamin Britten. The "Double" concerto was the composer's last, and it was also the composer's final venture for full orchestra. It was completed a mere two years after Brahms' fourth and last symphony. 
Bell, Isserlis, and Denk recorded the rather unfamiliar, original version of the trio, which was subsequently revised by the composer. It is the later publication with which most of us are familiar. 
Schumann's violin concerto is an unjustly neglected work, originally hidden away in the Prussian State Library and nearly "lost" to us. Nevertheless, it has its champions, including Bell. In the original manuscript, the second movement goes directly into the last, but Britten prepared a "stand alone" version, dubbed an "elegy," to which he added a short coda  (or "codetta") and made some other minor changes.
This new album is aptly named. It was the great love of the Schumanns (who brought the young Brahms into their household) that helped launch his career as a composer. The trio represents "early" Brahms, with all his youthful passion; the last concerto offers a glimpse closer to the end of his life, at a more introspective period. Moreover, both the Schumann violin concerto and Brahms' own (Op. 77) were intended for a close though sometimes estranged friend, the great Joseph Joachim. (The latter premiered the Brahms work as well as the Double concerto many years later, but he thought poorly of the Schumann and was largely responsible for its "disappearance.")
LENNY CAVALLARO: One question before we get into Brahms. Earlier this year you traveled to Cuba as part of the cultural exchange following normalization of relations. I have since learned that you will perform from Lincoln Center with some of the fine Cuban musicians with whom you played during that visit. Please tell us more about this PBS special Live from Lincoln Center broadcast.
JOSHUA BELL: As you mentioned, we went to Cuba back in March as part of President Obama's initiative. We met some amazing Cuban musicians and proposed the idea of bringing them here to do some sort of collaborative production, probably in very early November. I should add that among other musicians on our Cuban tour were Dave Matthews, Smokey Robinson, Usher, and a young soprano, Larisa Martinez, and we're trying to get all of them for the special. I was quite impressed with the young Cuban instrumentalists, and this should be a very enjoyable event. [ed. Live from Lincoln Center: Joshua Bell's Seasons of Cuba airs on PBS on December 16, 2016]
LENNY CAVALLARO: Indeed! Now, if we can switch over to your new CD, For the Love of Brahms. I must confess that I am not familiar with the early version of the Op. 8 trio of Brahms. 
JOSHUA BELL: Well, most people are not!
LENNY CAVALLARO: We see some of the unbridled "young" Brahms – the piano sonatas, the Op. 4 Scherzo, other works, arguably running even as late as the D Minor piano concerto, while the Brahms of the late-opus years is a very different composer. In what ways does this early Op. 8 differ from the subsequent revision, which I regret to say is the only one I know?
JOSHUA BELL: It's really quite different. The Scherzo is more or less the same, except for slight changes at the ending. The first movement starts off with one of Brahms' great melodies in the piano and cello, but immediately you'll hear some interjections from the violin, which may sound a little surprising, because he later took them out. After that, you'll notice some full-blown ideas that simply do not appear in the later version. The revision is therefore more concise, since he cut so much material. I think you'll find it's also more restrained, as Brahms had by that time indeed become more restrained, though also more profound. Thus, we see all this raw emotion in the earlier version, and while it may seem like a less mature work, it also has a lot of truly endearing characteristics, which I now miss when I hear the older, more familiar revision. I really enjoy it. Moreover – and I think this is very interesting – Brahms didn't make any effort to suppress the earlier publication, as he did with some of the other works he revised. He destroyed music he didn't want people to hear anymore, but clearly that was not his intent with his first trio. Still, it's the later one that we all know. In fact, I was unaware of this earlier score myself, until Steven [Isserlis] brought it to my attention. 
LENNY CAVALLARO: I'm certainly grateful to you for bringing this up, because I always used to think, "Well, the Opus 8 definitely shows a little more maturity than, let us say, the piano sonatas, and now I realize why. Brahms was certainly quite a few years older when he revised what I "knew" as Op. 8!
JOSHUA BELL: Right, and what we recorded is far more representative of a 20-year-old Brahms.
LENNY CAVALLARO: In the baroque period we find many concerti for multiple instruments. We see a little of this with Mozart – notably the Concertante, and also the concerti for two pianos – the less successful "Triple" Concerto of Beethoven for piano, violin, and cello –
JOSHUA BELL: I love the Beethoven "Triple"! Why do you think it's "less successful"?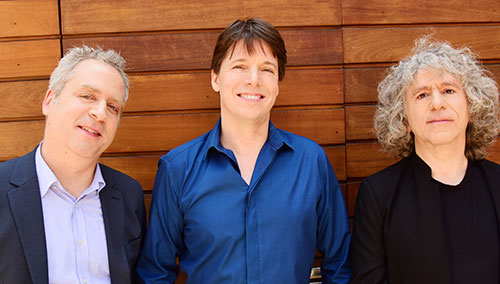 LENNY CAVALLARO: I wouldn't say it's inferior, but it is certainly not as popular, so only from the standpoint that it is not performed as often. I'm sure the Concertante is presented considerably more often. Of course, you're right; the "Triple" is a fine work, very well crafted – I wouldn't dare say otherwise – but I don't think it's as "successful" from the standpoint of audience appeal. Let's face it: Audiences love Beethoven's last three piano concerti and the violin concerto, but this work is somewhat "off to the side." And indeed, after Beethoven, we see increasingly fewer attempts at the concerto for two or more instruments.
Now as a pianist, I'll tell you the two piano concerti of Brahms are up there with the best. Hélène Grimaud said playing them was "like scaling the Mt. Everest of keyboard repertoire." I love the violin concerto, also: a glorious work. How successful is the "Double," where would you rank it among the concerti for more than one soloist, and how does it stack up against his own violin concerto?
JOSHUA BELL: Well, first I'd have to say the violin concerto is monumental, also. I consider the Beethoven and Brahms the "twin peaks," truly among the greatest works for the genre. That said, I hate to compare "great works," because it's unfair. The Brahms "Double" offers us something the others don't. It's a remarkably moving composition, a masterpiece. I certainly wouldn't want you to ask me which sister I prefer! 
On the deeper level, the "Double" succeeds in everything it sets out to do. Admittedly, it's difficult to play and certainly more awkward for both violin and cello. With the violin concerto, as you know, Brahms got plenty of recommended revisions from Joachim, and I suppose it's too bad that violinist didn't do the same thing for this one and also the Schumann concerto. However, that consideration aside, it's fantastic, and also his last composition for orchestra. Also, I find it quite surprising that more composers didn't write for two instruments after the classical era, because it's a wonderful format for the development of musical ideas. 
LENNY CAVALLARO: It certainly was in the hands of Brahms! However, you also mentioned the Schumann. I fell in love with it in the 60s – the old Henryk Szeryng recording. And the slow movement has that wonderful line with the solo cello – performed by Steven on the CD – and the soloist. Who but Schumann could have written such a beautiful melodic strain, and how can anyone just dismiss the concerto as "an inferior work"? 
JOSHUA BELL: Well, admittedly his composition was for the music first, with the instrument – here, the violin – only a secondary consideration. When we look at Mendelssohn – and I'm also very fond of Mendelssohn, who doesn't always get the esteem he deserves – everything just "fits" perfectly, whether for violin, piano, or anything else. With the Schumann, though, some of the writing is actually a little awkward. When I recorded the entire concerto with the Cleveland Orchestra and Christoph von Dohnányi, I actually revised a little of it myself, re-voicing some of the passages and capturing the essence somewhat more successfully for the violin. 
Of course, I've always loved the slow movement, which is such a gem. I sometimes wanted to play it on its own, but it goes right into the third movement. That's why I was so intrigued when Steven said he had found this "stand-alone" version with a slightly odd little coda by Benjamin Britten. However, it's certainly something different, and it provides a nice tie-in for the cast of characters on our CD title, For the Love of Brahms. It's about love and friendship with all four: Clara and Robert Schumann, Joachim, and Brahms, and I thought it would certainly be appropriate to put that slow movement on the album. 
LENNY CAVALLARO: I think it's a lovely touch, although I'm admittedly biased. I agree with you about the concerto, and the slow movement is truly, as you called it, a gem.
JOSHUA BELL: It's also quite a challenge musically, as is usually the case with Schumann, whether we play the sonatas, the trios, or the other works. It's very hard to feel we are doing them justice, but the rewards are great when we do! The violin concerto, which is rarely played, gives me some unique things I truly crave. But let me share a true story:
Years ago I played the concerto with a conductor who spoke to the audience before I came out. He patiently explained, "It's not his greatest piece," and proceeded to run it down. Well, I didn't want to insult the maestro, but I simply had to respond, so before the music started, I told the audience, "Please disregard everything you've just heard!" I happen to think it's glorious, and I hate that kind of talk. 
LENNY CAVALLARO: Wow! That's even worse than the Leonard Bernstein and Glenn Gould battle over the Brahms D Minor! I hope you and the maestro were able resolve your differences. That said, I'd like to wrap up on a more harmonious note. First, the Academy of St. Martin in the Fields is certainly one of the greatest ensembles in the world today, but I think it will forever be linked with the soundtrack of Amadeus, and by this I mean more as a chamber orchestra. How big a transition is it for them to become a "Brahms orchestra"?
JOSHUA BELL: I actually love doing it this way. We're essentially an "expandable" ensemble with a core group to which we can always add additional instrumentalists as needed. The beauty for me is that somehow it always feels like chamber music. This is particularly the case with a concerto, when I probably "lead" much more than "conduct." I've performed works like the Brahms concerto and the Tchaikovsky, and the experience is significantly different than when I play the same concerto as soloist with another orchestra and a conductor. This chamber music approach is particularly effective with Brahms, and I enjoy working this way. 
Of course, with the Brahms "Double," I have to play the solo passages and then turn around and conduct the orchestral tutti parts. Obviously, this is a lot more tiring physically, but I still prefer doing it this way. I love this orchestra, and their attitude is always the best, with that chamber ensemble feeling.
LENNY CAVALLARO: Indeed! If you can preserve the chamber music flavor when you're doing a Brahms orchestral work, you have it all. What can get better than that? Brahms is magnificent, and by that I mean that orchestrally he is magnificent! Who will say anything negative about those four symphonies? They're absolute landmarks. 
And speaking of symphonies, this really segues to my final question. We spoke back in 2013, shortly before release of the fourth and seventh symphonies of Beethoven. You expressed interest in recording all nine. What is the status of that project?
JOSHUA BELL: To be perfectly honest, I'm in no hurry. We have been performing several more of them – I've done #1, 3, 5, and 8, and next year we'll do #6, the "Pastoral." As for the ninth, it will be a while before I feel ready for that! It's still a goal, but it's not as though I've started the cycle and am busily trying to complete it. Each time we perform the symphonies, we see new things and learn more about them. I shall keep doing them as much as I can, and when I feel ready, I'll record them. 
LENNY CAVALLARO: Well, I shall be anxious to hear those CDs. I very much enjoyed the fourth and seventh – particularly the fourth, another of those works somehow considered "inferior" to the others. It is amazing how many people are almost completely unfamiliar with Beethoven's second and the fourth symphonies. Best of luck with the cycle, whenever you're ready, and congratulations to you and your colleagues on For the Love of Brahms!
JOSHUA BELL: Thank you very much.
Links:
Thirsty : 2013 February : An Interview with Joshua Bell
Joshua Bell
Academy of St. Martin in the Fields
Lenny Cavallaro at Stay Thirsty Publishing
Lenny Cavallaro - Composer and Pianist
Lenny Cavallaro at Broadbent & Dunn Ltd.
All opinions expressed in this article are solely those of its author and do not reflect the opinions of Stay Thirsty Media, Inc.