By Lenny Cavallaro
Methuen, MA, USA
---
Jorina Baars is far more than the reigning Lion Fight women's World Welterweight Champion. She is one of the most dominant Muay Thai fighters of any era and remains undefeated after 43 fights.
Although Muay Thai does not appear to garner headlines comparable to those of Mixed Martial Arts (MMA), Jorina burst into international prominence at Lion Fight 14 when she decisively triumphed over Cristiane "Cyborg" Justino, the "baddest woman on the planet," whom the much-touted Ronda Rousey steadfastly declined to fight. This was the "Fight of the Year" in 2014, and Jorina earned the same honors in 2015 for her courageous triumph over Martina Jindrova at Lion Fight 25. 
I caught up with the champ a few days before her title defense against Angela Whitley at Foxwoods Casino on September 2, 2016. She appeared to be "in the zone," training intensely, enjoying herself, and feeling very confident.
LENNY CAVALLARO: At the risk of sounding cliché, I must begin with your most celebrated fight. In 2014, you defeated Cristiane ("Cyborg") Justino decisively. This came amidst the ongoing failure to "make" a fight between Ronda Rousey and Cris. While many believe Rousey simply does not want to fight Cris, you showed no fear whatsoever and eagerly accepted the bout. Moreover, we know that many so-called "experts" thought Cyborg would be too strong for you. Indeed there was your famous "reply" to them. What did you know that they didn't know?
JORINA BAARS: Of course Cris is a great all-around fighter, but to a large extent she is a grappler, and she had had only a couple of Muay Thai fights before. Thus, I had a huge advantage in experience, and my techniques proved superior to her raw strength and power. However, I must express my disappointment that so few people gave me any chance whatsoever. Anyone who heard or read what they were saying would have thought I was going to get slaughtered. Indeed, my mother was actually in tears and asked me to pull out of the fight, fearing I would get seriously injured. Nevertheless, after those five rounds, there was no question about who had won!
LENNY CAVALLARO: Since that time, Rousey lost to Holly Holm, Holm lost to Meisha Tate, and Tate has recently lost to Amanda Nunes. What is your impression of what is happening in Ultimate Fight Championship (UFC), with four champions in less than a year? Which of them would make for the most interesting Muay Thai match up against you, assuming that could ever be arranged?
JORINA BAARS: Four mixed martial arts champions, but over the same time period, we still have the same Muay Thai champion! All of them would make great opponents, but unfortunately, I don't believe any of them will ever be allowed to fight outside of UFC due to contractual obligations. Rousey is more a grappler and judoka, but I think Holly Holm might make for a particularly interesting fight, since she was boxing champion and punches very well.
LENNY CAVALLARO: And let's not forget the ferocious roundhouse kick with which she dropped Ronda! Outside of UFC, though, what would you think about Julia Budd, the only woman ever to defeat Gina Carano in Muay Thai?
JORINA BAARS:  Julia would also be a good opponent, although to the best of my knowledge she does only mixed martial arts these days, not for UFC but for Bellator. 
LENNY CAVALLARO: After the "Cyborg" fight, you had a much easier title defense against Chantal Ughi, whom you forced to retire after three rounds. You kept up a brutal barrage of kicks to her legs, and we could see horrible bruising even in the second round. Was this a tactic you had planned ahead of time?
JORINA BAARS: I had fought Ughi before, and punished her leg pretty badly at that time. We expected her to make some adjustments and blocks, but I quickly saw that I could score almost at will, so that became the plan. 
LENNY CAVALLARO: ... and one you executed with lethal precision! However, after that title defense, you faced a far more severe challenge from Martina Jindrova. Actually, you seemed to win the match handily, except for one problem.
JORINA BAARS: I was quite confident that I could beat Martina, but I didn't feel particularly good going into the match. Perhaps I wasn't getting enough sleep. Then, in the third round, I threw a back kick, and she caught me with an elbow below the right eye.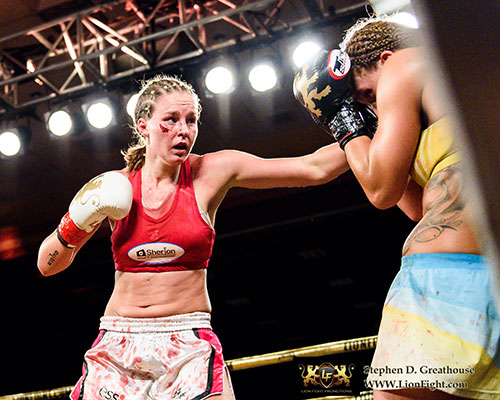 LENNY CAVALLARO:  It was lucky for you that it was below the eye and not above it, because they would probably have been forced to stop the bout and award her a TKO victory. However, your corner did a great job. That old blend of Vaseline with adrenaline chloride continues to work wonders.
JORINA BAARS: I knew I could still win as long as the bleeding was under control, and it was fine. You know, I didn't even realize how large the cut was until I was on my way to hospital. It was a pretty large gash and took twelve stitches. However, I had been able to finish the fight and win a unanimous decision. 
LENNY CAVALLARO: I noticed something else at the end of the fight. Of all people, Cris "Cyborg" came into the ring after the match and put the title belt around your waist! I found that very interesting. We know that many opponents in the ring have sometimes become good friends afterward. I can think of heavyweight boxers Jack Dempsey and Gene Tunney, or later Floyd Patterson and Ingemar Johansson. Dempsey even campaigned for Tunney's son, John V. Tunney, when the latter ran for the United States Senate. You and Cris seem to have great respect for one another. Are you actually becoming friends?
JORINA BAARS: I wouldn't say we are close friends, but we certainly stay in touch. She is a great talent and a fantastic fighter, and I also think she showed enormous courage in stepping into the ring with me for a Muay Thai fight. If we ever fight again, it will be another "war," but after the final bell I can assure you that we'll still be friends. 
LENNY CAVALLARO: That's how it should be. By contrast, I have been more than a little "turned off" by the dreadful displays we've seen in MMA lately.
JORINA BAARS: Oh, yes! Nate Diaz and Colin McGregor actually threw water bottles and a can of Monster [plus some choice language – ed.] at each other at the press conference after their UFC 202 fight on 20 August [a tough decision, narrowly won by McGregor – ed.]. I would never do that, and I certainly don't hate my opponents.
LENNY CAVALLARO: And yet, that could be why MMA – and UFC in particular – have done so well in the United States, while Muay Thai has a long way to go before Lion Fight can catch up.
JORINA BAARS: That may be true, but I can also tell you that this type of "hype" does not go over particularly well in Europe, where Muay Thai is considerably more popular. And Lion Fight is growing rapidly in the USA, too.
LENNY CAVALLARO: I am certainly disgusted by such displays myself. However, they seem to "sell" the product. By contrast, your last title defense against Stephanie Glew got virtually no coverage here in the USA.
JORINA BAARS: Well, what can I say? It was a tough fight in Australia, and I won another five-round decision.
LENNY CAVALLARO: She's quite tall – actually taller than you, isn't she?
JORINA BAARS: Yes, she's perhaps two or three centimeters taller than I. It was not a huge difference, but she is a little taller.
LENNY CAVALLARO: That's unusual for you, since you stand 5'11." Did you have to adjust your style for that?
JORINA BAARS: Yes! I had to move in and fight a little closer than I usually do. I won, but I have to say that I wasn't satisfied. In fact, in all of my last three matches I feel I wasn't focused entirely on the fights, because I had a lot of work to do and some private matters to attend to. However, for Angela I am extremely focused on the bout and can't wait to step in the ring.
LENNY CAVALLARO: I see you're a champion, but you're also a perfectionist and an artist! And perhaps that gives me the opportunity to segue to another "art": cinema. Gina Carano now has a fine career as an actress and has appeared in several movies. Cris, Meisha Tate, and Holly Holm all had parts in Fight Valley. Have you been approached by anyone in Hollywood yet, and would you be interested in a movie role?
JORINA BAARS: Definitely! And while we don't have anything to report "officially" yet, let me say that we will have some meetings in the USA quite soon. 
LENNY CAVALLARO: Please keep us posted. Meanwhile, however – and I mean, before you become a screen star! – your bio indicates that you work in security, but that you have also recently begun a new business venture. Please tell us about what you do when you're not in training.
JORINA BAARS: I work mostly in "Paradiso," a big facility in Holland, where some of the top artists like the late Prince have performed. I work in "security," though I suppose you could say that at night it's more like "bouncer!" Most of the time, though, it's quite peaceful.
LENNY CAVALLARO: I would assume that if they know who you are, they'd prefer to be "asked to leave" than "kicked out?" I've seen your kicks!
JORINA BAARS: Oh, it usually is nothing more than talking. Actually, many of the people do not know me, and that's fine, of course. I simply talk to them, and we walk outside, so there's no need to worry about any real violence.
LENNY CAVALLARO: That's a relief! However, you have a new venture as well.
JORINA BAARS: I guess you might call me an "associate" of KF Action. My friend Krista Fleming was a world kickboxing champion at the 57.15 kg weight class and she has asked me to build my own company in the area where I live, since she is already very busy in her other locations. She is letting me use her name and website, and we are actually working together. We even did some joint seminars in Brazil last year. I think we offer something more than just kickboxing. We help people feel their own inner power, and as they work with the training pads and learn techniques, they also feel better about themselves. We don't really talk too much, but the workouts seem to bring benefits in more ways than just the physical self-defense.
At present I'm working with both girls and adult women. I have some new "training partners" – I think I can call them that – and it's going quite well and growing quickly. I started only around six weeks ago, and we are on holiday now, but soon we'll resume, and I hope I can make this a full-time job. I really love the security work, but most of the time it's evenings and nights, and I find it difficult to deal with the rest of my life, my training. Right now, I have taken a month off. I feel much stronger, and my training is going better than ever! However, I'm generally tired when I work the late shifts, so I hope to build my own company, and maybe I can still do a little more with security on a part-time basis.
LENNY CAVALLARO: It sounds like a blend of personal training and "pop-psych" – popular psychology – and I'm sure you're a great role model. Meanwhile, you continue to train for another title defense. Do you have any last thoughts on that? Also, how much longer do you think you'll keep fighting?
JORINA BAARS: As I've told you, I feel extremely good right now, physically and mentally, and even though Angela is a deserving opponent, I am very confident about the fight. As for the future, I'm not sure; maybe one more year, or maybe as many as three. Who knows?
LENNY CAVALLARO: Hopefully you'll have plenty of other professional opportunities. Best of luck with the fight, your new business, and also with Hollywood. 
JORINA BAARS: Thank you so much!
Links:
Lenny Cavallaro at Stay Thirsty Publishing
Lenny Cavallaro - Composer and Pianist
Lenny Cavallaro at Broadbent & Dunn Ltd.
All opinions expressed in this article are solely those of its author and do not reflect the opinions of Stay Thirsty Media, Inc.