By Robert Wolf
Decorah, IA, USA
---
Reasons for Reasonable Doubt
Who wrote Shakespeare? I do not believe it was the man from Stratford. The Stratford native, whose name on contemporary documents was twice spelled Shakspere, was a businessman whose effigy in the Stratford church depicted a man with his hands resting on a sack. I say "depicted" because that is not what the "restored" effigy shows. The "restored" effigy, created in 1748-49, depicts a man holding a quill pen in one hand and a sheet of paper in the other. But the earliest record of the original effigy is a sketch made in 1649 showing a man with both hands resting on a sack.
An effigy shows what a man was, what he did. The Stratford effigy sketch does not depict a writer but a merchant, a businessman. Are his hands resting on a sack of grain, or wool?
Once the Shakespeare legend was developed, it was necessary for the city of Stratford to "restore" the monument to reflect the legend, and the Stratford tourist industry was launched.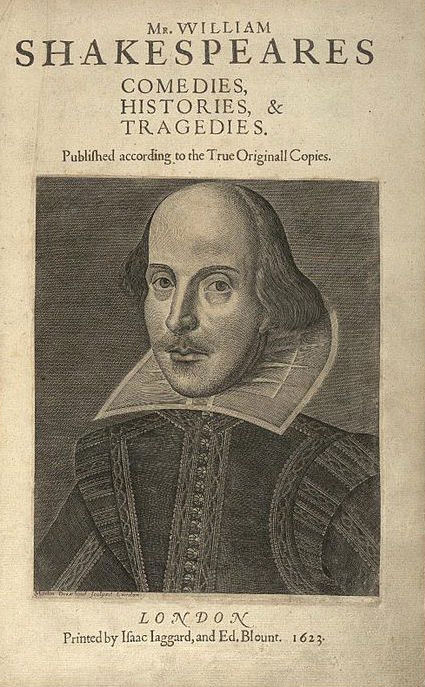 Those who believe that the Stratford businessman was the author of all the plays in the First Folio are called "Stratfordians," and those of us who doubt his authorship naturally call ourselves "Anti-Stratfordians." I like another term for the believers, "bardolators," for the reason that I do not believe that one man wrote all the plays. (Making the case for multiple authorship involves stylistic analysis too complex for this essay.)
In the 19th century an American woman, Delia Bacon, opened the authorship question, arguing for the theory of multiple authorship. She was called "mad," but she got the authorship question notoriety and was in part responsible for Mark Twain, Walt Whitman, and Henry and William James to doubt the orthodox attribution.
Whitman wrote that either "one of the 'wolfish earls'" or some "descendent and knower" of the feudal barons had written the works. And Twain wrote, "So far as anybody actually knows and can prove, Shakespeare of Stratford-on-Avon never wrote a play in his life."
The known facts of Shakspere's life are so few that they fill less than two sheets, so his "biographies" are essentially histories of Elizabethan and Jacobean times filled with, "Shakespeare must have known . . ." or "Surely Shakespeare saw . . ." In other words, the "biographies" are heavily salted with conjectures. Twain noted of Shakspere that, "He is a Brontosaur: nine bones and six hundred barrels of plaster of Paris."
For those who are unaware that the authorship of the plays was ever in question, look at a few more points:
Of the six times that Shakspere's name is affixed to legal documents, only two of the signatures are spelled alike.

Shakspere's parents were illiterate and his two daughters were illiterate, although one could at least sign her name (or someone perhaps signed it for her). Parents and daughter made their marks. As Sir Derek Jacobi said, we're to believe that the family line is "illiterate, illiterate, great writer, illiterate, illiterate."
John Ward was vicar of Stratford-upon-Avon from 1662 until his death in 1681. Shakspere's older daughter, Judith, was alive in the first year of Ward's appointment and Ward's brother, in a letter, urged Ward to see her. In his diary Ward notes what locals have told him of William Shakspere. From the diary it is clear that Ward believes that Shakspere wrote plays, for he questions, "Whether Dr. Heylin does well, in reckoning up the dramatick poets which have been famous in England, to omit Shakespeare."
But what he was told of Shakspere suggests that while Ward believed the Stratford man to be a poet, the neighbors did not. "I have heard that Mr. Shakspeare was a natural wit, without any art at all; hee frequented the plays all his younger time, but in his elder days lived at Stratford, and supplied the stage with two plays every year, and for itt had an allowance so large, that hee spent att the rate of 1,000 l a-year, as I have heard . . ." He was "without art," meaning "schooling," and was given an allowance for delivering (not writing) two plays a year. In other words, he was a front or middleman for the author(s).
Playwrights wrote for multiple theaters. Phillip Henslowe, an owner of several Elizabethan playhouses, kept minute records of his payments to playwrights. He had no share in the Globe, and no record book for the Globe exists, so far as we know. Thus we will never know if payments were ever made to William Shakspere for Globe performances. But Henslowe's account book lists performances of Titus Andronicus, The Taming of the Shrew, Hamlet, Henry VI: Part 1, and Henry V but, unlike other plays that listed authors' names, no writer is credited for these five plays. For those of us who think it most likely that Shakspere was a front man for other authors, one of whom may have been Edward de Vere, 17th Earl of Oxford, this omission is a telling fact.
The books and articles that have appeared on the authorship question now amount to a sub-minor industry; many are quite imaginative. Recent entries include Robin William's Sweet Swan of Avon: Did a Woman Write Shakespeare? (which proposes that Mary Sidney and her literary circle were the authors) and The Truth Will Out, written by Brenda James and William Rubinstein, which claims Sir Henry Neville wielded the pen.
But the award for most imaginative detection on the question goes to Dr. Douglas M. Baker and his book, The True Authorship. The doctor's book blurb reads in part: "Dr. Baker, an authority on the paranormal for forty years, has used methods of occult research and investigation to unlock the mysteries surrounding the authorship of the so-called Shakespearean Plays and The Sonnets." Dr. Baker, the blurb continues, "has done extensive scientific research into those hinterlands of the mind which one might call psi-semantics."
Declaration of Reasonable Doubt
The web hosts numerous sites that question Shakspere's authorship and offer a variety of possible candidates. The Shakespeare Authorship Coalition does not emphatically assert that William Shakspere was not the author of the First Folio, but has issued a declaration of reasonable doubt. The declaration states, "We make no claim, in signing this declaration, to know exactly what happened, who wrote the works, nor even that Mr. Shakspere definitely did not . . .  [Why] is it even necessary to say that there is room for doubt? There clearly is doubt, as a matter of empirical fact — reasonable doubt, expressed by very credible people. Reasonable people may differ about whether a preponderance of the evidence supports Mr. Shakspere, but it is simply not credible for anyone to claim, in 2007, that there is no room for doubt about the author."
Those who agree may sign the declaration and to date 3,588 persons, including myself, have joined a list that includes the eminent actors Sir Derek Jacobi, Mark Rylance, and Michael York.
Doubt About Will, as the coalition calls its website, not only assembles previously known items that point against Shakspere as author, but offers one I had not heard before. On its homepage the coalition has posted a video, "The Impossible Doublet," which examines the doublet worn by the figure engraved on the cover of the First Folio. Purportedly a portrait of William Shakespeare, the sitter's doublet is an impossibility, a fact I never noticed until watching the video. Impossible Doublet shows that the left front of the doublet is in fact the right back, and points to the engraving's other absurdities.
"By clothing the figure in the ridiculous and nonsensical garment," the video's narrator tells us, "the publishers [of the First Folio] were most likely indicating that the person ostensibly depicted, Shakspere of Stratford, was not the true author of the plays that followed."
The site contains a list of past doubters in addition to those I have already mentioned, names that include Sigmund Freud, Charlie Chaplin, John Galsworthy, Mortimer J. Adler, Sir John Gielgud, and others.
One of the website's pleasing offerings is a video discussion between Rylance and Jacobi on the authorship question. Both agree that Shakspere did not write the plays, but Jacobi thinks several authors contributed to the canon, while Rylance thinks it the work of a single mind.
In 2013 the Shakespeare Authorship Coalition challenged the Shakespeare Birthplace Trust to a mock trial over the Trust's claim that Shakspere's authorship was "beyond doubt." The coalition even offered the trust a £40,000 donation if it could substantiate its claim but the trust has not taken up the challenge. And why should it? It couldn't not possibly win, and as the owner and manager of five Stratford properties, including Shakspere's presumed birthplace and Anne Hathaway's cottage, the trust stands to lose a great deal of global tourism.
I fully agree with the other signers of the declaration that "…that the identity of William Shakespeare should, henceforth, be regarded in academia as a legitimate issue for research and publication, and an appropriate topic for instruction and discussion in classrooms."
Links:
Robert Wolf
Free River Press
American Mosaic Radio with Robert Wolf
All opinions expressed in this article are solely those of its author and do not reflect the opinions of Stay Thirsty Media, Inc.