By THIRSTY
---
Bebe Neuwirth has won two Tony Awards and two Primetime Emmy Awards. She has appeared on Broadway in smash musicals, including A Chorus Line, Sweet Charity, Damn Yankees, The Addams Family and three times in Chicago (1996, 2007 and 2014 productions). She also has a distinguished career on television, with such programs as Cheers and Fraiser, and in film, with roles in Green Card, Tadpole and How to Lose a Guy in 10 Days, among others. She is currently starring in the hit television series Madam Secretary on CBS. Known for her skill as a dancer, a singer and an actress, Bebe Neuwirth stands out as one today's most versatile and successful multi-talented stars. She recently joined the Artistic Advisory Committee of Manhattan School of Music's new Musical Theatre degree program as its Artistic Advisor to help nurture the next generation of Broadway veterans.
Stay Thirsty Magazine was honored to visit with Bebe Neuwirth at her home in New York for this Conversation.
STAY THIRSTY: In your storied career you have appeared on Broadway, in movies and on television. If you had to choose one medium that most reflects your soul, which would it be?
BEBE NEUWIRTH: The stage. I've been dancing since I was 5 years old; I've been dancing on stage since I was 7. Nothing feels more like home and where I'm supposed to be than the stage. (Well, the ocean comes in a close second....)
STAY THIRSTY: You have said that you were "just a Fosse dancer at heart." What did working with Bob Fosse mean to you?
BEBE NEUWIRTH: Working with Mr. Fosse – as a choreographer and as a director – showed me who I am as a performing artist. My creative gesture feels complete within his works.
STAY THIRSTY: Looking back over your Broadway career, which show has had the greatest influence on who you are today?
BEBE NEUWIRTH: Every show I've done has influenced and/or illuminated my process and craft to me. I think it's important for artists to respect all of our experiences, the uncomfortable ones as much as the joyful ones, for what they can teach us about ourselves and our work.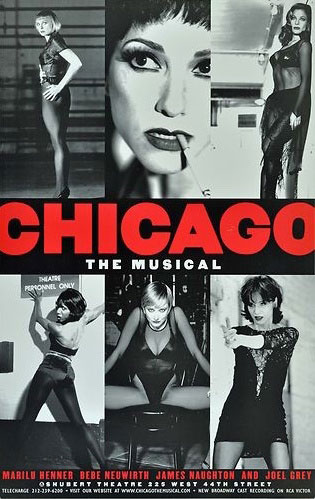 STAY THIRSTY: What originally motivated you to get involved in musical theatre?
BEBE NEUWIRTH: I saw Pippin when I was 13. The dancing resonated so deeply, I felt like I was watching myself onstage. The choreography, the dancing, the dancers, everything about the performance galvanized my focus, and a voice in my head said, "I'm going to dance on Broadway and I'm going to do that guy's choreography." I had no idea who Bob Fosse was or how daunting a goal that might be! And, Ben Vereen completely blew my mind. He, by the way, continues to blow my mind every time I see him perform.
STAY THIRSTY: Of all the amazing composers you have worked with and all the iconic songs that you have performed, which songs do you sing to yourself when you are alone or run through you head when you are walking down the street?
BEBE NEUWIRTH: The music in my head is beyond eclectic! It's anything and everything. Led Zeppelin, Kurt Weill, the Beatles, Chopin…
STAY THIRSTY: How do you choose a role to play and what are the elements that you evaluate when looking at a potential new project? What compels you to sign-on to a Broadway show or a movie or a television role and what drew you to playing Nadine Tolliver, Chief of Staff to the Secretary of State, in Madam Secretary?
BEBE NEUWIRTH: Is it well-written? Is this a part I think I can play? And then there's who is choreographing? Directing? As for Nadine, I was drawn to her quiet elegance.
STAY THIRSTY: How important is finding joy in your work?
BEBE NEUWIRTH: Joy is a deep and profound feeling. Without joy, the work is hollow.
STAY THIRSTY: When you are not performing or filming, how do you spend your day?
BEBE NEUWIRTH: Beyond the mundane tasks and errands of life, I go to ballet class when I can, voice class when I must and I go to the ceramics studio in between. I've been making pottery off and on for many years. (I'm not great at it, but two of my pieces are on Nadine's desk on set.) It's crucial for artists to always be involved in some kind of creative endeavor. Any kind.
STAY THIRSTY: You joined the Artistic Advisory Committee of Manhattan School of Music's (MSM) Musical Theatre program and became its Artistic Advisor and a member of the Steering Committee. MSM will formally launch its first-ever degree program in Musical Theatre this fall. How important was dance, voice and acting training to your success? What do you hope to instill in young people coming to Manhattan School of Music about your industry and their future in it?
BEBE NEUWIRTH: A person can have natural talent and drive and focus, but those necessities will only carry them so far without a solid foundation of technique. Training is essential. Also, I hope the students will start to understand how to work hard in a professional setting.
STAY THIRSTY: The Artistic Advisory Committee of Manhattan School of Music's Musical Theatre program includes other Tony Award-winning veterans. How important will it be for students in the program to interact with such highly accomplished people in the field? How important was it for you to spend time with Broadway veterans when you were just starting out?
BEBE NEUWIRTH: The faculty itself of the Musical Theatre program is going to be chock full of Broadway veterans. They are deeply experienced in the field and are wonderful teachers. When guest teachers and lecturers such as myself come in, I hope we enhance and reinforce what the students are already learning. We'll all be working to help the students achieve the same thing – truth in storytelling.
Links:
Bebe Neuwirth
Bebe Neuwirth on Twitter
Manhattan School of Music – Musical Theatre Program