By Abriana Jetté
Staten Island, NY, USA
---
This past May, while visiting my brother in Canada, I stopped by a junior high school class to talk about poetry. During the weeks before my visit, the students busied themselves writing in all sorts of forms, from free verse to haiku to confessional. The goal, as part of a media literacy assignment, was to produce originally written, well-bound, visually and textually attentive chapbooks. The colors and pictures were evocative; more so, their metaphors were lively, rich, and with almost every student I repeated the words: "I never would have thought of that." They used words like rosewater and tarragon, not clichés like hope, love, or darkness. They felt no boundaries when it came to the page.
Speaking to these twelve- and thirteen-year-old poets reminded me that of the many opportunities poetry provides, wordplay is one of the most significant.
We devour words naturally: on the highway, while walking the dog, ordering off menus, scrolling through our phones, glancing at the latest tabloid magazines while waiting on line at the supermarket. We play word-games and puzzles; some of us even tattoo phrases or sayings onto our skin. If we're lucky, we have time to spend just thinking about why certain words work. The poets I want you to read this summer are what I might describe as lucky; they've spent their time playing with and worrying about language.
When I read E. Kristin Anderson, Josh Medsker, and Ricardo Hernandez, I'm reminded of poetry's semantic flexibility, its limitlessness, and its ability to develop simultaneous playfulness and meaningfulness These rising poets remind their readers that poetry really is all around us; all we have to do is listen. This summer, I hope you will listen to them.
---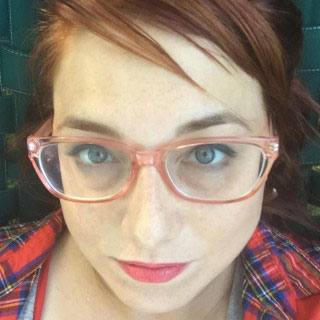 When her chapbook Pray Pray Pray: Songs I Wrote to Prince in the Middle of the Night was first released, E. Kristin Anderson included a raspberry-colored beret with every order. Playful in its simplicity and allusion, this small gesture offered a tangible connection between the poet and her readers. The beret insisted the speaker of the book was a real, living, enthusiastic being, one who was grateful to her readers; further, it suggested that music and poetry link us in similar, almost ineffable ways. Like the beret does to the hair, they both hold us together. Pray Pray Pray was released just shy of a year ago and embraced warmly by the poetry community. Since then, Anderson, and many of us, were stunned to say goodbye to that petite, energetic singer with his electric, purple guitar.
After Pray Pray Pray, Anderson continued to write about Prince. In her forthcoming chapbook She Witnesses, the poem "Bang It Out Anthem" describes how
"He actually used a piano
to shift midnight, glutting
the beautiful people…"
Through purposeful lineation, the speaker captures, even for a brief moment, the transformative power of music. The placement of the word "piano" at the end of the enjambed line hyperbolizes its importance. Because there is no punctuation slicing or cutting off the end of the line, readers do not stop their reading to pause, and this breathlessness accentuates the fantastical nature of how the piano and its player (Prince) controlled time. The purposeful caesura that follows midnight, in contrast, makes the reader stop and recognize the moment of metamorphosis. Poetic technique aside, isn't this exactly what Prince did? He seduced us in an ebb and flow, stopping only to refuel on breath. His music "shifted midnight," it transcended time, and enveloped listeners with an overabundance of hyper-sexualized, contagious rhythm.
Anderson's work is not only inspired by the music, art, and literature she consumes, it is also made of it. The poet's admiration for the cento(Latin for patchwork), more commonly known as the Found poem, often motivates her writing. In fact, the lines offered above were phrases found in Ronin Ro's "Prince: Inside the Music and the Masks." This, I think, is Anderson's niche: to make poetry out of the ordinary. Whether it be through cento or erasure, her eyes and ears are acute to the rhythms and descriptions of everyday phrases. Even a dinner menu.
When the poet sat down for a meal at Gourdough's Public House on South Lamar in Austin, Texas, she found poetry. Literally. The contents of the menu comprise the basis for her poem "Ultramatic", which begins:
"We're proud of our kraken, dark, drenched;
drink nightly, drink deep & Red…"
It is the thrusting open and closing shut of the orifice, the enunciation of each syllable, that intoxicate the reader most here, rather than aesthetics of line. Documentary in its nature, "Ultramatic" does not extend a narrative; rather, it casts shadows. The scene is dim-lit and liquor heavy. Someone, which means either a customer or waitress, is quoted to say:
"Honey, make it fresh, a sweet dizzy light
the devil's pearl…"
We've all been there or know someone who has been there, and sometimes we've even been there with someone. In the corner of a dark bar. The Red wine speaking, beer pouring. When Anderson is there, she turns it into poetry.
Something intoxicating about Found poetry is that we all are going to see different words. Its dependency on metonymic hinging, how this phrase might connect to that, gifts readers with the idea of familiar words spun in unfamiliar ways. Though her work borrows phrases from speakers other than her own "voice", each speaker in Anderson's poem makes language her own. This is, in fact, the game of verse. The words are already out there, what can we do to claim them?
Anderson's scope extends beyond observing the words of others. She recently edited the anthology Hysteria: Writing the Female Body, which approaches everything from "tampons to hysterectomies" and features the stories and poetry of women and nonbinary writers. The anthology is important in its encouragement of a necessary global conversation, that of women's health.
E. Kristin Anderson is a multi-Pushcart-nominated poet and author who grew up in Westbrook, Maine and is a graduate of Connecticut College with a B.A. in Classics. Anderson is the co-editor of Dear Teen Me, an anthology based on the popular website and her next anthology, Hysteria: Writing the Female Body, is forthcoming from Lucky Bastard Press. Her poetry has been published worldwide in many magazines and anthologies and she is the author of seven chapbooks including A Guide for the Practical Abductee (Red Bird Chapbooks), Pray Pray Pray: Poems I wrote to Prince in the Middle of the Night (Porkbelly Press, 2015), 17 Days (ELJ Publications), Fire in the Sky (Grey Book Press), and She Witnesses (dancing girl press). Kristin a co-editor at Lucky Bastard and is a poetry editor at Found Poetry Review. Once upon a time she worked at The New Yorker. She now lives in Austin, Texas, where she works as a freelance editor and is trying to trick someone into publishing her full-length collection of erasure poems based on women's and teen magazines.
---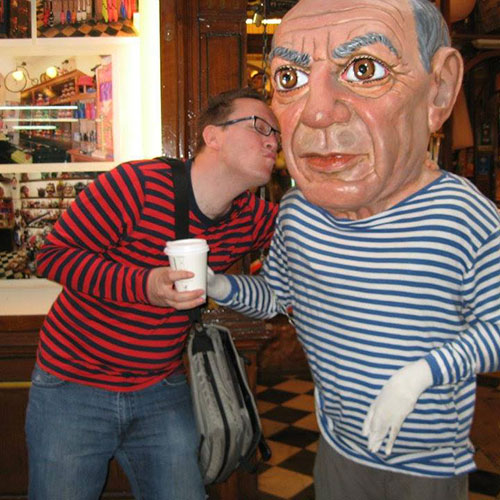 If you're interested in the idea of the Found poem, try it. Graze through this column and break the phrases that cling to you. Put these phrases in lines. If you're interested in other forms of poetry, browse the Princeton Encyclopedia of Poetry & Poetics, the handbook of all handbooks on poetry and poetic form. This is what the poet Joshua Medsker decided to do; turn to the Princeton Encyclopedia of Poetry & Poetics. As part of his project, Medskerpedia, the poet has determined himself to write a poem based upon each entry in the Encyclopedia, not stopping until he reached the last Z. According to Medsker's calculations, he should be finished sometime in 2019. If this isn't fun, if this isn't playful and daring and difficult, well, then, I guess just call me boring. I can't help but find the zest and determination Medsker brings to the project infectious.
On the 159th day of Medsker's project, the poet found himself still swimming through the B's. His eyes scrolled the entry for "Bengali Poetry", and he wrote "To the Sun Lion", which begins:
"Let the lion let the light in"
"To the Sun Lion" is a short, four-line poem with only two multisyllabic words (naked and oppressors). The word "let" is repeated three times in first two lines, and this repetition speaks to the prayer like tone of the poem. It is a poem that appeals to the spirit, a nod, no doubt, to the form to which he is writing. When defining "Bengali Poetry", the Princeton Encyclopedia of Poetry & Poetics directs readers to "See Indian Poetry". The discussion of Indian Poetry in my Encyclopedia spans from page 583-599: over ten pages of history and theory. Of course, four lines could never speak for the entirety of the underrepresented and enchanting genre that is Indian Poetry. But in its simplicity, "To The Sun Lion" tries. "Let us stand…/ free of fear", the speaker asks at the poem's close. In its closing remarks, the poem redirects itself to the first line. Stand free, it urges, "let the lion let the light in".
A specific type of discipline is needed to partake in Medskerpedia, to make each new poem a poem, not a warm-up writing assignment or linguistic exercise. Medsker acknowledges this difficulty, and faces it by consistently shifting in tone and form. He exerts a willingness to challenge himself in terms of acquiring new knowledge with each new entry, and executes each challenge with differing rhyme schemes and lineation, and by mixing forms and traditions. At the heart of the project a simple reason beats. Medsker is doing this because it's fun. Good, old-fashioned fun.
And because it is fun, Medsker allows himself to get cheeky. The poem inspired by the entry for "Bouts-rimes", a form described as "the basis of a versemaking game…so as to achieve effects as witty as they are seemingly uncontrived", is taut in its form and rhyme scheme, while it is racy, mature, and at times hyper-masculine in its content. The sing-songy beat of the rhyming couplets that compose "On the Choosing of Tools" contrasts its racy, mature, and at times hyper-masculine. The poem juxtaposes male genitalia to the pen, both tools the speaker believes he needs to use wisely.
Medskerpedia is not just about writing poetry. The project educates its readers about different forms and histories, and opens up discussion regarding concepts of Poetics that might not necessarily have been talked about before. This, for me, declares its worthiness. When we think about the Princeton Encyclopedia of Poetry & Poetics, or any Encyclopedia for that matter, we often think of discolored, dusty pages of information. Medsker brings life to that vast source of knowledge through his unique intelligence and candor.
A former Professor of mine once assigned the class to write a poem about the object our hands last touched. It is a prompt like that, it is Anderson discovering a poem in a tavern menu and Medsker setting himself to the task of writing over 1,000 poems, inspired and composed in alphabetical order, that reminds of complications and simplifications, of the and how poetry makes room for it all.
Josh Medsker's work has appeared in many publications, including: The Review Review, Haiku Journal, Red Savina Review, The Anchorage Press, and The Brooklyn Rail. Originally from Alaska, he lives, writes, and teaches in the New York City metro area.
---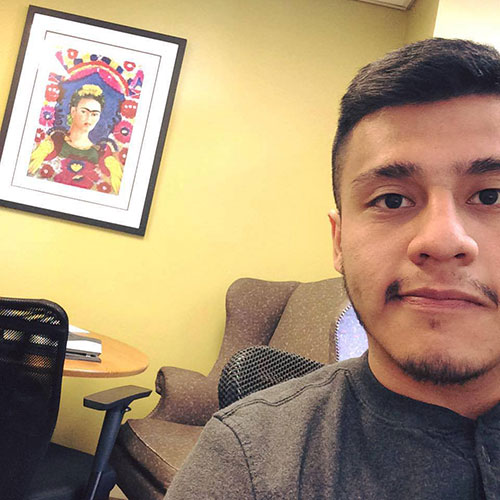 Poetic playfulness can appear in many ways, from the worthy difficulty of succeeding in form down to the poet's particular reason for writing the verse – how many times I've heard students say: "I don't know why, I just really liked that word…" So, there is word play, formal play, and then there is the poet's desire to play with readers, to suspend us from reality as language captures the past. When a poem is successful, it's as if we've been transported directly into the speaker's consciousness, like we can hear and see whatever the speaker hears and sees, and all we have to do for that to continue is keep on reading. Essentially, poetry is the act of pressing play.
I've not just pressed play, I've rewound and replayed the words of Ricardo Hernandez over and over again. Hernandez's poetry does not stem from the menu of his favorite restaurant, nor is he looking for its content in the pages of an encyclopedia; rather, his poetry is built on the idea of reconstructing the past, a past made of hardship and heartbreak. Hernandez takes up this theme in "Aftermath", which begins:
"As in important to
review. Take the time.
Redress

the wound."
I offer an uninterrupted start to the poem, really, just to showcase to you the full Hernandez effect. Hypnotic. Reflective.
Paratactic syntax runs through the first stanza as enjambment and caesura work together to create a tugging, echoing rhythm. These short sentences are typical to Hernandez's poem, as is as the idea of looking back.
A recurring theme throughout Hernandez's work is that of the fragment. The line as a fragment of thought and image propels "Aftermath" as well as his poem "The Lovers, 1928." Readers might not recognize it at first, but to write a successful fragment demands an attention and knowledge of grammar. It is the poet's willingness to play with his knowledge and purposefully leave blank spaces that sets the memory/ies wild with abandon. The speaker is no longer contained by the need for logical sense, more so emotional appeal drives the poem to its close.
The speaker in "Aftermath" reflects on the aftermath of living without a mother, of living with and through familial histories and burdens. We are our past, or so they say, and the speaker takes this idiom seriously, allowing the events of others to infiltrate his own reality. He considers these reflections: "something like eating. As in…"…
"one was
the teeth, the other
the peach—"
It is an analogy that evokes and surprises the senses. The peach, something often pleasant to dig one's teeth into, is victimized; it is not until after the comparison that we realize the maleficent power of the bite. The word is not mentioned, but readers feel the sting of something too sweet, the pain of brain freeze, if you will. We continue to head down the pieces of the speaker's broken past. And in the end, "Aftermath" does not heal itself. Concluding with the repetition of the word "broken", readers and speaker set off what they aimed to do: to the time to remember and redress the wound.
As I mentioned, "The Lovers, 1928" shares many structural elements as "Aftermath". Both poems consist of three line stanzas, a form Hernandez has mastered to coincide with the rhythms of his line breaks and syntax, and both depend on the fragment. In "The Lovers, 1928", the conjunction "So" is used as an introductory element so often, readers almost forget that for every "so" to happen, a cause has had to happen.
The first line reads: "So everything changed". The repetition of the sometimes conjunction, sometimes intensifier continues for three stanzas, throughout which, the speaker reasons with the past. Because of the disconnected clauses, it's difficult to trace back the exact moment, the catalyst, for the thought, and this is purposefully done to mimic the memories that clash and connect. The poem centers around the narrative of a child who "was brought to a river & told / his mother had drowned". And in the poem, every disconnection connects to the mother.
The incomplete clauses of "The Lovers, 1928" create a chant-like stream of semantic consciousness where one idea opens upon another which opens another. Like a master saxophonist plays his instrument, Hernandez plays with language. He uses it to seduce, to construct, to remind, and to remember.
Ricardo Hernandez is a graduate of Baruch College and a recipient of fellowships from Poets House and the Lambda Literary Foundation. His poems have appeared in Newton Literary, Assaracus, and The Cortland Review. He lives in Queens, NY.
Links:
E. Kristin Anderson
Josh Medsker
Ricardo Hernandez
Abriana Jetté at Stay Thirsty Publishing
Abriana Jetté
All opinions expressed in this article are solely those of its author and do not reflect the opinions of Stay Thirsty Media, Inc.