By THIRSTY
---
Under Michael Fassnacht's lead, advertising icon FCB Chicago won Gold, Silver and Bronze Lions at the 2015 Cannes Lion International Festival of Creativity. It was that the best performance ever by the Chicago ad agency founded in 1873. With wins in the categories of Film, Mobile and PR, the Gold Lion (Mobile) for their Illinois Council Against Handgun Violence campaign entitled The Unforgotten was especially timely in light of the epidemic of gun violence in America. An industry veteran, Fassnacht has extensive entrepreneurial, corporate, international, regional and local advertising agency experience, and as CEO & President of FCB Chicago, he collaborates with a team of over 700 employees. Stay Thirsty Magazine was excited to visit with Michael Fassnacht for this Conversation in what Crain's magazine called the "coolest office in Chicago."
STAY THIRSTY: We live in a world where image and appearance can easily overshadow substance and truth. What role does advertising play in bridging the gap?
MICHAEL FASSNACHT: Advertising's role is to combine style and substance. Consumers today demand transparency and seek relationships that align with their own values, so having substance and purpose is vital to success.
I truly believe purpose-driven brands can make people's lives better. Advertising raises awareness and creates accountability to inspire action. As long as it's genuine and relevant, brands have the potential to be powerful advocates for positive social impact.
And, it's not only is it good for business, it's the right thing to do.
STAY THIRSTY: What do you do to overcome the noise of daily life in an electronically dominated world and direct attention to the products, services or causes that you represent? What role does creativity play in bringing ideas of merit into the public consciousness and how does advertising convert those ideas into becoming part of a community's culture?
MICHAEL FASSNACHT: We believe our job at FCB is about unlocking potential for our clients, to help them solve problems and be a springboard for behavior change.
There are multiple ways we can do that. Sometimes it's about tapping into a brand's emotional strength. Other times it's about tapping into a big cultural trend. And when you've got lots of different ways into solving a problem, you need to fully explore a range of perspectives on that problem. That's why working in an open sourced, collaborative, creative and culturally aware environment is so important.
STAY THIRSTY: In the digital age, we are bombarded by banner ads, flashing ads, ads that kidnap our screens and ads that open in new browser windows rendering the "back button" impotent. By comparison, television, radio and print ads seem less frantic, more focused and often less aggressive. How is advertising evolving as the computer age is maturing and as mobile platforms proliferate?
MICHAEL FASSNACHT: We are in an unprecedented time of disruption, fueled by data, technology and choice. As the media evolves, so must the messages being delivered to it.
Each medium has different expectations, so we're always designing for a specific experience. Being a full service agency, with best-in-class capabilities across disciplines all under one roof, allows us to work cohesively across today's relentlessly growing number of channels.
Modern marketing requires an entirely new model and that's why we're reinventing our agency every single day.
We like to describe our culture as entrepreneurial with scale. Entrepreneurial, because we know brands need to be nimble and agile in the digital landscape. On the other hand, you need the scale of a large agency with analytics, strategic and production capabilities that modern brands need.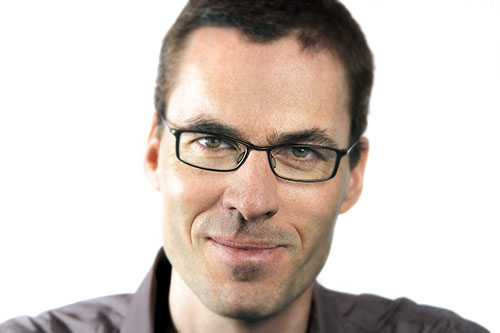 STAY THIRSTY: Are you doing any research on the generation coming up after the Millennials? Do kids between 8 and 17 interact differently with their digital world vs. the Millenials? Are kids' expectations of the internet changing and if so, what strategies are you using to reach them?
MICHAEL FASSNACHT: The ever-rising importance mobile is influencing expectations and behavior for all generations. I see it with my own children, who grew up being fluent in the technology.
But, we're working on predictive modeling in terms of behaviors, rather than focusing on age groups. In the rapid pace of our industry, the traditional models of strategic planning and testing don't always move at the same pace of the innovations.
Research has found that the organizations that are best at predicting future trends and strategies rely on learning by doing, and by creating a collaborative, debate-driven culture.
STAY THIRSTY: How long does it really take to change public opinion to think about something in a positive way and how long does it take to repair a negative view that is generally held?
MICHAEL FASSNACHT: Even in this fast-paced environment, change can take years and it's a much slower process than one would think. I've read that it takes seven positive experiences to combat one negative one, so we take every interaction very seriously and view each one in terms of long-term brand building.
STAY THIRSTY: We appear to be living in a less "politically correct" era. Is advertising moving in the direction of shocking the conscience in order to make a connection?
MICHAEL FASSNACHT: On the contrary, I think as a culture we are more politically correct, for brands especially. We are more conscious of the impact advertising has on culture and it should be taken seriously, prepared thoughtfully and watched carefully.
The digital age has given consumers a platform for feedback and a megaphone to influence others and today's conscientious consumers value inclusive language and embrace brands with positive social awareness.
As long as it's authentic and aligns to the brand's core beliefs, brands should strive to be respectful and inclusive.

STAY THIRSTY: Under your leadership, your agency has won many awards from the Cannes Lion International Festival of Creativity over the years, 2015 being your most decorated year ever. How has the computer age helped or hindered the fostering of creative ideas and the ultimate presentation of those ideas?
MICHAEL FASSNACHT: Marketing organizations today are under pressure like never before—from a media landscape growing increasingly convoluted and a fleeting consumer universe to the mounting pressure of accountability for any marketing dollar spent. Today's new universe demands a different approach to the design and execution of any marketing effort.
One thing that sets FCB Chicago apart from our competitors is our production capabilities. Through our in-house studio, Lord + Thomas, we create in real time and produce film content with our own directors, digital content with our own developers, with the ability to scale our production to whatever the client needs.
And that has made all the difference in the world. We're able to control the quality, collaborate in real time as the idea develops and deliver in real time. Our Cannes success from last year, with varied category wins from Film, Mobile to PR – was great evidence that having this capability in the agency opens the door to unlimited business building solutions for clients.
STAY THIRSTY: We are on the brink of the Artificial Intelligence (AI) age as computers become more powerful and as vast amounts of data on our personal lives are collected and transformed into useful information for governments and companies. How do you see the evolution of big data and what role will it have in the creation of advertising campaigns? Will companies go too far, demand too much and destroy the last vestiges of privacy? Are there any ethical boundaries on advertisers to balance the risks or are we in another "Wild West" period?
MICHAEL FASSNACHT: As an early pioneer of data strategy for the industry and FCB network, I'll always endorse the transformative ability of data when used with the right practical application. Data can be a very powerful tool for behavioral research, if you focus on asking the right questions and apply it to actionable insights that help design, manage and optimize marketing programs.
But data is meaningful only with human interpretation. Adding a data analyst to the core marketing team unlocks a vast amount of creativity that can erupt when two different disciplines—strategic planning and analytics—meet and collaborate.
In terms of information privacy, the ramifications of lost consumer trust is quite serious, but I have found the controversy usually stems from a disconnect between the idea of privacy invasion, and the actual methodology for how it's gathered and used. A privacy exchange should be an opt-in and provide mutual benefit for both parties, so as marketers we advise our clients to show value, be transparent and respect boundaries.
STAY THIRSTY: As science speeds ahead in its search to better understand the human brain and how it functions, do you currently use or do you plan on using neural marketing to test human behaviors in order to better serve your clients? Are we entering a brave new world where companies will know what people want almost before they do and use that information to sell more products and services to them? Is neural marketing the new focus group?
MICHAEL FASSNACHT: We're always curious about deepening our understanding of how and why people make the choices they do, and using those insights to help solve marketing problems. For many years, we've been investing in more scientific ways of researching human behavior through behavioral economics and neuroscience from eye tracking to fMRI.
Consumers make decisions more emotionally and significantly faster than focus groups can simulate, while to our benefit, technology has brought on a fresh wave of methodologies and experiments with great potential to impact marketing creation and success.
STAY THIRSTY: If you are limited to make only one prediction about the future of the advertising industry, what would it be?
MICHAEL FASSNACHT: Marketers who embrace a matrix of collaborative teams of specialists, working together toward one common challenge, will succeed.
Compose teams with a broad spectrum of interests and agile minds that can relate to a holistic view to find the most effective marketing solutions.
When everyone has an equal voice and space to be heard, diverse teams with different viewpoints and life experiences will continue to shape this collaboration.
Link: