By Lenny Cavallaro
Methuen, MA, USA
---
 I have recently begun to wonder whether many people – even avid concertgoers – have ever actually been touched by music. People are easily impressed, but what if they are missing out on the emotional aspects? Perhaps we, as musicians, should be offering some clues on what the music is about in order to help people make this beautiful connection. – Christina Kobb
Christina Kobb, whose research drew international attention last summer, says the warm responses encouraged her to be brave and continue creating memorable musical experiences. As a pianist, she finds herself drawn to the expressive rather than the impressive. This is most apparent as she prepares her US debut, which will take place in New York's Carnegie Hall, Weill Recital Hall, 24 February 2017. 
Christina will present an all-romantic program, performed on a 19th-century piano. She will showcase her reconstructed 19th-century piano technique, and she is eager to advocate the rich palette of sound and phrasing unique to these instruments. 
LENNY CAVALLARO: Please tell us about the program. What works will you include, and which have you decided not to perform? 
CHRISTINA KOBB: It is both exciting and difficult to put together a program for a big concert! For many years, I have had a special "crush" on Schumann and his circle. Schumann's first sonata, Op. 11, was on my exam program for my Bachelor's degree in piano pedagogy. This time, I wanted to take a closer look at sources of inspiration as well as the role the composition played in the inevitable love story of Robert and Clara. However, there was so much material to choose from. I had to make a selection of works that somehow related to Schumann's world and his first piano sonata. This made the program quite consistent around one idea. 
I wish I could have included compositions like Moscheles' Sonate mélancolique, Op.  49, and more of Clara's pieces, all of which will become available on my SoundCloud account over the next few months. However, I shall not be able to perform them in New York next year.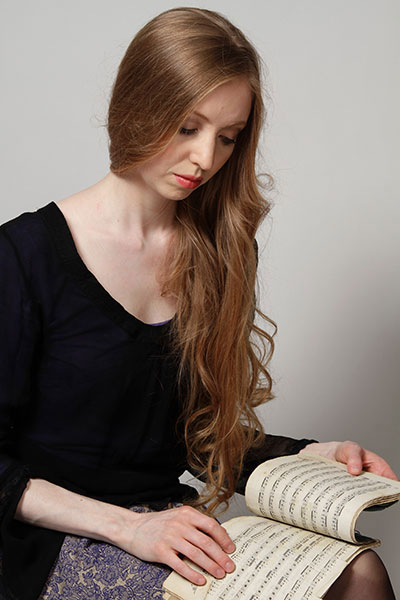 LENNY CAVALLARO: Your recital is in some ways rather "programmatic," isn't it?
CHRISTINA KOBB: It centers on the love story of Clara Wieck and Robert Schumann, in which music (and communication through music) played such a great role. There is hardly a better way to portray romantic longing than through this music. As is well known, Robert Schumann met the nine-year-old Clara when he began studies with her father, Friedrich Wieck, in 1828. She was already an acknowledged virtuoso pianist. They soon developed a warm friendship, foreshadowing a romantic relationship. As soon as Friedrich sensed this, he forbade Clara any association with Robert. Nevertheless, he acknowledged Schumann's talents as a composer, and thus allowed her to perform his works. The secret letters that were exchanged without Wieck's knowledge attest to the deep level of musical imagination and association shared between Robert and Clara, as does the music they both composed during those years. Robert encouraged Clara to compose, and Clara dedicated her Op. 6 to him. The first piece is a Toccatina, which bears some resemblance to Robert's Toccata (Op. 7). Robert, in turn, worked on his F-sharp minor sonata (Op. 11), which he dedicated to Clara, "from Florestan and Eusebius," their fictional alter egos. 
The musical codes and small themes used by Robert and Clara in their musical communication with each other were most significant, because all other forms of communication were severely restricted. In Clara's Scene Fantastique from Op. 5, a motive of diminished fifths combined with the rhythm of two sixteenth-notes and one eighth-note appears frequently.
LENNY CAVALLARO: The same "building blocks" that dominate the first movement of Schumann's Op. 11.
CHRISTINA KOBB: After years of waiting in vain for Wieck to consent to the wedding plans, Robert and Clara got engaged – secretly – in 1837, and with court approval, they finally married in 1840. Robert's intensely romantic wedding present to Clara was the song cycle, Myrthen, Op. 25, which opens with Rückert's beautiful Widmung ("Dedication"). As a "crown of myrtle flowers," the 26 Lieder of this cycle symbolize the forbidden love of Robert and Clara Schumann.
LENNY CAVALLARO: Gorgeous sentiment! Will you perform works by other composers, too?
CHRISTINA KOBB: Extending the circumference slightly, I'll include works reflecting the Viennese legacy and influence respectively: Schubert's Sonata in A Minor, D. 537 and Grieg's Drei Stücke (1861). Schumann remained a devoted Schubert fan, while Clara performed his piano works and chamber music throughout Europe. 15-year-old Edvard Grieg arrived in Leipzig in 1858 to study with Moscheles. During that time, he heard Clara as soloist in Schumann's piano concerto. A few years later, he wrote his own successful piano concerto in the same key (A Minor). The Drei Phantasiestücke of 1861 were performed on Grieg's final exam at the Leipzig conservatoire and later published (adding a Mazurka) as Op. 1. In form and texture, I suspect the young Norwegian's Drei Phantasiestücke were modelled on, or at least inspired by Schumann's Op. 111, which bears the same title. 
LENNY CAVALLARO: I assume these are all works you have performed before, but have you ever played them all on the same program? If not, how many "tune-up" recitals do you plan, and where? 
CHRISTINA KOBB: I have never performed all of these works in the same program. In fact, the pieces by Clara Schumann and Grieg are handpicked for the occasion and were not on my repertoire before, though I am delighted to learn them now. I've planned preparation recitals in my native Norway, but it is unlikely I shall play any in the USA. The only way to hear them is to come to my Carnegie debut! 
LENNY CAVALLARO: You have a Harvard appearance coming up? 
CHRISTINA KOBB: Yes!  I'll present a lecture recital on piano technique at Quincy House on 9 May 2016. 
LENNY CAVALLARO: Now that you have set the Carnegie date, can you tell us a little more about your fundraising efforts?
CHRISTINA KOBB: This is a major event, both artistically and financially. Through my management, DCINY, a crowdfunding site has been set up to help build an audience for this concert. 
LENNY CAVALLARO: You are also the 2016 recipient of a significant award.
CHRISTINA KOBB: Oh, yes – the bequest of Norwegian pianist Nils Larsen (1888-1937). I got additional support from the radio station All Classical Portland, which I visited last November. Also, my longtime friend and colleague, Aksel Kolstad, has provided valuable advice and moral support. Since his own Carnegie debut in 2010, Aksel has done well and draws international attention for his brave concept, Café de Concert. Our styles are different, but the goal the same: reaching a larger audience for classical music.
LENNY CAVALLARO: Best of fortune to you!
Links:
Christina Kobb
Christina Kobb on Facebook
Lenny Cavallaro at Stay Thirsty Publishing
Lenny Cavallaro - Composer and Pianist
Lenny Cavallaro at Broadbent & Dunn Ltd.
All opinions expressed in this article are solely those of its author and do not reflect the opinions of Stay Thirsty Media, Inc.