By Bascove
New York, NY, USA
---
For four decades British artist John A. Parks' paintings have been celebrated in New York and London galleries and museums. Teacher, filmmaker, and cultural writer for American Artist Magazine, Smithsonian National Museum of American Art, and the New York Times, he is the author of the internationally esteemed Universal Principles of Art: 100 Key Concepts for Understanding, Analyzing, and Practicing Art.
BASCOVE: When did you know that you wanted to be an artist? Was there encouragement from your family?
JOHN A. PARKS: I think the first time I was moved by the magic of painting was when I found a reproduction of Tintoretto's "Origin of the Milky Way" as the frontispiece of a book on astronomy that resided on my father's bookshelves. Naked gods and goddesses floated amongst clouds and furls of silk, a strange, effulgent image. I was eight years old and completely transported. I always enjoyed drawing and painting as a child but my parents were very much opposed to my going to art school. I was very good academically and my father, who was a clergyman, always hoped that I'd become a parson too. They said it would be a waste. Eventually I got my way and thought I might do industrial design. But I quickly got interested in painting.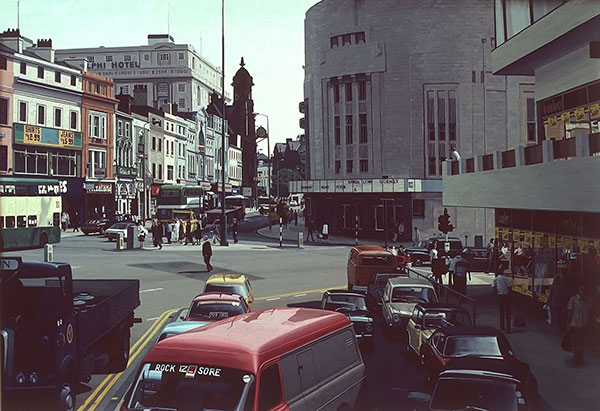 BASCOVE: You studied at the Royal College of Art in London and began receiving commissions and exhibiting at the Royal Academy while still a student. What were those years like for you?
JOHN A. PARKS: I went through the English art school system in the late sixties and early seventies, first at a foundation course at Barnet in London, then a degree course in Hull, in Yorkshire and then postgraduate work at the Royal College of Art. Eight lovely years in all. The best, and perhaps the only, training I received was at my foundation course at Barnet. This was run by a brilliant and mercurial character named Stanley Pelter who propounded principles culled from the Bauhaus. We got strong training in drawing and design and a healthy dose of almost mystical inspiration. I'm particularly grateful for the thousands of hours of objective drawing we were obliged to do.
During undergraduate and post-graduate years there was very little organized studio teaching and we were mostly left to our own devices. I did very well with this and worked away at all kinds of paintings and conceptual projects. At Hull I had the good fortune to be taken under the wing of an excellent colorist, Michael Chilton, who taught me a great deal about color and light. We also had first class art history teachers and I wrote my thesis on late Byzantine art under Peter Hammond who was quite an authority.
At the Royal College my tutor was Leonard Rosoman, a muralist who had been an official war artist in WW II. He was a delightful man and a lovely painter but his interest seemed more in the doings of the Royal Opera House than in my painting. I couldn't afford to go to the opera in those years so I found it hard to enter into his enthusiasms. This didn't bother me at all. In fact one of the lovely things about the Royal College was that there was absolutely no pressure from anywhere. As long as you showed up and worked away in the studios most days nobody much bothered you. We were treated as adults and therefore spared megalomaniac artist teachers, endless critiques and academic drawing classes. We did have professional technical help for printmaking, photography or anything else you'd care to take up. We even had a tea lady who served coffee in the morning and tea in the afternoon from a trolley in the corridor. The faculty was diverse and fascinating. Peter Blake was floating about and always happy to look at work or chat about painting. And then there were wonderful painters from an earlier generation, Ruskin Spear and Robert Buhler, who brought in a sense of the tradition of London painting.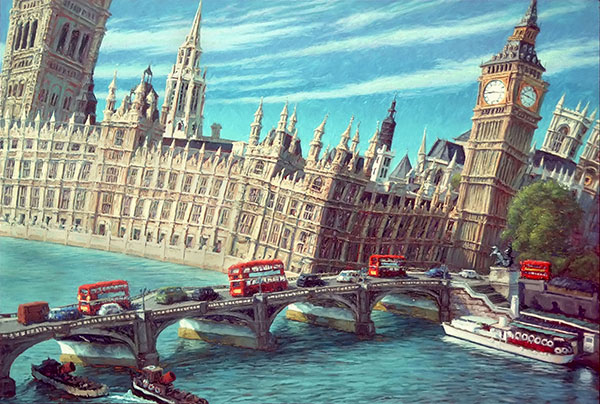 Another glorious feature of the Royal College painting school was that it was attached to the Victoria and Albert Museum. In fact we had our own door to get into the place. So you could just wander off into the galleries and bask in one of the world's great art collections. And then they had a wonderful salad bar for lunch. I started sending to the Royal Academy Summer Exhibition in my second year and was lucky enough to get shown for two years. I sold my first painting there so I think of it warmly. [NB. The Royal Academy and the Royal College of Art are two entirely separate institutions.]
BASCOVE: Soon after you moved to New York City and immediately began exhibiting with several of the City's most renowned galleries. This must have been a very busy and exciting time?
JOHN A. PARKS: I arrived in New York in late 1976 and immediately began hawking my paintings around to the art dealers. In those years it was easier to get to see people with your work than it is today. The realist movement was in full swing and I had small and intensely painted realist paintings in my portfolio. I was taken on by Allan Stone who was one of the foremost dealers at the time representing Thiebaud and Estes. It was very exciting to see my work sitting alongside that of some of my heroes. Allan was supportive, in that he would buy a few things from time to time at very modest prices. And he started to place my work in various private collections. But he did very little to promote his artists beyond his own circle. Still, there was an interesting little community of artists around the gallery and I still stay in touch with some of them today. At the end of the 80's, I moved to Coe Kerr Gallery, which was a more traditional blue chip gallery. I had two shows there but unfortunately they went out of business in the early nineties. I showed with Allan Stone again and mounted a last one-man exhibition in 2005 shortly before he died. The reviews were good but sales were thin. By that time Allan no longer spent much time at the gallery.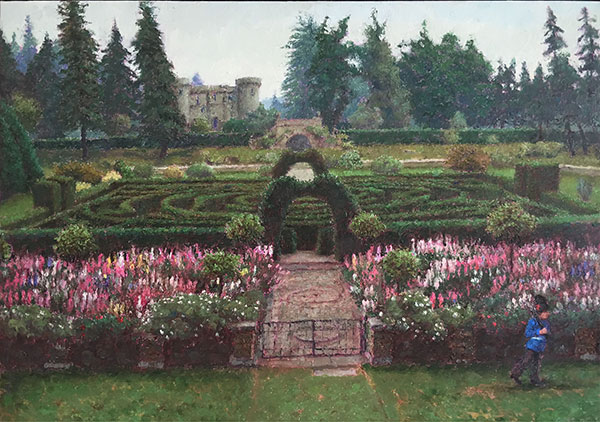 BASCOVE: In the late 1970's you were painting cityscapes with photorealistic detail, the edges were hard, the light strong with deep shadows. The Garden series, started in the early 1980's is remarkably different. The palette is soft greens, and warm pastels, the brushwork often pointillist. They have a harmonious, Arcadian lyricism. How did the change in subject and brushwork develop?
JOHN A. PARKS: In the early seventies there was a great deal of interest in highly finished realist painting. I had seen paintings by Malcolm Morley in London as well as work by Chuck Close. I was also really impressed by an exhibition of Robert Cottingham's gouaches. I turned my attention to my surroundings, the high streets and byways of London that I had grown up around and which nobody ever seemed to have painted. In the first few years, I strived for a somewhat neutral and non-edited feel to the imagery. But then it began to feel unsatisfactory. A lot of people had started going that route, working from photography and producing highly finished paintings. I began to get more interested in the overtones and undertones that came up in the work. And then I became interested in gardens and the history of gardening. The idea that so many people yearned to transform the landscape into some sort of paradisiacal vision intrigued me. I had grown up around parks and gardens; in fact they are so ubiquitous in England that it is easy to take them for granted. Once I started really looking at some of the great gardens and parks, mostly laid out in the eighteenth and nineteenth centuries, I became increasingly impressed with the scope of the enterprise and in a way with its craziness and excess. People had clearly spent fortunes to obtain a particular look or feel and that alone was something of an eye-opener.  
I began to do paintings that I felt participated in the ambitions of some of these landscapes that would take on the feel the planners had dreamed of. To do this I changed my technique. I was working in oil by now and began to use underpainting approaches that afforded me more depth. I also began to break up the color to give a richer, softer look. The paintings are still very quiet but much warmer. The touch and feel are very evident. Far from deadpan, they are rather romantic, not in an over-sweet way but more along the lines of late Rococo wistfulness.
BASCOVE: Over the years, you've experimented with various ways of applying paint to the canvas. One of the most notable has been finger painting. You've said, "I had a revelation late one night. I suddenly felt that putting paint on with my hands would have to be the most authentic, direct way of painting. How could it not be the most visceral, the most communicative means of making an image?" This technique was used in various dizzying interpretations of British icons but also in a tender series, Paint and Memory, an ode to unfettered joy, recollections of your English childhood. 
JOHN A. PARKS: I think that as an artist I have to keep taking on new things, new approaches and challenges. There's nothing more dreary than feeling you are doing the same painting all over again. When I first tried the finger painting I thought it would be quite rough, perhaps even expressionist. There is an inherent indeterminacy in placing color with your finger; you can never be quite sure exactly how it's going to go down or quite where. And this makes for a certain amount of accident and the emergence of various quirks and oddities in the painting that can be exciting and revealing. What I didn't expect was how beautiful, rich and delicate a surface I would get in the paintings. The technique also led to a lively ongoing dialogue in which I edited out accidents that didn't work and followed up others that were suggestive and promising.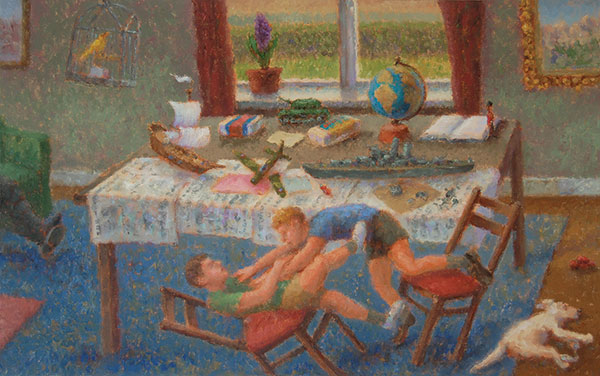 It then occurred to me that I would like to try to paint from memory and somehow attempt to recapture my childhood using this childish technique. This turned out to be very difficult. I was amazed at how little I could really visualize from the past. My reconstructions are really more like conjectures. I chose scenes that seemed to capture the most exciting times in my life as a child and also the most typical: playing in a playground, fighting with my brother, working in the garden, going to the public swimming pool. I found I was choosing a viewpoint that was much higher than I could have had as a child. So the paintings are inventions of course, but ones that make a connection with my past in various ways. The very softness of the paintings seems to suggest the haze of memory.
BASCOVE: A sense of place seems to permeate your paintings. Much of your inspiration has come from your hometown of London, the Havoc series of buildings twisting and turning, coming alive, the Soldiers series, the figures breaking free, into dance. You've made several Large Maps Paintings of the city, done with the detail and wit that only someone intimately familiar with those streets could produce. And yet, recently, you've painted New York City cityscapes, energetic, swirling with movement and vibrant colors.
JOHN A. PARKS: After I exhibited the childhood series my art dealer and friend, Thomas Jaeckel, remarked that I had been painting for years about the past. Might I not now address the present? I have lived in and around New York for nearly forty years now. Apart from a couple of early paintings I had generally avoided painting it, fearing that I would look like an outsider. At first, I rejected Thomas's suggestion but the idea wouldn't go away, so I decided to try.   
BASCOVE: The In New York canvases are filled with dense crowds of figures walking, shopping, often phones in hand, even a virtual free-for-all at the Stock Exchange. They are as insightful about the intensity of the bustling, multi-cultural daily life of the City as Bruegel's paintings of the towns of the Netherlands. What preparation was involved in assembling such complex compositions?
JOHN A. PARKS: At first I had no idea how to paint the city. The vast scale, extension and sheer vibrancy of the place with its throngs and movement, are probably beyond the scope of any painter. The two painters who did it best, in my view, were John Sloane and George Bellows, and I went back and took a good look at their work before I began. My first thought was that New York is nothing if not crowds, so I began with the people. But when I actually started looking at crowds, sketching and photographing, I was amazed to discover that often, in reality, they are rather uninteresting, or at least difficult to dramatize. For instance, I wanted to paint the line at the Shake Shack in Madison Square Park, but when I went down to draw it I found that for the most part people just stand glumly. It's only for a few moments here and there that they do more interesting things, bend towards each other, embrace, run off, tie a shoelace, pet a dog or start an argument. I decided that what I wanted to do was to tell the story rather than simply record appearance at any one instance. So I began to draw individuals and couples at moments that were dramatic. Pose, posture and gesture have an enormous power to communicate.
I then assembled the crowds from my drawings, once again taking a high viewpoint so that I could show the action. I became aware that I was also painting a whole society, in a sense. I was looking at the entire equation on the street, who was doing what, who was wearing what, how people relate to each other and so on. I began to look at some early Flemish painting, particularly that of Pieter Bruegel the Elder, who painted crowds in a way that revealed facets of the rural society he came from, weddings, religious festivals, dances and so on. I discovered that Breughel had also orchestrated his crowds, choosing poses and movements with great care so that they carried the story. Curiously he was painting scenes that at the time were already archaic, a distant memory of life from a century earlier. Nostalgia seems to be a powerful element in painting.
BASCOVE: Several years ago you ventured into filmmaking with a documentary on a very romantic subject, The Progress of Love. How did that come about? Did you feel film was a more astute medium for that particular subject? Did you enjoy the process? Are you planning on making more films? 
JOHN A. PARKS: I had made a number of short videos in the years since digital media arrived and I wanted to do something more substantial. I have always been a huge admirer of Fragonard's suite of paintings, "The Progress of Love." It lays out a series of episodes in the progress of courtly love in a way that is exquisitely delicate and poetic. At the time I had been reading a great deal about evolution in an amateurish kind of way and it occurred to me that the progress that Fragonard describes in some way mirrors the predictions of evolutionary psychology as it relates to the relationship between the sexes. And I then thought it would be interesting to interview a number of people about their romantic lives and see if there was any parallel between their behavior and that described in the Fragonard or predicted by the evolutionary psychologists. I also interviewed Professor Gordon Gallup, who teaches evolutionary psychology at SUNY Albany and who was extremely generous with his time and thoughts. It quickly became clear to me that the range of behavior, as described by my subjects, even in so small a sample, was greatly more varied and far more complicated that either the predictions of the evolutionary crowd or the idealized architecture of Fragonard's painting cycle. And then in making the film the juxtaposition of real people with theoretical claims and scientific language becomes somewhat bizarre and happily entertaining. But in the end what impressed me most was the simple power of romantic love in the lives of the people I spoke with.
The problem with making even such a very simple film was that it took a truly enormous amount of time and effort. I would love to make another film but I would only do so if I felt passionate about the subject and could secure an appropriate budget.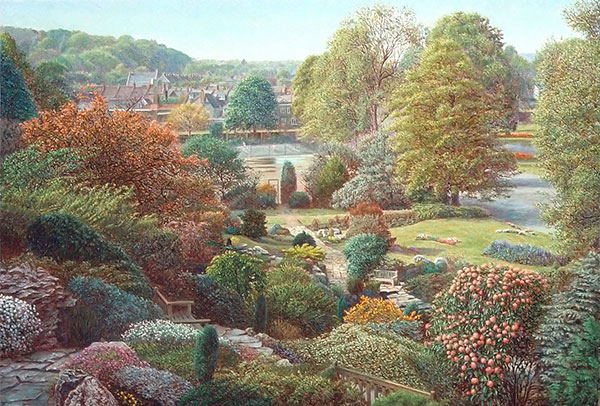 BASCOVE: You are also well known as a writer for various art magazines and journals. How do you choose who and what to write about? Is this an important part of staying connected to the critical and historical art community?
JOHN A. PARKS: I have been writing for the art magazines since the mid-nineties. It has been one of the most rewarding and interesting parts of my life in that I get to talk to other artists who I would never otherwise meet. They are invariably vital, passionate, sensitive, interesting and incredibly generous people and I often feel humbled by their commitment and drive. I have learned something from each and every one of them. 
Generally I am asked to write about specific people by editors but sometimes I pitch an idea and get it approved. I've also been asked to write about many historical subjects, a task that has sent me to the history books and museums and greatly broadened my knowledge and understanding. In particular, I enjoyed discovering exquisite miniatures of Adam Elsheimer and the bizarrely surreal etchings of Giovanni Braceli. I also learned a great deal in writing about Bronzino's portraits, Ruben's drawings and Velazquez' painting technique. But this is the tip of the iceberg – I have now published nearly three hundred features in the magazines.
BASCOVE: Your painting classes are an institution at the School of Visual Arts, where you've been teaching for close to 30 years. What do you enjoy most and least about it? What does teaching give you?
JOHN A. PARKS: Gosh – I'm not sure my classes are an institution. I'm fortunate to have been able to teach at such a lively and creative place right in Manhattan. The School of Visual Arts has always had a terrific chemistry, with an amazing amount of extraordinary work happening all the time. One of the things I've learned to enjoy in teaching is helping beginners make the early journey into drawing and painting. Naturally it's always exciting to work with a talented and accomplished student and help them move further. But one of the most intriguing things about art is the deep need that some people have to make it even when they don't seem to know very much about it at all. So to be present during that early part of the process has it's own kind of excitement. And then with teaching, you simply get better at it, more skilled at knowing what prods, cues and explanations will work best at given moments. The big negative in teaching, of course, is that it can become repetitive. I'm always working to keep it fresh, and to keep myself focused on the positive and interesting aspects of it. 
BASCOVE: Has the advent of technology changed how the students see, or are prepared for, Ruskin's "noble and expressive language" of drawing and painting?
JOHN A. PARKS: Ruskin's use of the word "noble" sounds very grand and sadly antiquated, doesn't it? And yet I do think that art is ennobling; it makes us something more as human beings. Exactly how the digital revolution has changed the students is difficult to gauge. The School of Visual Arts attracts a great many very talented students from all over the world. Many of them already have strong drawing and painting backgrounds when they arrive and they go on to do wonderful things. The digital world allows them scope in all kinds of new ways while at the same time posing problems for some of them. I've had students do great things when they have used digital media to enhance and further their handmade work and I've seen extraordinary works done entirely digitally. On the other hand, I've had a couple of students who have done mostly digital work early on and have found it difficult to undertake the labor of painting, the sheer physical work involved.
As the interfaces become ever more sensitive, the older skills involving touch and sensitivity are once more coming to the fore. And then there can never be any substitute for training the eye. Color and tonal relationships, the ability to see what is reading in an image and what isn't reading, involve perceptual skills you can only acquire through a great deal of looking and art making. One thing that technology has changed is the working habits of the students. It's hard to get them to turn off their texting for the length of a three-hour class. So in that simple sense it can sometimes make it harder to focus.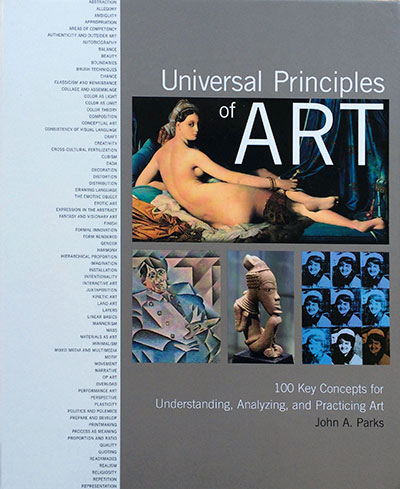 BASCOVE: Last year brought the publication of your seminal volume of art classification and organization: Universal Principles of Art: 100 Key Concepts for Understanding, Analyzing, and Practicing Art. This must have been an enormous challenge, both of organization and research. Were the "100 Key Concepts" your way of categorizing such a vast amount of history and information?
JOHN A. PARKS: I was invited to write the book and the title was not mine. The publisher had previously had some success with a volume entitled Universal Principles of Design. They asked for the format of 100 chapters and wanted a tight word count. So I found myself taking on the challenge of trying to boil down the whole of art into a very small space. The first thing I decided upon in discussion with the editor was that it would be a book addressed to a wide audience. It would not be a specialist or academic book. I wrote it with the idea that even someone who knew nothing at all about art could come away with a pretty fair sense of some of the major ideas in art history, some of the major movements and players and a sense of some of the practical techniques and approaches. To get this done involved some considerable reading, and a great deal of time researching and paring down the list of images. There was an awful lot of sheer busywork surrounding all of this, so it was extremely time consuming. 
BASCOVE: This is also a wonderful catalogue of the essentials of actually making art, everything from Brush Techniques, Linear Basics, to Texture, and Underpainting. You are presenting the basics of classical training.
JOHN A. PARKS: I was concerned to provide some useful technical guidance although the idea that there is a "classical training" to be had anywhere is somewhat questionable. The techniques of the great masters throughout history have varied considerably as has the teaching in the academies. But I think the strength of the book is that it shows how studio practice and ideas come together to create art that functions in a considerable variety of ways. 
BASCOVE: There is also a fair amount of head-on confrontation of some of the knottier questions that come up when we speak of contemporary art. You don't shy away from discussing Semiotics, Appropriation, and Cross-Cultural Fertilization, to name a few.
JOHN A. PARKS: The ambition of the book is to be inclusive, to try and create a broad map of the entire field of art. Semiotics has had an influence on art criticism, and at least some artists claim that it affects their choices and approach in making art. Appropriation, in various forms, has been quite a lively corner in twentieth and twenty-first century art. I also included various contemporary forms like multi-media, video, performance and installation art. Not to mention land art, conceptual and minimal art. The kinds of art-making people engage in shift and change all the time. In my short book I couldn't include everything. 
BASCOVE: In the preface you note the inspiration you've received teaching your students during tours of museums. Did those experiences help you formulate such concise analysis? I understand it's recently been translated into French. It must be exceedingly valuable in international art programs besides here and in Britain?
JOHN A. PARKS: Of course a lifetime of teaching students both in and out of the studio has influenced how I wrote the book and what I chose to say. One of the advantages of teaching is that you start to hone your message. You begin to figure out the most effective and efficient ways of communicating the ideas in your field. As for the French edition – I'm naturally thrilled to have the book translated and reaching another audience. And, of course, I hope people read it and find it of value.
BASCOVE: Are there projects that you've been thinking about that you haven't yet had the time or the chance to focus on?
JOHN A. PARKS: I've never been short of things that I want to get going with. Part of me would like to do everything; write a novel, design a clothing collection, build a building. But of course this would be absurd. You can't be good at everything and one lifetime is barely enough time to do one or two things well. So part of what I've learned is that I have to keep focused on things that are possible and that grow out of my previous concerns. At the moment I'm very focused on painting and drawing.
BASCOVE: What are you excited about and working on now?
JOHN A. PARKS: After I showed the New York paintings last spring I thought I would continue with some similar work. Curiously though I came across an old garden landscape watercolor of mine in sepia and I liked it so much that I thought I'd do another. And this came out rather well so I did another. And by now I find I've started to generate a whole new body of work. It's very calm and delicate and very different from the paintings of New York. I'm just about to start some oils along the same line and I think I'm going to be doing them as finger paintings. But we'll see what happens. One of the exciting things about painting is that you never really know what's going to come out. And that's the great mystery of creativity; that you actually pull something out of the void and make it present. What could be more magical than that?
All images courtesy of John A. Parks
Links:
All opinions expressed in this article are solely those of its author and do not reflect the opinions of Stay Thirsty Media, Inc.