By Sarah L. Myers
New York, NY, USA
---
Lemmy Kilmister (December 24, 1945 - December 28, 2015)
---

You don't forget meeting Lemmy Kilmister. In this time of intense heartbreak and raucous celebration at the passing of the legend, everyone has their tale.
Mine began with a simple interview request returned by Steve Luna, Motörhead's all-around man and Lemmy's good friend. Lemmy seemed unattainable, akin to the Great Wall of China or Mount Everest. He was larger than life – a pillar of rock n' roll so powerful I wasn't sure I could handle it.
One interview turned into years of memories. My time with Lemmy became part of my life.
Chicago. Texas. Los Angeles – I went anywhere just to get my interview, but then I met Motörhead fans and made friends from all over the world. I saw dolls in his likeness, watercolor paintings of him, action figures and drawings as illustrious as the man himself.
I would joke with him that "we are surrounded by many Lemmys," pointing to another gift from another fan.
I'd give anything to be around the real Lemmy just one more time.
September 2015, Jones Beach, New York, was the last time I would see him perform. But my time with Lemmy began eight years earlier.
Double Door, Chicago, 2007: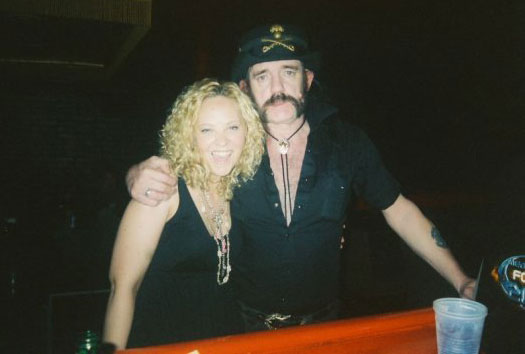 I arrive early for the Head Cat show to interview Lemmy and take a seat at the bar to review my notes. The venue, empty enough to echo the first drop of his boot heel, seemed to flood with light when he came through the stage right door. At first I saw just the outline of this barrel-chested gunslinger in skintight black jeans. As the daylight traded places with the venue's shadows, I made out the man I'd wanted to meet since I discovered rock n' roll.
Few people in this world carry the weight Lemmy did. I was floored. But in just a few minutes this icon had a drink in front of me, a light ready for an offered Marlboro Red, and a welcome smile for every fan who interrupted our first interview. And the fans were endless. My megawatt smile in our first photo together proves how much happiness he brought to his fans. Seeing the Head Cat live before I even saw Motörhead also showed me a different side of Lemmy. That night he paid tribute to his heroes, covering Johnny Cash, Eddie Cochran and Gene Vincent. He was a rock god but, more than anything else, Lemmy was also a fan.
Austin, Texas, March 2010:
A black Escalade waiting outside the hotel swallows me up and deposits me, Steve and Lemmy at a strip club where women circle and purr around him as he drinks Jack and Coke.
I'm asked if I work there, which gives us all a laugh.
There's a moment at the bar when it's just he and I…standing next to each other in silence.
I start to feel awkward, wondering if I should say something to break the absence of any sound other than his own music blaring behind the naked girls.
He looks at me and raises his eyebrows. I laugh. He knows I'm feeling nervous.
His "It's ok, kid" gesture will never leave me. It was awesome.
We drink and smoke until near dawn, and the party starts right back up again the next day. Motörhead has two shows at SXSW that year. One at Stubb's BBQ and another at Austin Music Hall – both to promote their ever-present new release "The World Is Yours" and the self-titled documentary focusing on his life.
The following day I arrive at his hotel for our interview, our first in such an intimate setting. I'd already spent a day with Lemmy's son, Paul, who shared touching stories of life with him as a father.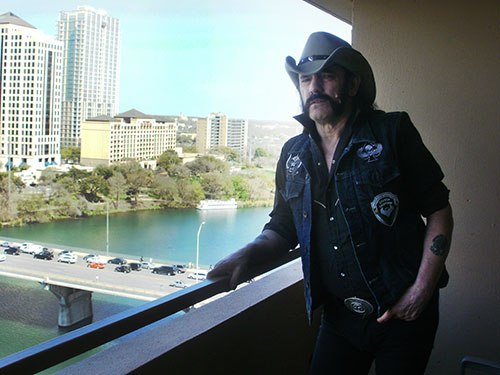 This time it's just me and Lemmy in his hotel suite.
He answers the door in his socks, bolo tie, black jeans, and cowboy hat. He says he has anything to drink "as long as it's Jack Daniels" and we toast before getting down to my questions. He's appreciative, respectful, articulate and knowledgeable beyond words. I never stopped learning from Lemmy. He just never knew he was teaching me.
"Let me play you some of this new Head Cat stuff", he says, tapping his socked feet to the beat and playing air bass to "American Beat." He was always tapping his toe.
I loved how it was literally impossible for him to sit still when music was playing. Several photos on the balcony later, it's time to wrap it up again. We share a hug and a kiss and just a couple of hours later I'm back on a plane to NYC.
I could talk about Motörhead's triumphant return to Russia or how Lemmy would be mobbed by fans in Austin later that day, but what I really remember are the chips and salsa he ate, the mystery paperback on the counter, and the "Halloween" ringtone on his new iPhone.
Lemmy's Apartment on the Sunset Strip, Los Angeles, 2011:
Lemmy was a fan of many things. Mystery and thriller novels, Family Guy, Law and Order, World War II memorabilia, Little Richard, and the timing of a wry joke.
A year later I took inventory of his Sunset Strip apartment while in town for another interview. It'd become a tradition to do an L.A. birthday at the Rainbow and say hello to Lemmy if he was in town. This particular year, 2011, we made plans to meet at his apartment for a chat.
Wall-to-wall with mementos and regalia, the space seemed as alive as the man himself. I walked the room in admiration, noting VHS tapes marked with live shows and TV specials he'd recorded. When I asked him to talk about the apartment he said "that's boring," so we sat on the couch and dug right in to what he loved – the new Motörhead record and more unreleased Head Cat songs.
He made me a Jack and Coke in a small rocks glass adorned with a gilded M. My head spun from the nicotine in a series of Marlboro Reds he offered me. I turned nothing down.
"It has a lived-in feel," he laughed, and I noted a bottle of Chloraseptic that did little to soothe the signature gravel from his voice. Weapons catalogs crowded the bathroom. Black hair dye sat on the shelves. A Big Mouth Billy Bass hung on the wall alongside McDonalds Happy Meal toys. The bedroom walls gleamed with rows of silver daggers and swords.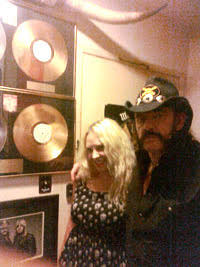 His likeness was everywhere – toys and dolls from fans, a mosaic mirror arranged into the shape of his face, Gold and Platinum Records and other treasures I'd recognize after the "Lemmy" documentary premiered that weekend.
An "Over the Hill" birthday hat, complete with candles and sparklers, beamed atop one of his overflowing bookshelves. "Hand me that hat over there, honey", he said. "You want it?" He gave it to me when I left.
New York City, One Week after Lemmy's Passing, January 2016:
Any time spent with Lemmy was like a Motörhead show in itself – manic, frenzied, meaningful memories acquired at warp speed. Every interview, every photo, every concert was like adding another bullet to a belt. We take some bands for granted. After 40 years, Motörhead could be counted on to always be there. Lemmy would always be there.
One of the first questions I ever asked Lemmy was what he did in his spare time. His response was "spare time?"
There will be no more Motörhead shows and no more interviews, and that is an immeasurable loss to rock n' roll. It's a huge personal loss to me. I can't believe I won't hear "Overkill" again or wait for the first notes of my favorite song, "The Chase is Better Than the Catch." I simply adored him.
If there's one thing Lemmy would want from his fans, it's that we celebrate his life.
There are a million ways someone can belong to you. This revered figure, as iconic and statuesque as any monument, was mine simply because of the way he tapped his toe.
Until next time...


Links:
Thirsty : July 2007 : Lemmy Interview
Thirsty : April 2010 : White Line Fever - Interview with Lemmy Kilmister
Thirsty : April 2010 : Trash (SXSW Special Edition)
Thirsty : 2011 February : Get Back in Line - An Interview with Lemmy Kilmister
All opinions expressed in this article are solely those of its author and do not reflect the opinions of Stay Thirsty Media, Inc.