By THIRSTY
---
Every now and then a cause catches our attention and profoundly moves us. PAWS Assistance Dogs of Naples, FL, is one of those special organizations that is doing extraordinary work to help our combat-wounded veterans lead a better life.
Founded in 2012, PAWS Assistance Dogs is a nonprofit, charitable organization that breeds, trains and places fully-trained and certified service dogs in the homes of combat-wounded American veterans at no cost to them. This includes all ongoing training after a dog is carefully matched with a recipient and all veterinary care through the 7 to 8 years of service that a dog provides.
PAWS Assistance Dogs spends up to two-and-a-half years training each dog in the areas of socialization, obedience and detailed task training before pairing the dog with a particular veteran. Upon graduation, a PAWS' dog is able to pick up dropped objects, open and close doors, retrieve medical supplies, provide balance assistance and alert hearing impaired individuals to certain sounds.
PAWS also created its own Puppy Project with a goal of bringing up to 15 new puppies into the training program each year in order to be able to assure the quality of the dogs and to select for the proper traits for service work. When their assistance days are over, PAWS' dogs remain with the recipients as family pets for the rest of their lives.
It is often said that we cannot do enough to thank the men and women who volunteered in the military to protect the American way of life. PAWS Assistance Dogs is making a huge difference one combat-wounded veteran at a time. For their dedication, compassion and courage in bonding people with extraordinary dogs, Stay Thirsty Magazine is very pleased to name PAWS Assistance Dogs as our THIRSTY WORTHY CAUSE for Winter 2016.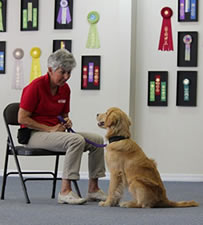 Video and photos courtesy of PAWS Assistance Dogs
Link: