By THIRSTY
---
Ruthie Ann Miles won the 2015 Tony Award for Best Featured Actress in a Musical for her role as Lady Thiang in Lincoln Center's revival of The King and I. Born in Arizona, she grew up in Korea and Honolulu before earning a B.A. in Theatre from Palm Beach Atlantic University and a Masters from New York University. Known as an actress and singer, she turned in an award-winning performance as Imelda Marcos in the Off-Broadway production of Here Lies Love before making her Broadway debut in The King and I. It was Stay Thirsty Magazine's honor to visit with Ruthie Ann Miles at her home in New York City for these Five Questions.
STAY THIRSTY: Ben Brantley of The New York Times wrote about your performance in The King and I: "But also give full marks to the first-rate Ruthie Ann Miles (the original Imelda Marcos in 'Here Lies Love') who, as the King's chief wife, turns 'Something Wonderful' into an exquisite expression of romantic realism that could be the show's anthem." How did this review make you feel after so many years of education and hard work in the theatre?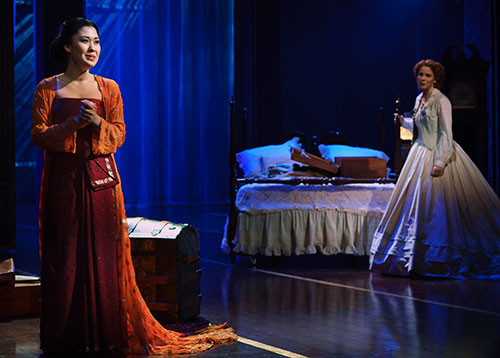 RUTHIE ANN MILES: Wow, thank you. For starters, I typically do not read reviews because we have a saying that "If you believe the good ones, you also must believe the bad ones" so I have not fully read Mr. Brantley's thoughts on our show. However, I had noticed several quotes posted around and on billboards, so I gathered the reviews were favorable! (That, and our director popped his head into my dressing room with a quick "Thumbs Up!" the day after Opening.)
This show marks my Broadway debut, and it has been a very humbling experience since the beginning. Working with this incredible cast and creative team has been a dream and certainly not one I thought would happen for me at this point in my career. The show has been received very well by the press and by our audience. This is a real gift! We realize this is not always the response on Broadway. As an actor, there are struggles I constantly battle, but knowing the audience is participating in Lady Thiang's story, despite Ruthie's humanness, makes me feel overwhelmingly grateful.
STAY THIRSTY: The first words you spoke upon accepting the Tony Award were: "Please recycle…Broadway's Green Alliance," before you began to read your speech from your iPhone. Why is this environmental movement so important to you?
RUTHIE ANN MILES: I had frantically typed half-notes in the car between our matinee performance and the red carpet that evening. My initial thought once on the stage was embarrassment for not being prepared – my friends warned me, "You can't be that girl on national television!" – so I deflected and turned it into a lesson: "Use less paper, folks!"
Joking aside, I have been a green captain with the Broadway Green Alliance for several years now. We work to help educate our community and patrons on how to live greener, making more earth-friendly choices. I had a mind shift when I moved to NYC, and consciously began to generate less trash and a more environmentally sustainable lifestyle by composting, recycling, energy efficiency and not using plastic bags.
STAY THIRSTY: How has performing in The King and I impacted your professional life and also your family life?
RUTHIE ANN MILES: It is a juggling act, for sure. My husband and I carve out date nights and time we can connect just for us, and I get to spend most daytimes with our daughter before heading into work. My mom has moved up to NYC to help care for our girl, and, let's be honest: me, too! It truly takes sacrifice and grace to make this work. God has been good to us, and my husband is a champion.
STAY THIRSTY: You are a graduate of Palm Beach Atlantic University (PBA) where you received a B.A. in Theatre. How did attending a faith-based university help you on your journey to becoming a Broadway star?
RUTHIE ANN MILES: I transferred to PBA from a strong Shakespeare and conservatory-type training university. I had a wonderful education but I was spiritually dry and needed accountability. At PBA, I found friends who would hold me up and become partners in life with. It was a place where I could know and be known. Ten-plus years later, many of us who moved up to NYC attend the same church (pastored by Caleb Clardy – a fellow PBA alum) and we continue to remain core support pillars for one another in this paradoxically enormous/intimate city.
STAY THIRSTY: What are the most important words of advice you received in your life and who told them to you?
RUTHIE ANN MILES: Somewhere along the way I was given an acting note to focus on my scene partner's needs rather than my own. At the time it seemed inefficacious to achieve my character's goals by instead putting my attention onto "the other." However, with time, I learned not only did it help to accomplish my goals, it empowered my spirit. So much so that I was surprised to look back and realize I had made "focus on your other" my life mantra. I've been living this advice out, both onstage and off! In every aspect of life, it has been important for me to remember that good does not come from focusing on myself, but rather from genuine care and sacrifice for those around me. And I often find that when their needs are met, mine are, too.
Links:
Ruthie Ann Miles
Lincoln Center Theatre - THE KING AND I
The American Theatre Wing's Tony Awards – Ruthie Ann Miles
All opinions expressed in this article are solely those of its author and do not reflect the opinions of Stay Thirsty Media, Inc.