By THIRSTY
---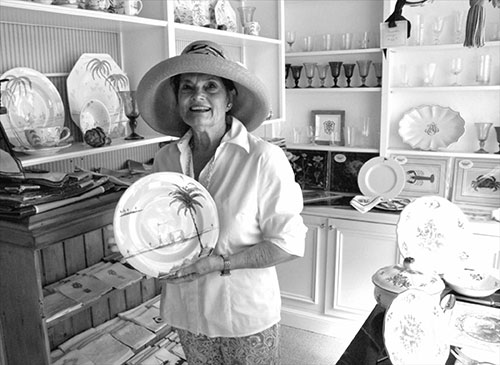 Leta Austin Foster is known as one of America's premiere interior designers. She was chosen by House and Garden as one of the "100 Greatest Interior Decorators" and was named among House Beautiful's most influential designers of the 20th Century. She founded her interior design firm over thirty-five years ago and her range of commissions has extended from contemporary to traditional styles. Her work has been published in Veranda, Elle Décor, Coastal Living, Texas Homes, Stylebeat.com, House and Garden, Palm Beach Life and Allthebest.com. A new book by Brian D. Coleman entitled Traditional Interiors, with photography by Erik Kvalsvik, presents in detail her philosophy, her style and her process. Stay Thirsty Magazine was pleased to visit with Leta Austin Foster at her home in Palm Beach for this Conversation.
STAY THIRSTY: In Traditional Interiors you point out that each client is different. What is your process when you accept a new commission? How do you come to understand not only the style and taste of the people involved, but also the pros and cons of the particular architecture?
LETA AUSTIN FOSTER: Because I believe each person's job is individual, much of the first meeting with prospective clients is used in getting to know them. Also, in really looking at the architecture of the job – whether it is an existing space or one still on the drawing board. The best decoration formula, if there is such a thing, is "the client plus the architecture plus the location." In other words, their tastes and dreams and also what is practical (and beautiful).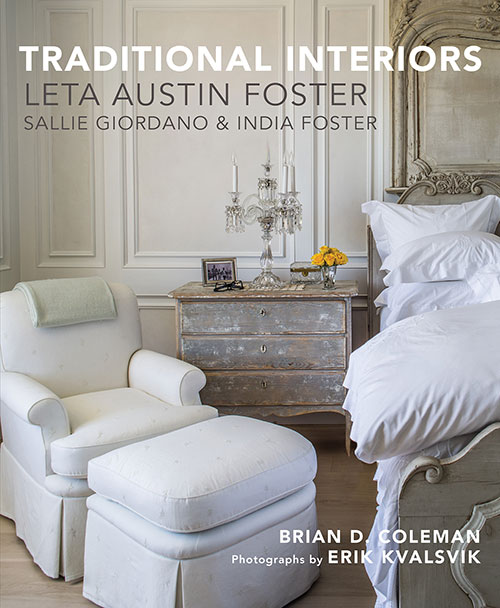 STAY THIRSTY: Traditional Interiors is divided into four sections: Curtain, Walls, Upholstery and Trim and The Details. When you analyze a home or room do you conceptualize the design in that order or do you visualize it more as a whole?
LETA AUSTIN FOSTER: No, I don't conceptualize in that order but rather, as you suggested, I try to visualize the whole home or room (or office or club, etc.) and how it will be used.
STAY THIRSTY: You say in the book that your job is to plan great spaces that are ultimately pleasing to your clients. How do you stay true to your design principles and still satisfy the owners of the particular project?
LETA AUSTIN FOSTER: It's tricky, but almost always by staying true to the design principles required for that particular job that we end up seeing the entire thing together. If that can't happen, then I bow out – as is only proper. 
STAY THIRSTY: How do you go about "creating magic" when "form follows function?" Are there instances when "function follows form?"
LETA AUSTIN FOSTER: If the form is right, the function will follow – that's how a lot of great ideas came about. Consider the kitchen island – it really started when the design of the kitchen looked empty in a big room, but it ended up providing better usage of a work space, leaving the regular counters around the room, which are harder to clean because of the necessity – most times – of "stuff" being there, barer and giving a space that is easy to access for work and easy to clean because of its emptiness.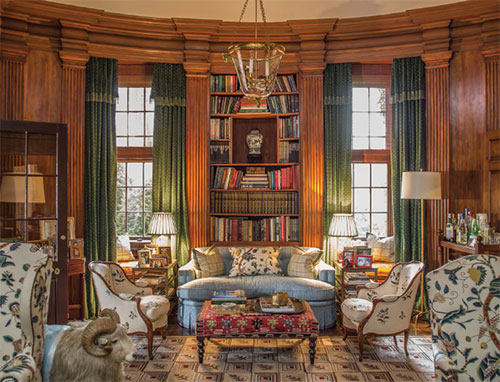 STAY THIRSTY: Are you a proponent of the great British designer John Fowler's statement that "every English room needs some French furniture?" If so, why?
LETA AUSTIN FOSTER: Yes, because he was the great "tastemaker" in designing the English country house look. He truly believed that little maxim – although you don't see it so much in the pictures of his earlier work – and of course, it was highly practical since most of the great houses in England had wonderful collections of French Ébéniste furniture, great collections of French porcelain, silver, etc., etc., etc. As he began to be sought after by the families with their great estates, he realized the depth of their collections, used them and thus the style became entrenched in the newer houses he designed which didn't have those existing collections. It's funny, but when I was first starting out in my interest in décor, I used to go to sales at Parke-Bernet and you paid top dollar for French furniture and at the same time could buy a group of English dining chairs or table for "pennies on the dollar." This little adage does not include the collecting of fine American furniture which has and will always garner top prices, not just because of the excellence of the design of the great American furniture-makers, but also because of the scarcity.
STAY THIRSTY: Is the devil in the details for you?
LETA AUSTIN FOSTER: Absolutely not. It's "god" in the details, and almost always, these details mean great laborers – by this, I mean, there's no reason to buy expensive fabrics and then give the work to sub-par workmen. That perfect seam in the side panel of a chair or sofa back, the extra lining in skirts, the perfect matching of fabrics and wallpapers – there are all details that make up the whole. And then, of course, there are the other little details such as the trim on the leading edge of a curtain, the little bells on a valance – these are all really important details, but the first ones – those done by the craftsman/laborer – are the details which are "god."
STAY THIRSTY: Please explain what each of these mean to your style: Chinese wallpaper, hand-painted accessories, faux-painted walls, bamboo, floral print and monogrammed and embroidered bed linens.
LETA AUSTIN FOSTER: Well, they are the things that I love, so I try to use them whenever they are right for the job. For instance, Chinese wallpaper – both antique and new – is so beautiful to me, that I plan whole rooms around it, especially dining rooms, entry halls, and for the truly luxurious, bedrooms. As to hand-painted accessories, they are just the wonderful icing on the cake. They don't necessarily mean big money, because often times, I find "used" things which, when painted, become beautiful, although they were cheap when I bought them. Faux-painted walls are a wonderful substitute for wallpaper – and sometimes for stone or marble or wood where the installation of the real thing is neither practical (because, not just of price, but also space). Bamboo, because it was grown in the Far East, became an important part of what the French call "Chinoiserie." Because of the popularity of this movement, bamboo became popular along with it. I love painted "bamboo" furniture and the real thing, but I rarely use bamboo as molding in a room, since it is a little too "cute" for me.
STAY THIRSTY: You work with your daughters, Sallie Giordano and India Foster. Are they of the same mind, style and taste as their mother? Do you look to them to carry on your tradition of interiors?
LETA AUSTIN FOSTER: Well, they certainly know my tradition, but they are developing their own styles, so unless it is a job on which we are working together, I don't intrude too much. If they ask me for advice, I'm happy to give it. Ditto for my opinion of their design, but they have developed so well, that they don't always need me. So yes, I am hoping they will carry on the firm after I'm gone – although I plan to work until I drop dead – I hope!


(Credit for three photos above: Erik Kvalsvik - from Traditional Interiors)

Link:
All opinions expressed in this article are solely those of its author and do not reflect the opinions of Stay Thirsty Media, Inc.